The Awesome Photos Of MASS MoCA; 'Smart' Art At Williams; New(ish) Work At The Clark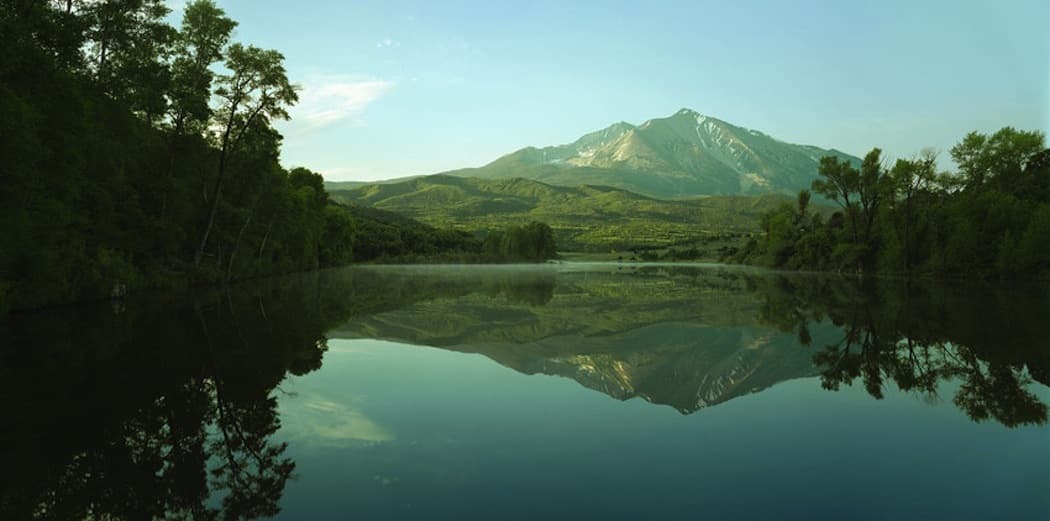 This article is more than 5 years old.
To say that Clifford Ross is drawn to water is like saying that jazz artists are drawn to the blues. His vision is downright symphonic — his high-resolution color photos transport you into a hyper-realistic world of untold beauty while his black and white visions of stormy weather are dramatic works that are simultaneously frightening and enveloping, frigid and white hot.
They're part of "Landscape Seen & Imagined" at MASS MoCA (through March), which ushers you into this remarkable space with the same dramatic intensity that the nearby Clark Art Institute welcomes you into its environs with the seascapes of Winslow Homer.
North Adams and Williamstown in the off-season are great getaways even after the Williamstown Theatre Festival closes. A recent long weekend there began with a recital by the internationally-renowned Marc-André Hamelin, a free concert sponsored by the Williams College Department of Music in Chapin Hall, and ended with a Sundance Theatre Lab of new musicals at MASS MoCA, including one by Craig Lucas and Adam Guettel. (Hamelin, by the way, now resides in Boston, though isn't scheduled to play here this season according to his website.)
Whatever the cultural events in the area — there was also a multimedia student production of "The Tempest" I couldn't get to — there are always the three great museums in the area — the Williams College Museum of Art in addition to MASS MoCA and the Clark.
I went to MASS MoCA expecting to be blown away by the Jim Shaw exhibit (through January), particularly after Sebastian Smee's piece in the Boston Globe last summer.
And it is a lot of fun, even if I didn't get as much out of it as Smee did. There's a lot of decoding to do in Shaw's blend of pop culture superheroes and Wagnerian characters from a different cultural mythology and I wasn't quite up to it.
Plus, I had just come from Clifford Ross' less jokey view of the universe. In addition to the high-resolution — or actually "ultra-high-resolution" — photographs, there is the gigantic negative-on-wood "Sopris Wall I"; a hypnotic video, "Wave Cathedral"; and the black-and-white hallucinatory wonderment of the "Hurricane" photos.
The Clark and the Williams College Museum of ART don't let MASS MoCA have all the fall and winter fun, even in the domain of contemporary art.
The Williams has some of its more current art in an exhibit called "Your smarter than me. i don't care" (through Jan. 3). Like its title, it's at once a sendup and celebration of contemporary hyper-ironic culture. Is Cary S. Leibowitz's simple latex on wood painting a statement of defiance or a satire of arrogant stupidity? Is the simplicity a protest against big art or a parody of small art?
My favorite is Momoyo Torimitsu's "Miyata Jiro," a crawling Japanese businessman. At first I thought he was a museum patron trying to get a better angle on a photo, but no. Is he a businessman crushed by the weight of his life? Or just a fun robot upon whom we can attach any meaning?
Other exhibits "WALLS Evolves," "The Anxiety of Influence: European and American Art," and "Imagining the Trojan War" (through Dec. 13) are equally intriguing ways of repositioning the museum's great collection. Another fascinating program is "Faculty Off the Cuff Labeltalk" in which Williams faculty members from various disciplines talk about eight works of art.
The Clark is a destination if only for the outdoor hikes you can take on the property even if the museum itself is more geared for the summer. The absence of water in the reflecting pools as well as empty galleries give the place a kind of desolate look in the off-season.
Still, I loved the exhibit "An Eye for Excellence: Twenty Years of Collecting" (through April 10), which focuses on acquisitions since 1995. It reminds us that the Clark's collection continues to grow and shine in ways you'd expect — Impressionist works by Inness, for example — and ways that you might not. Erich Heckel's modernist "Portrait of a Man" would have driven the conservative Sterling and Francine Clark screaming out of the museum.
The museum has somehow managed to simultaneously respect the good taste of the Clarks' original collection while surreptitiously thumbing its nose at his stodginess. It makes for an invigorating trip to the Clark, even without the post card collection in the gift shop or the water in the pools.
---
Ed Siegel is editor and critic at large for The ARTery.