Forecast: Stunning Early December Weekend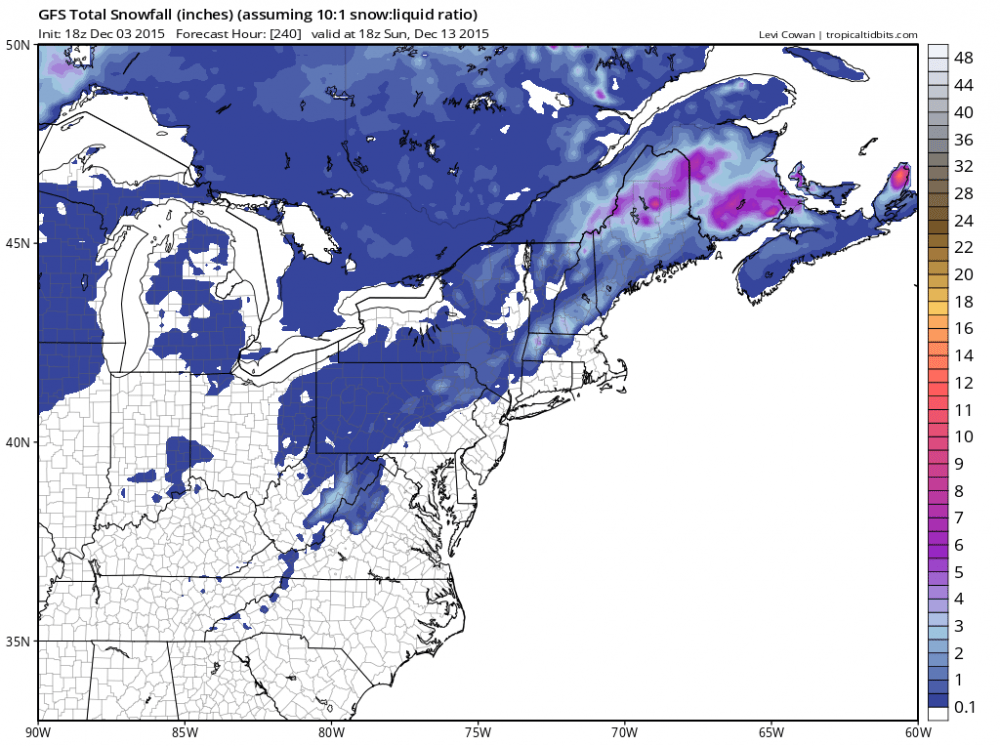 This article is more than 4 years old.
If you are hoping for snow any time soon, forget about it. The weather continues to be mild and basically dry over the upcoming five days.
Although a storm threatens sometime next week, its track is so uncertain it may never be a factor. I thought it would be interesting to show you a map this morning on snowfall over the next 10 days.
This map is a prediction by the GFS of all the snow forecast to fall through Dec. 12. Notice basically all of southern New England is forecast to remain snow free. This isn't atypical. There are many Decembers when snow is little or nothing through the first part of the month, but then does pick up in the final days. While it's too early to say if there will be a pattern change later this month, I am confident we won't see any wintry weather for a while.
This weekend is looking about as nice as it can get in early December. Temperatures will be seasonable Friday and Saturday and then rise to above seasonal average on Sunday. Many of you will enjoy temperatures in the middle 50s. If you haven't put in those snow stakes, taken in the hose or finished raking the leaves, this is your bonus weekend to do so.
Monday's weather issue will be solar glare for both commutes, although the sun is setting so early, it's only those of you leaving work before 4 p.m who really need to worry about the glare in the afternoon.
Tuesday is dry and then we will start watching to see if a coastal storm does bring a windswept rain here later next week. The models aren't very sure about the outcome as of this morning. Whatever happens next week, I can guarantee a great weekend ahead.
---
Friday: Sunny, with a high in the mid 40s.
Saturday: Sunny, with a high near 50. West wind 5 to 7 mph.
Sunday: Sunny, with a high 50-55.
Monday: Mostly sunny, with a high near 50.
Tuesday: Partly sunny, with a high near 45.
You can follow David's weather updates on Twitter at @growingwisdom.