Forecast: Messy Morning Commute, But Not A Major Storm
This article is more than 7 years old.
Timing is everything in life and that is true with the weather. This morning we have snow, sleet and freezing rain across the area and it's slowing things down. It's a good thing school isn't in session or there would be some areas with delays.
Already we notice the mix line rapidly pushing north. It really depends where you are and when you read this story as to what's occurring in your area. The snow will tend to be over by mid-morning even in northern areas.
The cold air will be reluctant to leave and this will produce a period of sleet and icing. Some of the icing could build up enough over northwestern areas of Massachusetts to cause power issues. I don't expect a widespread ice storm, but it doesn't take much ice to bring about problems.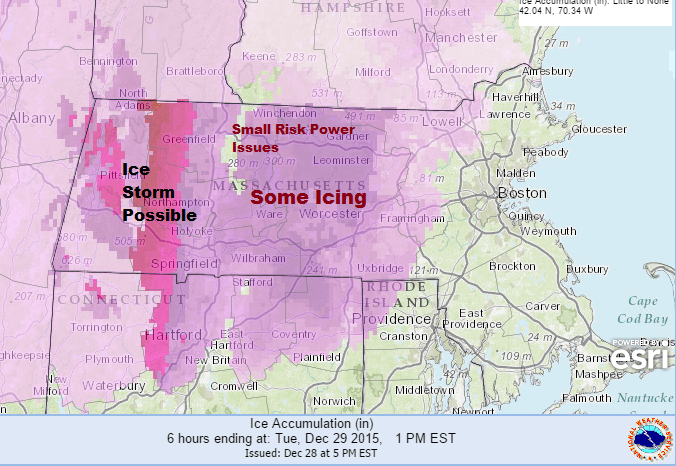 The map below gives a range of snowfall and sleet. There will be a period of freezing rain inland after the snow and sleet. This could accumulate enough to create power outages and west of the Pioneer Valley there could be a legitimate ice event in places.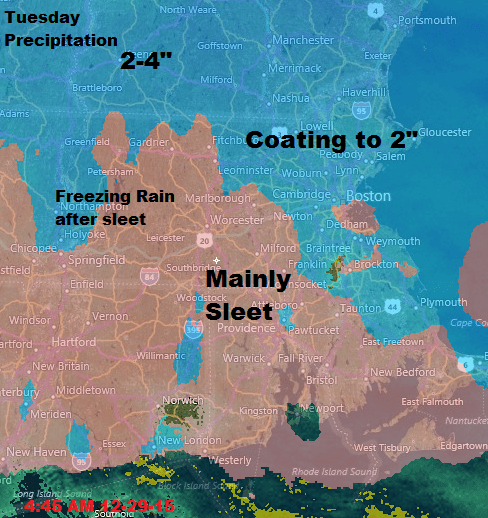 The storm winds down in the evening Tuesday and then it's a generally dry pattern with a colder finish over the weekend. There might be some light precipitation Wednesday evening in the form of some sleet or rain showers, but New Year's Eve Day and New Year's Eve itself are looking quite comfortable for the final hours of December.
Some areas of interior Massachusetts and southern New Hampshire may see their first single number readings early next week and a bit of true arctic air arrives in central and northern New England.  The core of the cold will remain north, but you'll definitely know it's January.
Follow Dave Epstein's Forecast on Twitter at @growingwisdom.
---
Today: Rain, snow, and sleet, becoming all rain after noon. Freezing rain continuing well inland with hazardous travel. High near 40, but remaining in the 30s north and west of Boston.
Tonight: Drizzle or freezing drizzle ending then cloudy. Low 31-37.
Wednesday: Mostly cloudy, with a high near 42.
Thursday: Partly sunny after a morning shower, with a high near 45.
New Year's Day: Mostly sunny, with a high near 40.
Saturday: Mostly sunny, with a high near 36.