What's Boston's Score Today? City Launches Data Platform To Track Progress On Services
You can now track how well city services are being handled in Boston with one dashboard.
The mayor's office on Friday launched CityScore, a new initiative that uses data to grade how well the city is performing on everything from fire department response time to school attendance to fixing potholes.
The platform — which resembles Fenway's Green Monster scoreboard — is designed to provide a "nearly real-time" indication of what's happening in the city across areas such as public safety, education, constituent satisfaction, health and human services, and basic city services.
"This overview of city metrics allows us to take immediate action within our departments to improve city services to make our city safer and smarter," Mayor Marty Walsh said in a statement.
Here's how it works: CityScore takes a look at metrics from different city departments and combines them into a single number that represents the city's overall performance. Scores are compared to either a goal set by the city or a historical performance average. A score of 1 means the city is meeting its target. A score of less than 1 means the city is not meeting its target. And a score of more than 1 means the city is exceeding its target.
For example: As I write this, the city's score is 1.21, or exceeding its target.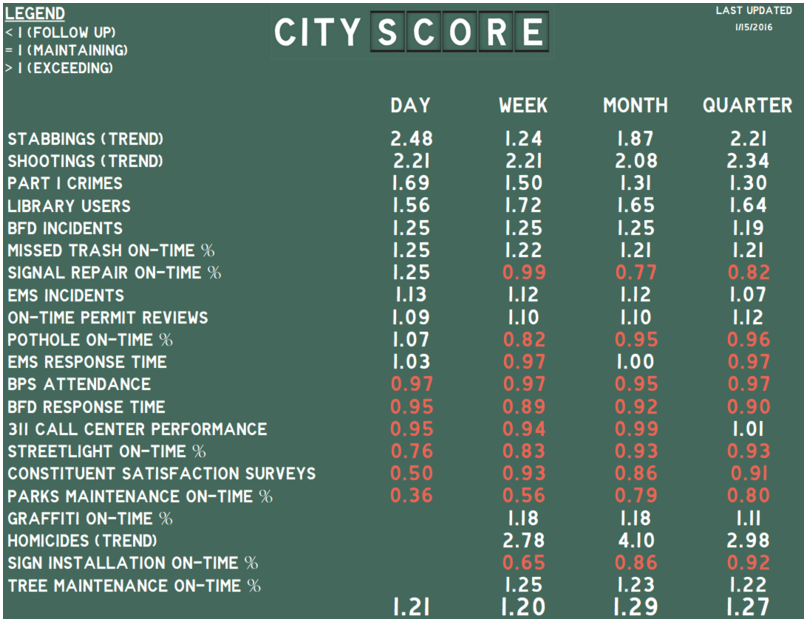 CityScore can be broken down by day, week, month and quarter. The city hopes that will allow them to identify trends over time.
"It's a way of taking all of the different statistics we're tracking in the city  -- everything from the percentage of buses that are arriving on time to the number of potholes we fill from the day before — into one simple number, so the mayor can say in a given day on all of the metrics that we're tracking, how did we do?" Walsh's chief of staff Daniel Arrigg Koh told Radio Boston back in October. "One day it may not be a huge deal, but if it becomes a trend over time we're able to identify it much quicker with a scoring system."
Here's more from Koh on CityScore:
In its announcement Friday, the city said it plans to further develop and expand the platform. The platform will also track economic development, and innovation and technology, according to the city.
CityScore is a big part of Walsh's efforts to use a data-driven approach to government. The platform was developed by the city's analytics team, which helps different departments use data to inform their work.