Blizzard Warning For Martha's Vineyard And Block Island; Boston On Northern Edge Of Storm
This evening we find the storm beginning to pick up in intensity across Washington and Philadelphia, but we will need to wait until Saturday morning to see snow flakes locally.
A few changes are in place this evening, with a blizzard warning declared for Martha's Vineyard and Block Island, and winter storm warning for parts of the South Shore and Cape Cod. The winter storm warning means 6 inches of snow is likely in those areas.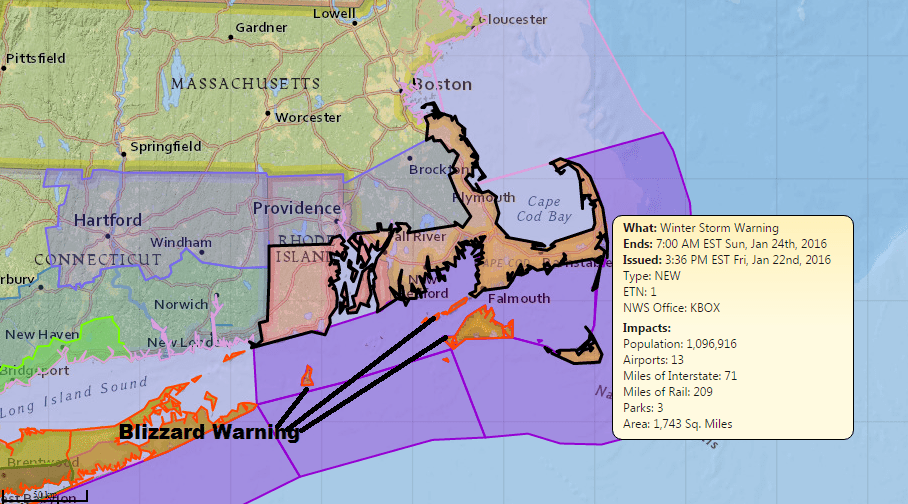 Snowfall around 3 inches still seems likely in Boston, but this can still shift dramatically with the storm changing track just 30 miles. Stay tuned to latest forecasts and updates, and follow me on Twitter for updates.
Our original post continues:
The facts are this morning that the Mid-Atlantic region is about to be hit with one of the largest snowstorms on record.
The models have pushed the snow a bit further north this morning so this means the chances of a plowable (2 inches or more) storm have moved into Boston. It's typical for tracks to change a day before a storm, so this could be modified further this afternoon.
The gradient between flurries and a plowable snowstorm is very tight. A difference in the actual track the storm takes of as little as 40 miles would lower or raise snowfall totals. There is a winter storm watch for the South Coast for at least 6 inches of snow.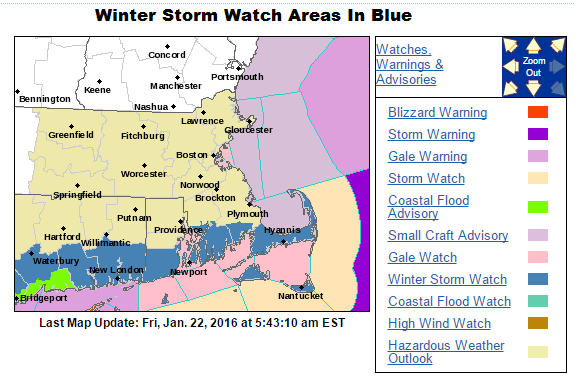 The estimated snowfall amounts south of here are simply breathtaking. As a meteorologist, this is certainly an impressive storm.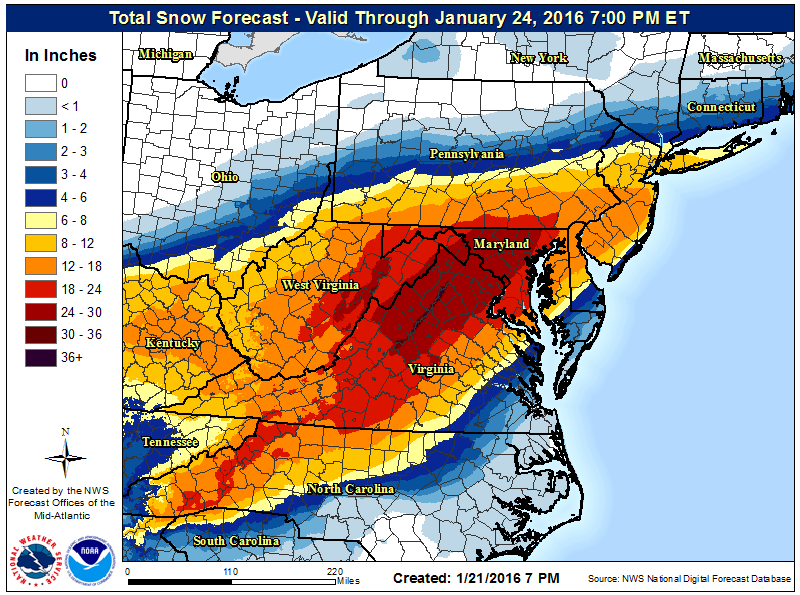 Before we see a flake, we do have a nice winter day ahead. This afternoon I expect temperatures to reach around the freezing mark with light winds. Late in the day you'll notice some clouds showing up on the western horizon. This is about the time the snow will be flying hard near Washington, D.C.
Saturday will start dry everywhere in southern New England. Snow will be approaching the South Coast and likely begin during the middle of the morning. During the afternoon and evening, I expect snow to be falling in the Boston area, but it won't heavy.
Most of the accumulating snow, what little there will be, falls between about 1 p.m Saturday and 1 a.m. Sunday. The map below shows how much snow I am expecting. These numbers can still fluctuate a bit as the final pieces of data become available.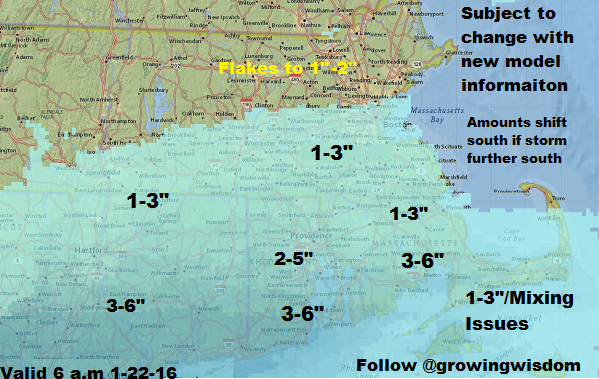 Winds won't be much of an issue inland, but along the coast, especially south of Boston, gusts could reach 50 miles per hour. Winds this strong could cause some minor damage and power outages.
Clearing returns later Sunday with a milder trend. Temperatures will rise above freezing Monday and then make it into the 40s on Tuesday.
You can follow my weather updates on Twitter at @growingwisdom.
---
Today: Sunny, some late day clouds with a high 29-33.
Tonight: Clouding up, with lows 15-22.
Saturday: Cloudy, snow developing heaviest south of the Mass. Turnpike in the afternoon. Highs 28-33.
Sunday: Any snow ending then clearing. Highs 29-33.
Monday: Mostly sunny, with a high in the mid- to upper-30s.
Tuesday: Partly sunny and milder. Highs 40-45.
This article was originally published on January 22, 2016.