Mark Rylance Adds A Dash Of Shakespearean Pathos To The Folksy 'Nice Fish'
This article is more than 7 years old.
We were mainly there to see the British guy.
"Nice Fish," the unassumingly charming play now onstage at the American Repertory Theater, is tastefully hewn from the folksy prose poetry of Minnesota writer Louis Jenkins, whose kitchen-table ruminations about life in the upper Midwest must fit in just perfectly when he makes his periodic appearances on "A Prairie Home Companion."
But it's the involvement of Mark Rylance, as the play's co-adapter and featured player, that makes this 90-minute one-act a red-letter item on Greater Boston's winter theatrical calendar.
The much-celebrated founding artistic director of Shakespeare's Globe in London, Rylance won his third Tony Award just last year for playing Olivia in a reportedly uproarious all-male "Twelfth Night." (The same company played "Richard III" on alternating performances; Rylance's turn as the title character in that one nabbed a separate Tony nomination.) During rehearsals for "Nice Fish," Rylance went ahead and got nominated for a Best Supporting Actor Academy Award, for work in Steven Spielberg's spy drama "Bridge of Spies," starring Mr. America, Tom Hanks.
"Nice Fish," which will head from Cambridge to St. Ann's Warehouse for its New York premiere after it closes here on Feb. 9 (its first production was at Minnesota's Guthrie Theater in 2013), is not the most demanding role Rylance has ever tackled. But he's clearly having great fun in this whimsical but sometimes poignant production directed by his wife, Claire van Kampen.
Rylance is Ron, an ice fisherman whiling away the time on a Minnesota lake during the last day and a half of the fishing season. Actually, Ron's there more to drink a few beers and hang out with his friend Erik (Jim Lichtscheidl), who attentively fusses over his fishing gear and waits, sometimes anxiously, for a bite.
They are joined in turn by an officer of the Department of Natural Resources (Bob Davis) who facilitates a bit of comic relief in an extended exchange about the various permits required of the two men; fellow fisher Flo (Kayli Carter), who hangs out on a couch set up outside an ice house encasing a hot tub; and bearded sportsman Wayne, played capably by poet Jenkins in his stage debut.

Not a lot happens, per se, and the five actors mainly take turns reciting Jenkins' highly vernacular poems, which indeed sound almost like the stream-of-consciousness meanderings of these weird but thoughtful folk — though some transitions from speech to speech feel more conversational than others.
There's much here about remembering good times of the past, the passage of time and of love and the impermanence of human existence. "You are a blip or a bling," the more cynical Erik tells Ron at one point, "part of the background noise. A remnant from the Big Bang."
Rylance, who was born in England but lived much of his childhood in suburban Milwaukee, speaks here in a sludgy drawl, as if each word is freshly summoned from the chilly depths of an earnest but none-too-sharp mind. Ron drops his mobile phone into a hole cut in the ice, is quick to laugh at his own wry observations and has a merry little setpiece as he voices the thoughts of a snowman. Ron is a welcome companion, even if he scares off the fish. The actor can't hide the good time he's having in this role, nor should he.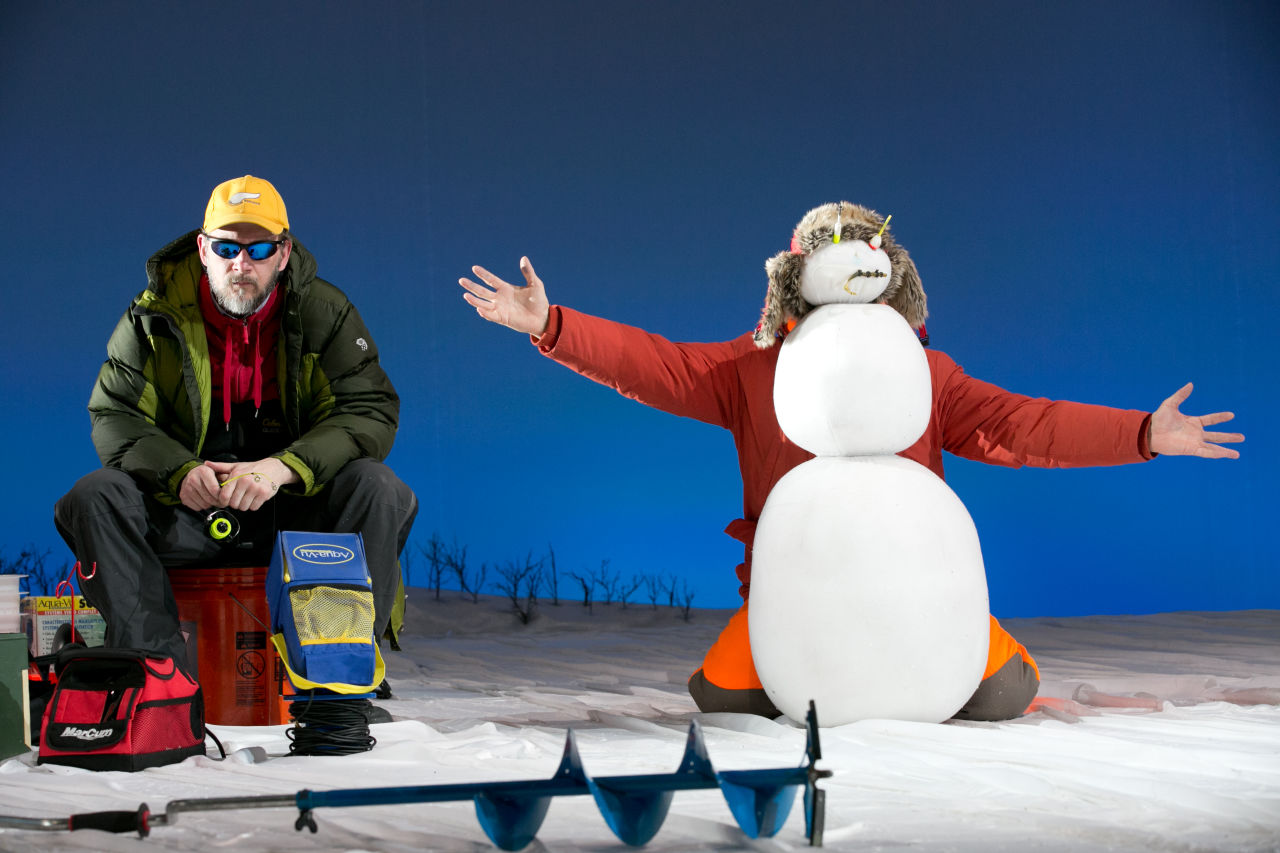 Though most of his stage time is occupied with comic work, there's a moment when Ron's musings about a community of seals who are all named Earl turns with striking swiftness into a piercing lament doused in pathos. "How else are you to live except by denial," he exclaims, with tears threatening to enter the picture, "by some palatable fiction, some little song to sing while the inevitable, the black and white blindsiding fact, comes hurtling toward you out of the deep?" For some hair-raising moments Rylance may as well be lighting into Macbeth's "Tomorrow, and tomorrow, and tomorrow" speech. Please sir, may we have some more?
Todd Rosenthal's scenic design evokes the snowy loneliness of the milieu, and Ilona Somogyi's costumes are right on. As heard here, Jenkins' work is full of humor even as it gestures at the seeming futility of human activity; bits of magic realism add to the quirkiness, even when Ron, Erik, Flo and Wayne wax poetic about loves lost quickly and lives lived slowly.
In a final coup de théâtre, Ron and Erik become the subjects of their own wildlife pursuit. These two go fishing for more answers than they ever reel in, and are reminded — as are we — that life can be as out of control as a drifting ice floe.
Correction: An earlier version of this post misidentified Bob Davis as Ron Davis. We regret the error.
---
Jeremy D. Goodwin contributes regularly to The Boston Globe, The ARTery (where he is also an editor), Berkshire Magazine and many other publications. See more of his work here. Follow him on Twitter here.
This article was originally published on January 25, 2016.