Boston Sees First Serious Snowfall Of The Season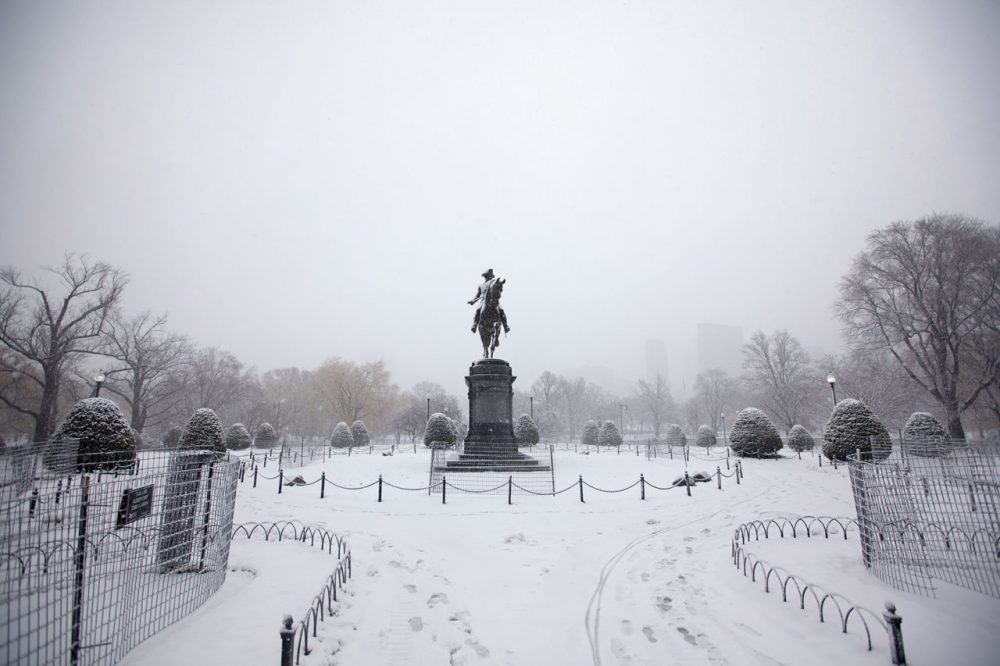 This article is more than 4 years old.
A winter storm packing heavy, wet snow gave Boston its first real taste of winter Friday.
The snow brought down tree limbs, causing power problems for many. Some 102,000 customers were without power across the state as of Friday evening.
National Grid spokeswoman Mary Leah Assad told WBUR crews were working hard to get the power back on.
"We have crews out in force, working to get people back online as quickly as possible," Assad said. "We're encouraging customers to stay safe and to give us a call if there is any unreported outage or if they see down power lines."
The state's Emergency Management Agency warned that many would be without power overnight as temperatures dropped. On Twitter, the agency encouraged those without power to find alternative places to stay and to use any heating sources safely.
The heavy snow also caused problems for the MBTA, where downed trees forced the agency to replace rail service on the Green Line's D branch with shuttle buses for a large part of the day.
Service on the Green Line's E branch was also suspended due to a fallen tree. Passengers were encouraged to use the 39 bus instead. (See latest service updates from the T here.)
The storm was expected to leave 5 to 9 inches of snow in the Boston area, with up to 11 inches predicted in the Framingham area, according to WBUR meteorologist David Epstein.
Epstein said it would be a cold Friday night and Saturday for those cleaning up from the storm.
"Temperatures overnight will fall well below freezing," Epstein said. "During the day tomorrow temperatures will struggle into the mid and upper 30s."
The stormed caused some issues on the roads throughout the day Friday.
The carpool lane on I-93 was closed for both commutes Friday, and the speed limit on the Mass Pike was lowered to 40 MPH for much of the day.
At the height of the storm, Highway Administrator Tom Tinlin told WBUR more than 3,000 crews were out plowing.
A snow emergency parking ban was never declared in Boston, but the city did keep schools closed, as did Worcester and many other communities.
Boston Mayor Marty Walsh told WBUR the city's resources were fully mobilized during the storm, with 422 trucks out treating roads with salt.
With reporting by The Associated Press 
This article was originally published on February 05, 2016.