Break The Chains Brings Radical Queerness And A Disco Ball To The Party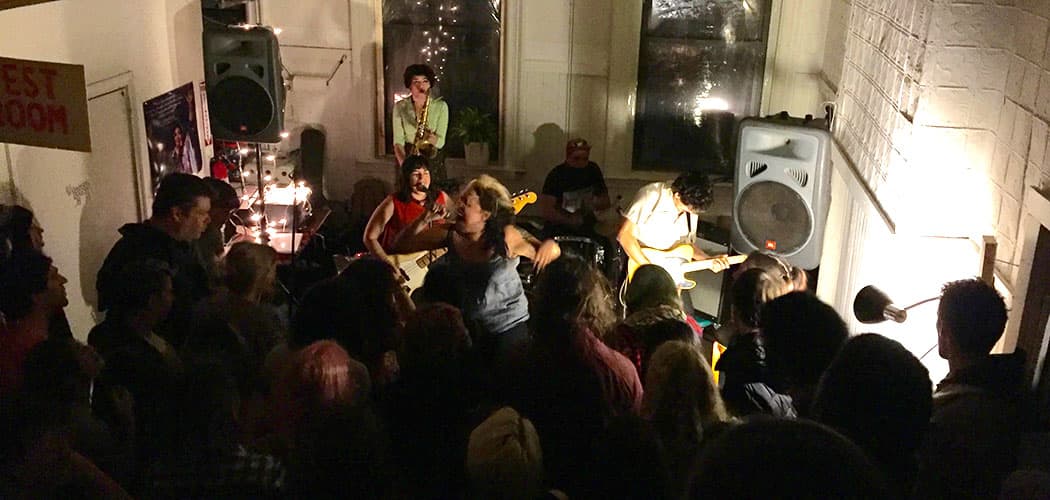 This article is more than 5 years old.
On a snowy Friday night in early February, the South End venue and cooperative workspace Make Shift Boston buzzed gently with awkward anticipation. The room, tall and drafty with exposed beams and peeling paint, was draped in strings of yellow Christmas lights. The crowd wasn't yet big enough to provide the noisy cover of a large group, and people stood around in tentative clusters, chatting in low voices or looking at their phones. A disco ball spun lazily, suspended from a broom handle that lay across the floor of the balcony, affixed to the railing with a bright orange clamp; both broom and ball would, remarkably, survive the evening unscathed, even as the crowd swelled and the heavy treads of so many army surplus boots picked their way across the unfinished floor.
Evan Greer scurried to and fro, adjusting sound equipment and directing volunteers. She looked delighted and distracted in equal measure. Greer, a transgender singer-songwriter-activist, is the creator of Break the Chains, a wildly popular, (mostly) monthly live music and dance night that showcases queer and transgender musicians and DJs. The radical Providence punk band Downtown Boys were scheduled to headline, with support from Albany solo artist Bell's Roar. Greer's house band, which featured singer-songwriters Myriam Ortiz and Kali Stoddard-Imari, kicked off the festivities.
"I throw this party because I love queers and I love Boston and I love overthrowing the government and I think that if we have an awesome dance party, it might help. Welcome," said Greer, before launching into a set that featured Ortiz leading the audience in a chorus of "Libertà, libertà" and a number from Greer with the call-and-answer refrain "Queers—we're strong!" The audience sang and shouted along amiably.
"There's a lot of really vibrant and great events for the LGBTQ community in Boston, but too often they're events where we're divided," Greer told me over the phone a few weeks prior. "And so Break the Chains is not a gay dance party, or a lesbian night. It's a radical event that's about actively breaking down those systems that keep us apart, and elevating the voices that are too often silenced or left out."
To that end, Greer makes a point of booking artists of color and performers who identify as queer and transgender. Past headliners include Riot Grrrl cellist and activist Bonfire Madigan and Navajo punk band Sihasin. The next Break the Chains, a fundraiser for the Hispanic Black Gay Coalition's HUES Fest, is scheduled for March 5 at Make Shift Boston and will feature weirdo Brooklyn garage rocker Hailey Wojcik and trans Chinese-Singaporean performance artist Bex Kwan. Taina Asili Y La Banda Rebelde, a seven-piece Afro-Latin outfit from Albany, will headline the April 16 event, a benefit for Boston Dyke March.
With Break the Chains, Greer, herself a touring musician, aims to provide a regular, well-paying gig to other queer and trans artists. She says the event usually attracts 100 to 200 people and that she is always able to pay the headlining act at least $500, if not more. "We're not trying to send these bands away with gas money," she says. "We're trying to send them away with wages for their work, because they are workers and they deserve to have their work respected."
Break the Chains strives for openness in all its logistical facets. The event starts and ends early (6 to 10 p.m.) so that people can bring their kids and neighbors won't be bothered by noise; it is held in all-ages venues so that the under-21 set can participate; and the cover charge is a $10 to $20 sliding scale with a suggested donation of $5 for students and low income attendees. "We've had performers on our stage who are teenagers, from 14, 15, up to in their 80s. And there's always a few kids running around at these shows, too," says Greer.
There were no children at the Feb. 5 event, but the crowd did skew noticeably young, thanks in part to the youthful draw of the headlining act. The audience was tough to pin down; it wasn't overwhelmingly punk or even especially hip, eschewing leather jackets for comfy flannels. Yet there was a palpable undercurrent of weirdness to the proceedings, evident in once-vivid rainbow hairdos and the sporting of fishnets by people of all genders. Though the crowd seemed shy at first, by the time Downtown Boys ramped up, a lively mosh pit had formed at the edge of the stage. In contrast to more typical punk-adjacent events, the moshing was a decidedly non-male-dominated affair.
Downtown Boys, fresh off a banner year that saw them performing on Democracy Now! and covered in Rolling Stone, were in fine form. By then the room was packed and even a little bit sweaty. Singer Victoria Ruiz was a whirl of fever and fury, propelled by the strident bray of Adrienne Berry's saxophone. The chaos abated momentarily when guitarist Joey DeFrancesco stopped to read aloud a cell phone number, explaining that the group had recently been evicted from their underground concert space in Providence. He asked the crowd to text the landlord in protest, and it responded with good-natured gusto, repeating the digits back en masse like a human microphone at an Occupy Wall Street rally. Greer flashed a mischievous grin as she passed me at the top of the stairs, notebook forgotten and mouth agape.
If the event felt like a protest at times, that was by design. "At Break the Chains, you hear tons of people talking about the Black Lives Matter movement, talking about issues of immigration and queer people who are in detention centers," says Greer. "You hear a lot of people talking about LGBTQ people in prison, particularly transgender people in prison. You hear a huge focus on trans women of color, who are the most marginalized, most oppressed members of our queer community and whose voices are often totally left out of mainstream dialogues of what LGBTQ people need, from policy, from lawmakers, from our communities."
Even then, though, the aspirations of Break the Chains can feel like just that—aspirations. During the opening set, Bell's Roar, who is black, introduced a song by asking audience members to consider their privilege, describing the room as a "white space." Where were Boston's black and brown people, the singer wondered, looking around. There was no point in arguing—despite the event's high-minded intentions, more of us were white than not.
The moment, though delivered kindly, delivered a jolt—the sinus-clearing flavor of hot spicy truth. "I think it's just so important to meet people where they're at. And that's the power of music and of dancing and of social events," says Greer. "You know, we can make speeches all we want, we can write angry blog posts all we want, and try to convince people that our lives matter, that we matter, that things need to change for this community. Or we can create events that are so fun and irresistible and that anyone who saw a photo or a video of that event would think, geez, I really wish I was there—and use those events as a platform to start having conversations."
After Downtown Boys finished their set, Greer took the microphone again. This time she asked the crowd to observe a moment of silence for Trayvon Martin, the black Florida teenager who, in 2012, on his way home from a nearby convenience store, was shot to death by a member of the neighborhood watch named George Zimmerman. Feb. 5 was Martin's birthday; he would have been 21 years old.
Instantly, effortlessly, the crowd went silent. In that moment of reverence was still coiled the noise that came before: hope, and the anxiety that animates it, and the defiance that underpins it all. Even in the stillness, my ears were ringing.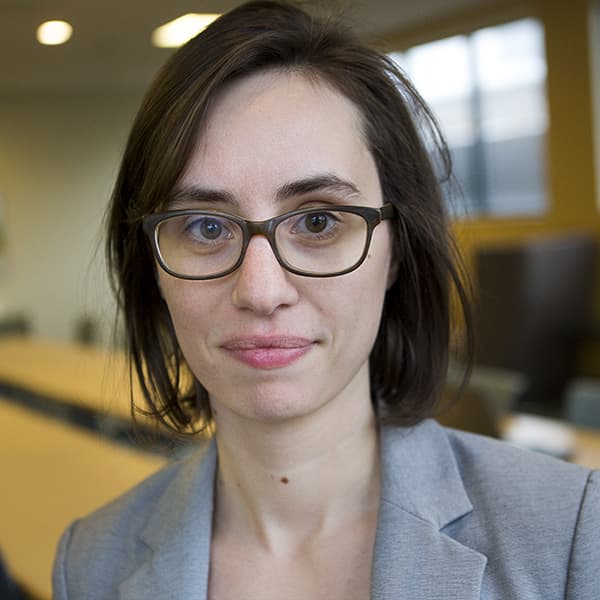 Amelia Mason Arts And Culture Reporter
Amelia Mason is an arts and culture reporter and critic for WBUR.