Commentary: How Did Rubio Swerve Into The Establishment Lane? He's Further Right Than Trump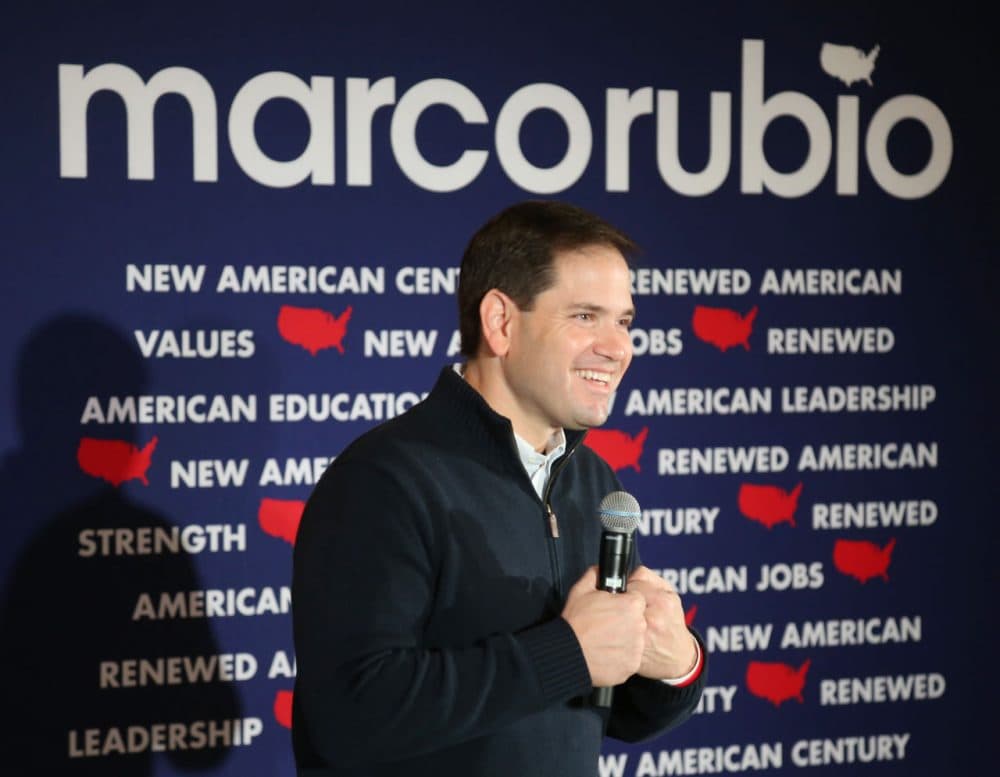 This article is more than 5 years old.
Ever since Donald Trump emerged as the front-runner for the Republican nomination for president, and especially since Jeb Bush dropped out, political reporters and talking heads suddenly described Sen. Marco Rubio as "mainstream." He's now routinely described as a moderate and has a space, to use the new cliché, in "the establishment lane." Perhaps the label stuck out of the need to find someone other than Ohio Gov. John Kasich, a pretty sure loser?
A Stampede Of Endorsements
Despite his not having won a single primary or caucus state, and being a far right conservative his whole political life, Rubio has quickly picked up endorsements from 1996 GOP standard-bearer Bob Dole, former Minnesota Gov. Tim Pawlenty, fellow tea partyer Sen. Tim Scott of South Carolina, South Carolina Gov. Nikki Haley, North Carolina Sen. Thom Tillis, Arkansas Gov. Asa Hutchinson and Nevada Sen. Dean Heller. Mitt Romney is said to be waiting in the wings.
Rubio Wakes Up
Perhaps his new backers lit a fire under Rubio, as he rocked Trump's world at Thursday's debate. He's finally using Trump's money against him for "sticking it to the little guy" — using illegal workers, scamming students at Trump College, hiding his taxes and having no health care plan.
Boyish Looks, Upbeat And Canned Critiques
Much of his moderate appeal has to do with his youthful appearance, despite his being six months older than Sen. Ted Cruz. His speeches are littered with a thinly-veiled generational pitch embodied in his "New American Century" slogan. This separates him from the snarky and dark critiques of Trump and Cruz. At the same time, Rubio warns that President Obama has "deliberately weakened America." That notion, we now know, thanks to Gov. Chris Christie, is part of a famously memorized paragraph.
Going Backwards On Same-Sex Marriage
Despite attempting to frame himself as a younger, modern Republican, he has said that he would roll back rights for same-sex couples if elected president. In December, he vowed on Meet the Press to "appoint Supreme Court justices that will interpret the Constitution as originally constructed" and who will overturn last year's decision legalizing same-sex marriage across the country.
He Wants To Boost Pentagon Spending Dramatically  
Even though we spend more on defense than the next eight nations combined, Rubio wants to beef up the Pentagon budget. He says America has fallen dangerously behind in military spending. That has left us vulnerable, he believes, to threats from North Korea, Russia and China, as well as crises in the Middle East. He wants to extend permanently the National Security Agency's right to tap into private citizens' domestic phone records so the government can fish for potential terrorist plots, he wrote in a Fox News op-ed last year.
A Tea Party Darling
Four years ago, when Romney was seeking a vice presidential candidate, a nationwide survey of Tea Party Express supporters showed Rubio to be the clear favorite. No surprise. In Rubio's campaign for Senate, he spoke at one of the first Tea Party rallies in Florida.
He Blows In The Wind On Climate Change 
"I don't agree with the notion that some are putting out there, including scientists, that somehow, there are actions we can take today that would actually have an impact on what's happening in our climate," he said at an Iowa town hall event. He told ABC News in 2014 that "our climate is always changing."
A Hardliner On Abortion
He'd outlaw the procedure even in cases of rape or incest.
But he doesn't sound like a hardliner, The Atlantic pointed out in an article on his moderate-sounding rhetoric. While opposing abortion in all cases, he says: "Listen, you're 15 years old and you become pregnant and you're scared and you have your whole life ahead of you and you're facing this, that is a hard situation," the Florida senator told Meet the Press in August. "I tell people all the time, 'Don't pretend this is easy.' " It's only easy for Rubio to condemn.
Flip-Flopping On Immigration
Where he's caught the most flack from Cruz and the press is on immigration. Early in his Senate career, Rubio made a name for himself within the GOP as a reformer on immigration who helped craft a comprehensive immigration reform package. It was very similar to one from Sens. John McCain and Ted Kennedy that he had criticized. After being blasted by conservatives, he changed his position, and opposed the "new" bill he helped write. (Cruz tried to amend the bill and now says he was against it; seems like the bill was an orphan.)
More Radical Than Cruz Or Trump
Think Progress, a liberal blog, looked at Rubio's record and found, "Though Sen. Ted Cruz and Donald Trump are hated and feared by the Republican establishment, Rubio is not much different and in some ways is more radical than the two Republican front-runners. He is one of the most extreme among the Republican field when it comes to issues like surveillance and rights for same-sex couples and has long ago abandoned his more moderate positions on issues like immigration."
Dan Payne is a Democratic political analyst and a regular contributor to WBUR Politicker.