Commentary: How Bill Clinton Can Best Help His Wife: Shut Up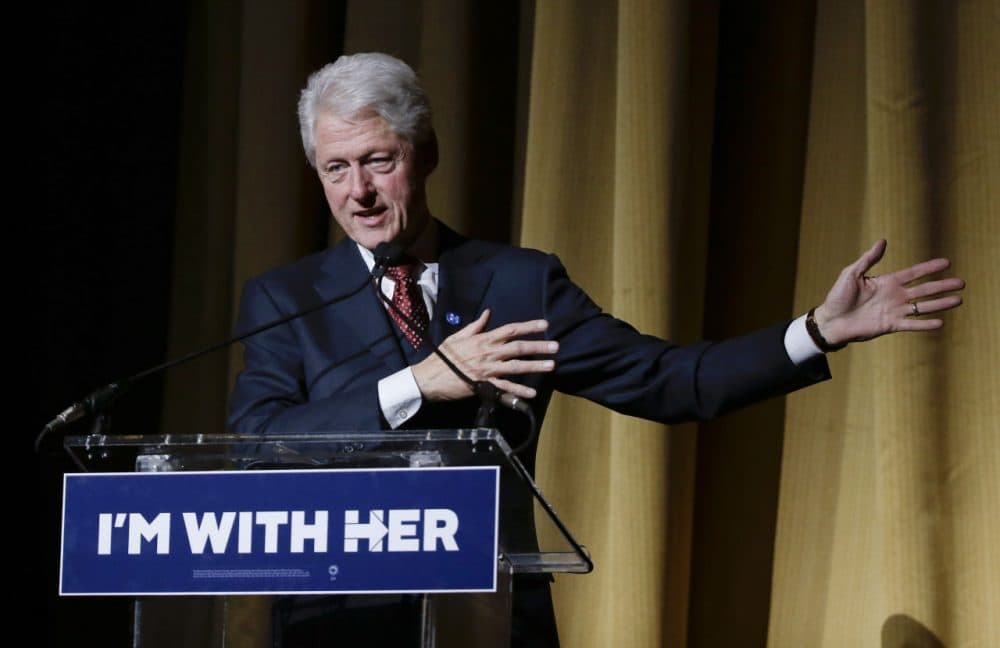 This article is more than 5 years old.
On Tuesday, the ever-unhelpful booster and former president, Bill Clinton, described the presidency of Barack Obama in words that Sen. Ted Cruz or Donald Trump might use. He said the country needs to "put the awful legacy of the last eight years behind us."
His "thoughts" were delivered at a campaign rally in Spokane, Washington, for his wife, Hillary, who has taken pains to embrace President Obama and to argue that his presidency has benefited the country, the economy and average citizens.
Here is the entire quote (italics added): "If you believe we can all rise together, if you believe we've finally come to the point where we can put the awful legacy of the last eight years behind us and the seven years before that when we were practicing trickle-down economics ... then you should vote for [Hillary Clinton], because she's the only person who basically had good ideas, will tell you how she's going to pay for them. ..."
As expected, the former president's impolitic remarks were quickly exploited by various conservatives, led by the far right news aggregator Breitbart News, which carried the headline, "Bill Clinton Blasts 'Awful Legacy Of The Last Eight Years' Of Obama Presidency."
In his defense, the Clinton campaign argued that he was referring to the Republican-controlled Senate and House and that he often praises Obama's achievements. Angel Urena, a spokesman for Bill Clinton, said he was referring to Republicans' "unprecedented obstruction."
The former president usually offers self congratulations for the economic progress he himself made in the White House, knocks Republican economic policies that benefit the wealthy, and extols Hillary Clinton's proposals for job and wage growth.
Bernie Sanders, who former Secretary of State Clinton has criticized as insufficiently supportive of the president, defended him on Twitter: "Don't know that I'd call President Obama's 72 straight months of job growth an 'awful legacy.' "
This wasn't an isolated blunder. At an event in Memphis in February, Bill Clinton argued, "The economy is 'rigged,' " he said, using one of Sanders' favorite terms, "because you don't have a president who's a change-maker ... with a Congress who will work with him."
Just before February's New Hampshire primary, in which Sanders received a record number of votes, Clinton accused Sanders of running a dishonest campaign and the news media of coddling him. It was widely seen as over the top and helpful only to Sanders.
On March 7, Bill Clinton in North Carolina claimed that Sanders wasn't disclosing the costs of his health care plan and other domestic proposals. He accused him of resorting to "name-calling" with his tirades against the "establishment," and compared Sanders' tactics to those of the GOP. "That's killing America," he declared. "That's what the Republicans do all the time -- they just call each other names. Let's have a conversation."
One of Bill Clinton's most memorable blow-back moments came when he mocked Sen. Barack Obama in New Hampshire in the 2008 campaign against Hillary Clinton. "Give me a break," he said, of Obama. "This whole thing is the biggest fairy tale I've ever seen," Clinton had said in accusing Obama of distorting his stance on the war. He thereby offended the most senior black member in the Democratic congressional leadership, U.S. Rep. James Clyburn of South Carolina. Clyburn warned that he might end his neutrality in his state's 2008 primary over remarks by the Clintons, including the "fairy tale" comment. Clyburn stayed neutral, a stance that the Clintons took as a slight. Obama won the 2008 primary in South Carolina, largely due to he state's black vote, which he carried with 78 percent.
This year, Clyburn endorsed Hillary Clinton in his state's primary, which she won handily, thanks largely to winning 87 percent of the black vote. In this year's South Carolina primary, Bill Clinton and daughter Chelsea made appearances but the former president made no waves.
"Bill Clinton is an incomparable genius when it comes to politics -- except when it comes to his wife," former Obama strategist David Axelrod has said. "It clouds his judgment."
Dan Payne is a Democratic political analyst and regular contributor to WBUR Politicker.