Forecast: A Rainy, Raw Monday Before A Windy Tuesday
Rain is continuing to overspread the region, and depending on what time you leave for work, rain could slow down your commute.
Temperatures today will be too warm for any wintry precipitation, but it's going to feel very raw and chilly nevertheless. I don't anticipate temperatures breaking the lower 40s.
Wet or damp weather of late March can bring about a cold that feels just as uncomfortable as a much colder day in January.
There are two areas of low pressure affecting the region today, but the storm to the south is the primary weather-maker. I put circles around both systems, however.
Since they are separate, they also each have their own areas of rainfall. The one on the coast will be producing most of the rain today, and therefore, the heaviest rain will be east of Worcester. Within this zone Cape Cod should receive the most rain and has the highest likelihood of an inch of water.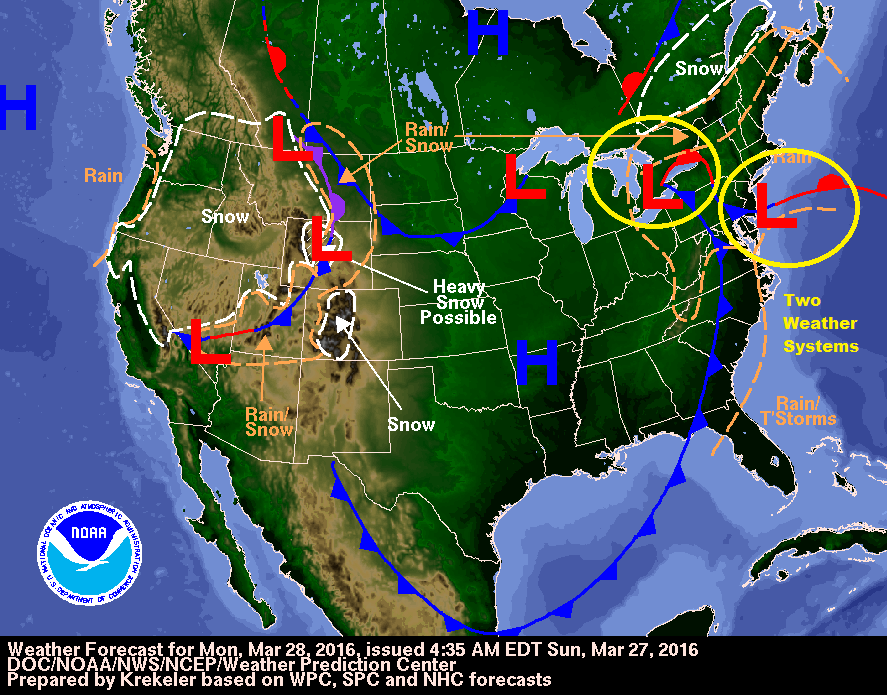 In the metro Boston area, look for half- to three-quarters of an inch of rain.  Provided we receive this amount of precipitation, the total rainfall for March will be about normal.
The rain will end this evening, but I do expect roads to at least be damp — if not quite wet — for the ride home. Those finishing the day between 3 p.m and 5 p.m have the highest chance of it still raining.
Tomorrow both of those storms will combine into a large storm in Canada. The center will be too far away to bring any more rain, but close enough to produce a lot of wind. It wouldn't surprise me to see a few scattered power outages where wind gusts exceed 45 miles per hour.
You can follow David for weather updates on Twitter at @growingwisdom.
---
Today: Unsettled and cool with periods of rain and the chance for a thunderstorm south of Boston. Highs in the lower 40s.
Tonight: Early showers and then just cloudy. Lows 35-40.
Tuesday: Blustery and cool with clouds and sunshine. Highs in the 40s.
Wednesday: Sunny and pleasant. Highs 54-58.
Thursday: Partly sunny and warm. Highs 65-70.
Friday: Sun and clouds, late day showers possible. Highs in the 60s.