Zika And Ebola Grab Headlines, But Lingering TB Worries Many In Public Health More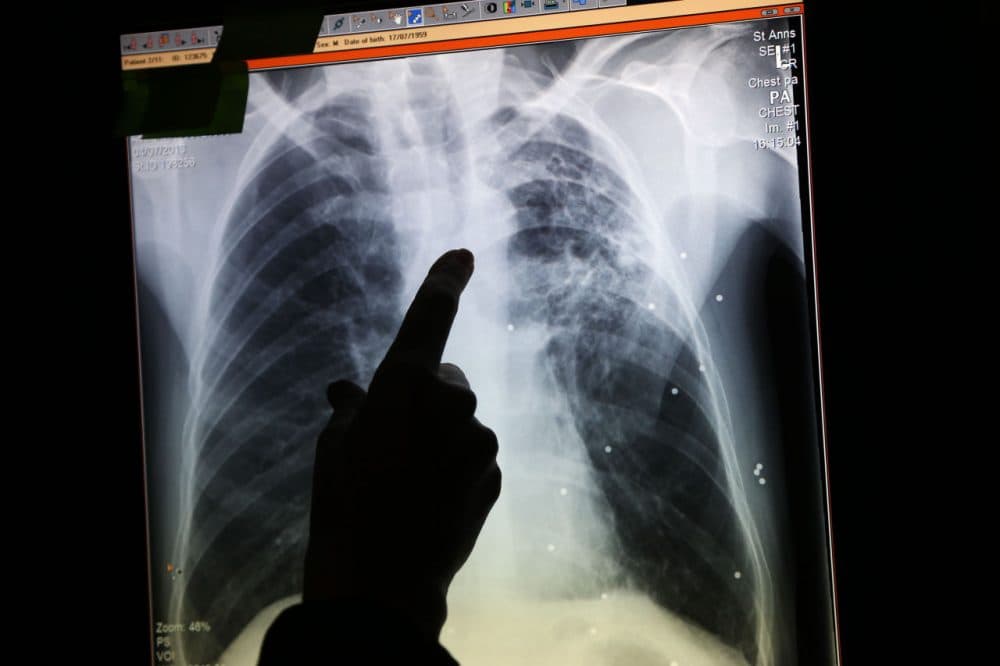 This article is more than 5 years old.
For public health nurse Meredith Hurley, the discovery that her town had an active case of tuberculosis threatened an infectious disease nightmare that couldn't have come at a worse time.
The tuberculosis patient was a young man from Saudi Arabia, living in the Boston area to learn English. He'd been coughing up blood for five days while he traveled on buses and subways, went to class, visited the New England Aquarium, shared a hookah, and hung out with seven roommates who jointly rented a house in the densely populated seaside town of Winthrop, Massachusetts. They hailed from China, Italy, Taiwan, Germany and Turkey and spoke six different languages — but little English.
To make matters worse, the Saudi man's case occurred at a time when the Massachusetts Department of Public Health had abruptly lost two of its four TB control nurses, reportedly due to budget-driven early retirement. "These retirements were not planned for and a contingency plan was not established," Hurley says.
The episode is a stark reminder that the ancient scourge of TB is still with us, even though many people think the disease was vanquished in this country long ago. It can pop up anytime. The case also underscores how critical it is for front-line public health workers who understand how to control TB to be available when needed.
The sudden appearance of TB in Winthrop is a tiny piece of a big mosaic. A new report from the Centers for Disease Control and Prevention reveals the number of TB cases in the United States rose in 2015, to almost 10,000 reported cases, after nearly 25 years of steady decline.
In Massachusetts, progress against TB appears to have stalled, after declines in the first decade of the millennium. One in five reported cases involves drug-resistant strains of TB, which are far more time-consuming to treat with expensive drugs that carry burdensome side effects.
In its annual TB update last month, state health officials reported 192 active cases in 2015. Though the number appears small, the stakes involved in each case are high — for the affected individual and for public health. "Challenges include high rates of drug resistance, delays in diagnosis and complex medical and social needs of persons diagnosed with TB," the state report says.
"I was thinking there were seven more people walking around the community with active tuberculosis, and they were probably going to be spreading it to seven more and then 14 more and then 49."

Meredith Hurley, Winthrop public health nurse
As soon as she heard about the Winthrop case, Hurley — the town's one-woman public health department — imagined the worst.
She discovered the TB patient had visited clinics three times before getting a proper diagnosis, exposing caregivers and patients each time. That's not unusual with TB, which is not near the top of many doctors' list of possible diagnoses.
Hurley began to envision how many people the TB patient exposed in Winthrop, a town of 20,000 residents packed into two square miles.
"We don't have a lot of space between our neighbors, and for a disease that's airborne, that can be challenging," Hurley says. "I was thinking there were seven more people walking around the community with active tuberculosis, and they were probably going to be spreading it to seven more and then 14 more and then 49. It's a cascading effect."
Hurley says she badly needed help to figure out how big a problem she was dealing with. Because of the sudden short-staffing at the state health department's TB control program, she had to enlist the help of a public health nurse in western Massachusetts.
Normally, the state health department's TB nurses help local health officials like Hurley carry out the urgent business of:
• making sure a patient with newly discovered active TB, known as the "index case," is properly treated and strictly isolated until no longer infectious;
• tracking down and interviewing in-depth all the people who had close contact with the index case; and
• identifying possible spread by administering TB skin tests to close contacts and arranging for chest X-rays for those who test positive.
Each of these steps is laborious and requires considerable skill. In this case, the Saudi man's landlady didn't even know the names of some of his roommates; police had to trace them through the address they listed on their visa applications. Once identified, Hurley had to win their trust.
"They were suspicious and frightened," Hurley says of the roommates, who ranged in age from 15 to 20. "Putting their fears to bed was a challenge."
To communicate with those who spoke little English, Hurley resorted to Google Translate, sitting opposite them while she and they texted questions and answers through the translating software.
Thankfully, Hurley's worst nightmare did not become reality. No spread from the initial case has been detected. That's pretty remarkable, given the fact that TB can spread relatively easily through secretions coughed out by an actively infected person. But it took three weeks before the TB skin test results came back and Hurley could relax.
"It was an intense three weeks," Hurley recalls.
It took more time before chest X-rays ruled out TB in two contacts who initially tested positive. Meanwhile, one contact returned to his home country, so it will never be known whether he had active TB and might have infected fellow airline passengers or people back home.
Concerns About Dwindling Funds
The Winthrop outbreak is not an isolated event. "Most of my time is taken up with TB," says Maria Tamagna, the public health nurse in nearby Malden, which has a polyglot mix of residents from countries where TB is common. "Right now we have seven active TB cases. The latent cases [people who are infected with TB but not symptomatic] I couldn't even count. There are dozens, probably hundreds." People with latent TB are at risk for converting to the active form.
"The problem is we're not seeing plain-vanilla TB anymore."

Cynthia Tschampl, Brandeis University
Experts say the latest numbers underscore why it's important that scary new outbreaks, such as Ebola and Zika, not be allowed to rob resources from the largely invisible efforts needed to contain old, largely forgotten threats like TB.
"The problem is we're not seeing plain-vanilla TB anymore," says Cynthia Tschampl of Brandeis University. "People have diabetes, they're taking other drugs that suppress immunity, they're getting more TB in the lymph nodes, the brain. These complications require more case management, more drugs. So at a time when we can't afford to lose anything, we're cutting our budgets back."
Cuts in public health budgets are very much on the minds of many public health and medical leaders right now. The issue has been given new urgency by the advent of Zika virus, which the World Health Organization this week says has now reached 66 nations and territories.
Republican congressional leaders have denied the Obama administration's request for $1.9 billion in emergency funding to prepare for Zika, insisting that the administration spend money allocated for Ebola first. The White House says it will do that.
But many are worried it won't stop there. This past week more than 60 U.S. medical and public health groups pleaded with House Speaker Paul Ryan, Minority Leader Nancy Pelosi and other congressional leaders to "provide new funding rather than re-purpose money from other high-priority programs" at the CDC and other federal health agencies.
Whether because of Zika or not, many worry about further cutbacks in funding for the nation's public health infrastructure — even in states like Massachusetts where public health is considered strong.
On March 23, the Massachusetts health department's Office of Preparedness and Emergency Management announced in a conference call with local health officials that the CDC is cutting $44 million nationally from grants to states for public health emergency preparedness. That translates to an 8 percent cut in Massachusetts' grant, according to documents obtained by CommonHealth. Some of this is slated for infectious disease control, but it's not clear whether TB control programs will suffer further cutbacks.
Assistant Public Health Commissioner Kevin Cranston, who's in charge of infectious disease programs, said he hasn't heard that TB funds are in jeopardy. But he says fear of dwindling funds for public health is "a legitimate concern."
"We seem to be good responding to public health crises," Cranston says. "I think TB is the perfect example of a disease where, independent of the number of cases, the same capacity has to be in place to make sure we don't have a dramatic resurgence of TB as we did in the late 1980s and early '90s."
Cranston says the staffing crisis in the TB control program that coincided with the Winthrop episode last July has been overcome. There are now four full-time TB nurses, compared with five a year ago. But the number of epidemiologists doing TB control has increased from one to five.
Meanwhile, life has calmed down a bit for Hurley, the Winthrop public health nurse. She's back to the routine monitoring of three active TB cases who must be visited and contacted regularly to make sure they're sticking to their complicated medication regimens.
She knows of nine Winthrop residents who have latent TB — a non-infectious state that could "convert" to a public health threat at any time. "I worry a lot about TB," Hurley says.
Richard Knox Senior Correspondent, CommonHealth
Richard Knox is a senior correspondent for WBUR's CommonHealth.