Israeli Stage's Production Of 'Oh God' Puts A Troubled Almighty On The Couch
This article is more than 7 years old.
WATERTOWN, Mass. — The Welsh psychoanalyst -- and Freud biographer -- Ernest Jones coined the term "god complex." But if you really are God, is it a complex?
This is not among the questions raised by the late Israeli dramatist Anat Gov's 2008 two-hander "Oh God" — but it could be. In the play, a reading of which Israeli Stage has toured to six states and now presents as its second full production and keystone of a sixth season dedicated to female playwrights (at the Arsenal Center for the Arts through April 30), a troubled Old Testament Deity does indeed seek out an earthly shrink.
That would be Ella, the cynical mother of a severely autistic teen and a specialist in children's learning disabilities, who presides over a sleekly designed if comfortable home office and (in Cristina Todesco's design) a phalanx of macramé pots containing plants that are suffering due to an ongoing drought. Also wilting is Ella's belief in the Supreme Being who seeks to be her client — though, as the Big Guy points out, she has often talked to Him, in not so nice ways, in times of duress.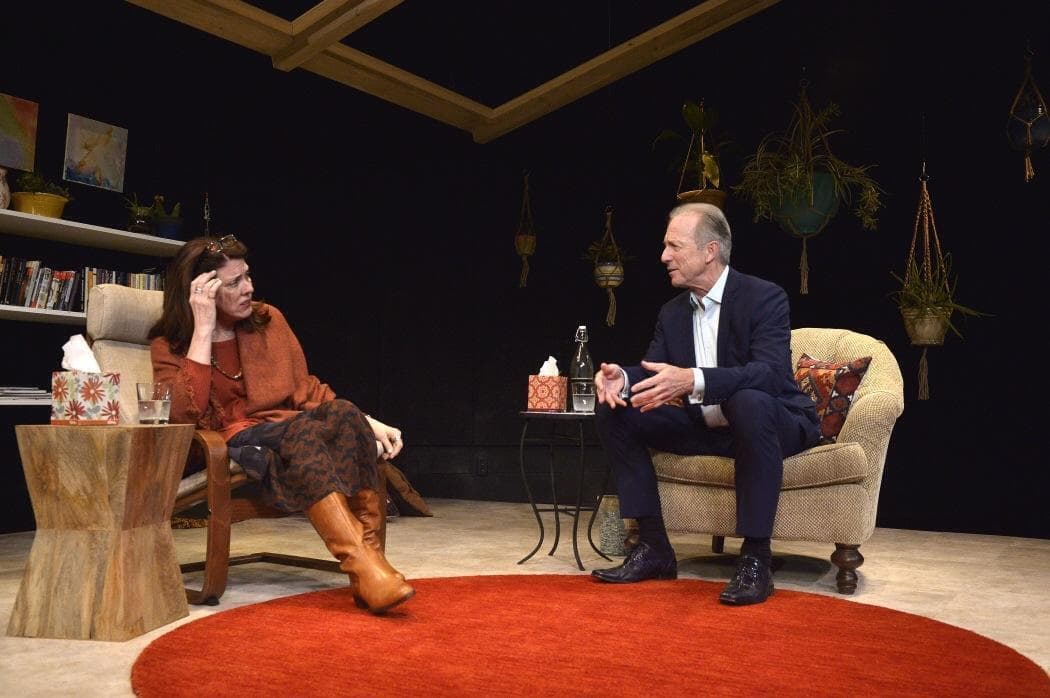 The play starts cute, with Will Lyman's trim chief executive Deity a bit cagey in the secular confessional that is the shrink's domain. Brusque if nervous, He won't say who He is — though He does cop to being 5,768 years old -- "next week." He also identifies as an artist "in all spheres" and "an orphan since birth." When God does finally reveal Himself, Maureen Keiller's fashionably draped Ella naturally thinks he's crazy (see "god complex," above). She also thinks he may be from the Israeli intelligence agency, the Mossad, out to investigate her.
As it turns out, God, though he issues a scathing denial, feels understandably betrayed by the humans to whom he handed a world on a verdant platter. "Disappointment? Me? Why? Just because my amiable friend has immersed all the Earth in blood, polluted all the seas with oil and chemicals, filled the air with gases and smoke, covered the skies with airplanes, flooded space with satellites, and whenever you see a flash in the sky you don't know whether to make a wish or run to the nearest bomb shelter. Disappointment? Not at all."
God is also feeling suicidal — a sticky problem because, if He goes, He takes the world with Him. So it's in the agnostic Ella's interest to steer God through his existential crisis. And with the aid of extensive Biblical scholarship and what God rightly calls "dime-store psychology," she does. Still, it doesn't help that this is no touchy-feely Deity but the tough and fiery God of Abraham, Moses and Job. As He puts it, getting to the crux of a problem not entirely His: People "don't love me. They're in love with Jesus, they're mad about Muhammad, they sanctify every crumb that falls from the lips of their priests, each of them says something different about me until even I don't know who I am, and in the end it somehow ends with a small -- or big — war over the sanctification of my name …"
Ella concurs. We hardly need fire, brimstone or thunderous smiting, she opines, when we have proved so adept at destroying our world ourselves. As she points out, with Mankind in charge of the mayhem, Lot's wife wouldn't have had time to turn her head and look back on Sodom.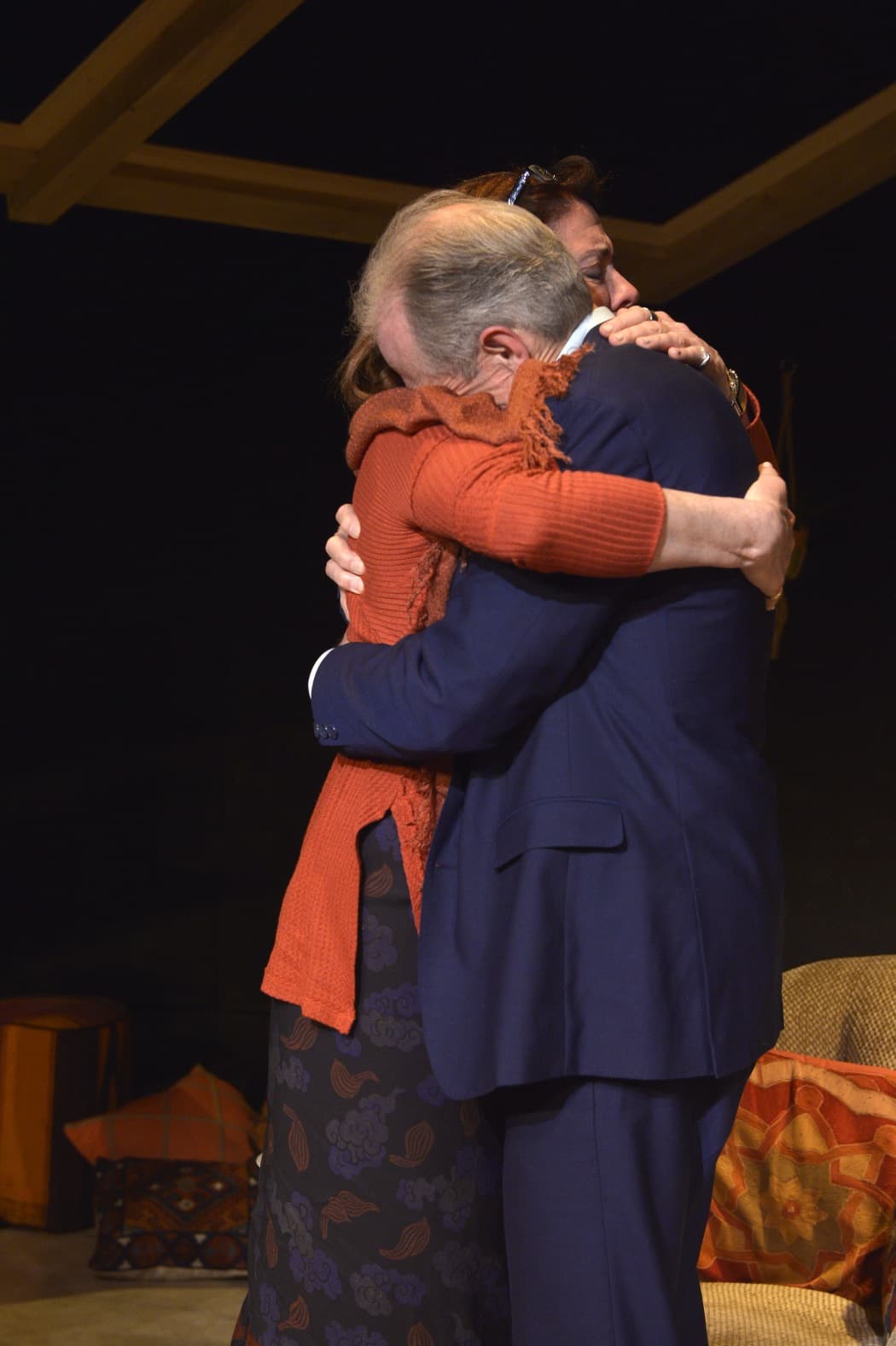 Gov, who died in 2012, doesn't present a logical premise, of course. How could God, if He does exist, hope to seek help without revealing His unique position? But "Oh God" proves a clever platform from which to launch a search for what Israeli Stage calls "the meaning of God in a secular society." And if the 90-minute work is necessarily talky, the talk drips both irony and conviction. And it is very well performed here, in an accessible translation by Anthony Berris, under the guidance of artistic director Guy Ben-Aharon, who accessorizes the sometimes-didactic dialogue with savvy, telling gestures.
Keiller, elegant in muted layers of shmata (the costumes are by Charles Schoonmaker), is an Ella both sharp-edged and vulnerable, who warms to God only slowly. Lyman's God, who admits to an "impressive voice" (which will amuse aficionados of "Frontline," which he narrates), is both smug CEO recalling his best brainstorms (oh, that marsupial pouch was a clever invention) and anguished, crippled force, his unease betrayed by twitchy fingers. In this pair's capable hands and sparring conversation, complex questions of faith are neatly shrink-wrapped.