Massachusetts Republicans Expect Record Turnout For Saturday Caucuses
03:30
Play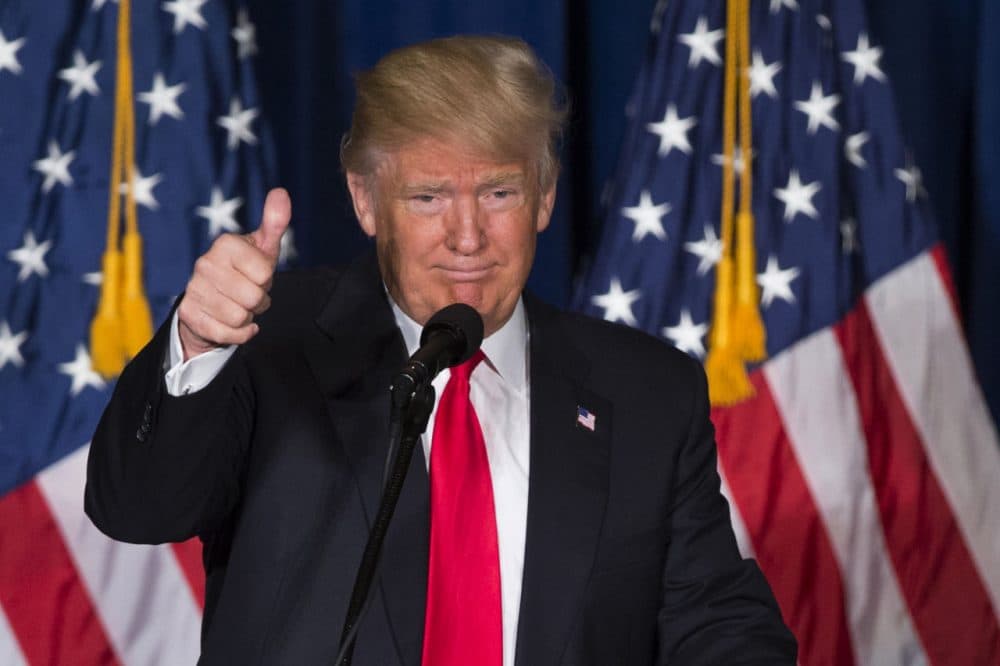 This article is more than 5 years old.
Republicans are expecting record turnout at Saturday's caucuses to choose delegates for the Republican National Convention in July.
Twenty-seven of Massachusetts's 42 delegates will be chosen at Saturday's caucuses.
The delegates to the convention are allocated based on the primary results of March 1. Massachusetts will send 22 delegates for Donald Trump, eight for John Kasich, eight for Marco Rubio and four for Ted Cruz.
There are nine caucuses, one for each congressional district. Each caucus will choose three delegates. The Massachusetts Republican Party's Allocations Committee has already apportioned the delegates among the candidates. For example, in the 8th Congressional District caucus in Braintree, voters will choose two delegates for Trump and one for Rubio.
"All of the presidential campaigns had a seat at the table here in Massachusetts, and have unanimously agreed to the allocation that was ultimately adopted by the committee," Massachusetts Republican Party Chair Kirsten Hughes said in a conference call with reporters Thursday.
The states submitted their plans for choosing delegates to the Republican National Committee in October and, now, cannot change them.
Anyone who registered as a Republican by Feb. 10 can vote Saturday. Voters must bring a Massachusetts government-issued photo ID.
"So just to be upfront with this, only Republicans can participate in the caucuses, which is a different criteria than participation in the primary, when, as you know, unenrolled voters can participate," Hughes said. "So we do expect some folks to be confused at the door when they show up to be a delegate or vote in the caucus."
Hughes expects the caucuses to be hectic. People at the door will check district-wide voter registration lists.
Even though the delegates are already allocated to Trump, Kasich, Rubio and Cruz, that's only for the first ballot at the Cleveland convention in July. After that, delegates become unbound, and that's where the real race comes in. You could, for example, have a delegate who really supports Kasich or Cruz elected as a delegate for Trump.
"Clearly, folks are looking at a second ballot, and that's something that they're able to do within the framework of the rules," said Terry MacCormack, the state Republican Party communications director.
And that has the Trump campaign worried.
State Rep. Geoff Diehl, Massachusetts co-chair for Trump, says the campaign is trying to make sure that the Trump delegates really are Trump supporters.
"We want to make sure that those 22 seats that he won become represented by delegates who will be loyal to him, because we know his main competitor, Ted Cruz, is playing for a second-ballot strategy at the convention at this point," Diehl said. "And so that's why we are doing everything we can to ensure that supporters turn up and vote for the Trump slate at each of the nine locations."
But Hughes, the party chair, wonders if it will go to a second ballot.
The state party has seen large numbers of people pre-register for the caucuses. Party officials booked rooms that could fit more than 300 people, and by Thursday, about 200 people had pre-registered for each caucus.
It's a sign of the continuing enthusiasm that brought record turnout in the Republican primary last month.
This segment aired on April 29, 2016.