Zeitgeist Stage Negotiates A Not So Great 'Wilderness'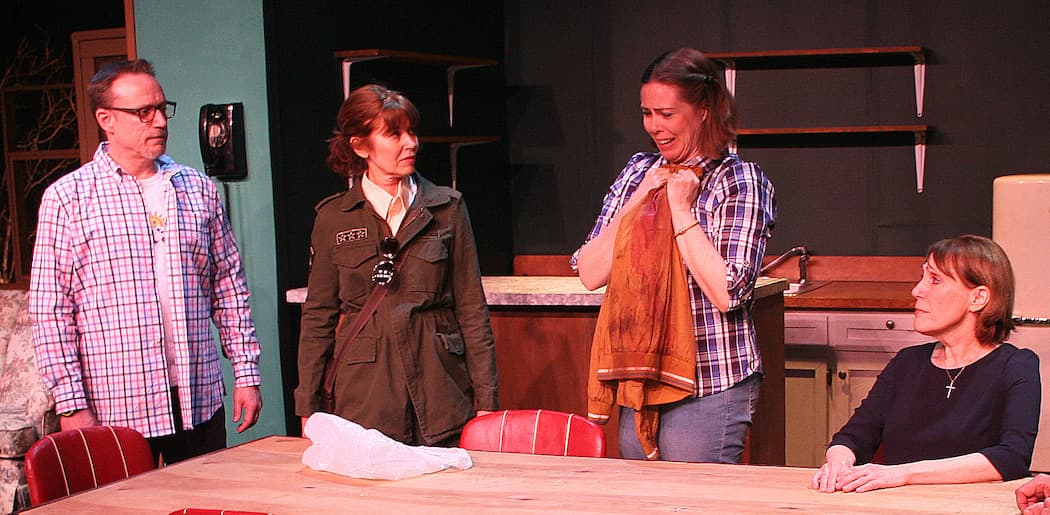 This article is more than 5 years old.
It's easy to get lost in "A Great Wilderness," walking in circles until you trip over what may be the point.
Samuel D. Hunter's 2014 play, seen here in its area premiere by Zeitgeist Stage Company (at the BCA Black Box through May 22), takes place in the Idaho outback of the title, where a well-meaning Christian elder named Walt has spent 30 years trying to convert gay teens through a mixture of scripture, prayer and walks in the woods. Now, as he starts to counsel one final lad before retiring to assisted living in Boise, the kid goes missing — triggering not just an escalating rescue effort but also a low-simmer crisis of conscience in Walt.
The New York-based Hunter, born and bred in northern Idaho but educated at NYU, the Iowa Playwrights Workshop and Juilliard, is also the author of the Obie-winning "A Bright New Boise," which Zeitgeist produced in 2012, and "The Whale," presented here by SpeakEasy Stage Company in 2014. Both religious fundamentalism and repressed sexual orientation have figured into the playwright's work before, and they are worthy subjects.
But "A Great Wilderness" is too circuitous and soft-edged a work to have much impact. Don't we all know by now that efforts to re-program sexuality, however sincerely motivated, are not only futile, but also injurious? We see this realization slowly dawn on Walt at the end of what he has thought of as both a career and an atonement. But even given J. Jumbelic's effectively moody sound design and something akin to a fiery apocalypse coming and going outside the counselor's rustic cabin, Walt — as blandly portrayed by Zeitgeist stalwart Peter Brown — appears less struck by lightning than by gentle drops of possibly acid rain.
The main problem with Hunter's play is that Daniel, the belittled son of an Evangelical pastor and his resentful wife, goes missing almost immediately, robbing us of any opportunity to witness Walt's ostensibly benign conversion therapy. The kid, portrayed with believable apprehension by Boston Children's Theatre vet Jake Orozco-Herman, eats a sandwich while exposing the tip of the iceberg of his cruel experience as the effeminate son of a fundamentalist minister, then goes for a hike from which he does not return when expected.
This leaves a quartet of true believers (and one perkily neutral female forest ranger) to rake over the embers of their religious convictions and past relationships. In addition to Walt, who "overcame" his own same-sex attraction but failed to help his struggling gay son, we meet the counselor's blunt ex-wife Abby, her lawyer husband Tim (who is also a conversion therapist), and Daniel's mom, Eunice, who arrives hot, bothered and heaving with prayerful anxiety after receiving a text from her son that reads, simply, "I'm gone."
At least Eunice can remember that terse if ominous message. The aging and distracted Walt knows only that Daniel said something to him before leaving but can't remember what it was. (The utterance turns out to be important because it goes to the crux of Walt's self-perceived mission — and demonstrates how harmful, if temporarily empowering, its effect on an impressionable teen might be.)
Of course Hunter, a married gay man, is not in favor of conversion therapy. But in "A Great Wilderness," he introduces us to some reasonable people whose religious beliefs have led them to believe that living in sin is worse than trying to squash your true self. The adamant if ameliorative Tim remains convinced that "the culture" has morphed from morality to fashion, and that youth must be saved from the, well, zeitgeist. But after 30 years of steering folks towards heterosexual marriage rather than hellfire, Walt's beliefs are starting to crack.
But wouldn't that have happened long ago if it were going to happen at all? Daniel's defection, even if it's the first, does not seem a sufficient enough catalyst for a guy who, even while listening to the soundtrack of a promotional video for the retirement community he's headed toward, doesn't seem to register that it's no more insipid than the spiritual pabulum he's been dispensing for decades.
I am a right believer in Zeitgeist, whose honcho David J. Miller chooses intriguing material and whose mostly non-Equity actors do a credible job of rendering it. True to form, Miller not only directs "Wilderness" but has also designed a set that suggests both Walt's out-of-date hideaway (whose walls boast both a crucifix and a rotary phone) and the potentially surreal wilderness behind. Still, "A Great Wilderness" may be too flaccid for these competent rather than great actors to pump up. The reliable Christine Power brings both depth and anger to Eunice, who comes to the sorrowful belief that her sensitive son might be better off dead than in the conundrum into which he has been forced. But Brown, as Walt, seems more befuddled than elderly, woodsy or truly troubled. He may be a nice guy, but he couldn't lure a coat hanger into the closet.