Commentary: The Fairly Odd Assortment Of Trump Endorsers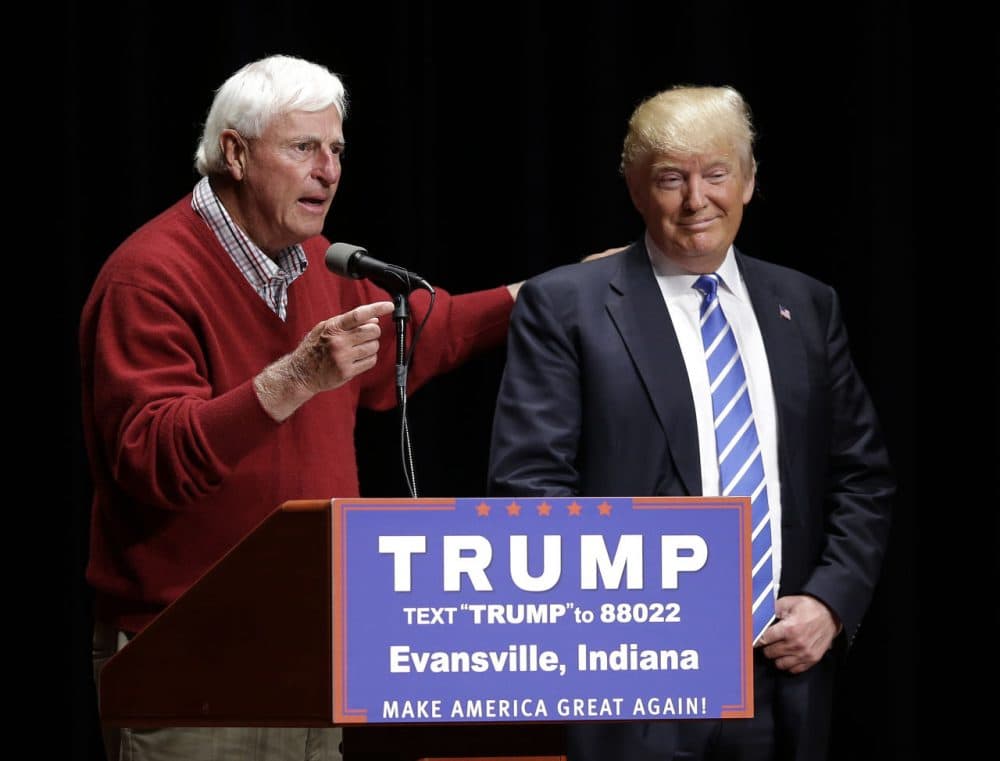 This article is more than 5 years old.
There's a pattern to those who have endorsed de facto Republican nominee Donald Trump: They're like he is. They do things their own way, don't care about consequences, and don't worry about what others think.
Last week, Trump received the rambling, snarling endorsement of former Indiana University basketball coach Bobby Knight. Or as Trump spelled his name, Bobby Night.
Notorious for verbally abusing his players during games, attacking referees and upbraiding members of the news media, Knight is best known for hurling a chair across the court to express his fury at his team (which lost the game to home-state rival Purdue) and with the referees.
Also from the basketball world, Dennis Rodman, the outrageously bedecked ex-player for the Detroit Pistons and the Chicago Bulls, was an early Trump backer. He is best known in diplomatic circles for having taken at least three unscheduled, unauthorized trips to meet with Kim Jong-un, the isolated, immature leader of North Korea who had threatened to bomb the U.S. to retaliate for a dumb American movie about killing him.
Mike Tyson, the convicted rapist and former boxer, is publicly for Trump.  "You know, all the tough guys endorse me," Trump said. "I like that, OK?"
Latrell Sprewell, the former NBA basketball player who famously choked his coach during a team practice, praised The Donald's Nevada win. Trump must like his hands-on approach.
Trump is a big hit with professional golfer John Daly, who has acknowledged his own battles with alcohol, having been in rehab twice unsuccessfully. Trump, who owns several golf courses, was praised by the self-indulgent Daly for being "all business." At the legendary and staid St. Andrews golf club in Scotland, Daly showed up for a round wearing New York Yankees pants. Will he wear them for Trump's inauguration?
A self-proclaimed sports fan, Trump was concerned about the legendary coach of the Penn State University football team, Joe Paterno. "How's Joe Paterno?" he asked while campaigning in Pennsylvania. Joe had died two years prior. Pardon me, President Putin, how's Nikita doing?
Two big-name professional wrestlers are in Trump's corner.
Hulk Hogan, who starred in an online sex tape with a friend's wife, won a $115 million judgment against Gawker. He wants to be The Donald's running mate. He was fired by the WWE pro wrestling organization after a rant in which he used the n-word; he subsequently apologized.
Jesse Ventura, the one-term independent governor of Minnesota, also wants the vice presidency. Trump is not known to have wrestled with the choice of a running mate, although Sarah Palin, whom he likes, has done it before. Tina Fey, are you ready?
Trump commented on David Duke back in 1991, but lately has pretended not to know of the white supremacist and former Ku Klux Klan grand wizard. Asked by Bloomberg's John Heilemann if he would repudiate Duke, Trump replied: "Sure, I would do that, if it made you feel better. I don't know anything about him." Duke told an audience last year that voting for anyone besides Donald Trump "is really treason to your heritage." He was of course speaking to people of European heritage.
Bikers For Trump is a collection of motorcycle clubs that promise to hold thousands-strong protests and more if Trump is denied victory at the GOP convention in Cleveland. "I'm anticipating we'll be doing a victory dance," said the founder of the biker group. "But if the Republican Party tries to pull off any backroom deals and ignores the will of the people, our role will change." Paul Teutel Sr., the overbearing, obnoxious father on the reality TV show "American Chopper," had been a contestant on Trump's TV show and had given Trump a custom bike; recently he endorsed him.
There's not space here for all the nuts in show business who favor The Donald ,but here are a few names:
Charlie Sheen, "It's all about winning;"
Gary Busey, who scrambled his brain in a helmet-less motorcycle accident, and after losing on "Dancing With The Stars" refused to leave the stage;
Kirstie Alley, the Scientologist/actress who pitches weight-loss remedies on TV;
Jean-Claude Van Damme, Belgian actor and kickboxer who starred in a movie Trump loves, "Bloodsport;"
Clint Eastwood, who talks to empty chairs;
Jerry Lewis, who gets no laughs these days;
Jon Voight, the actor who, it pains me to say, is very good in the "Ray Donovan" TV series.
Oh, yeah, one U.S. senator, Jeff Sessions of Alabama, a climate denier, endorsed Trump and has a decent shot at becoming his vice presidential pick. No kidding.
Dan Payne is a Democratic political analyst and a regular contributor to WBUR Politicker.