Commentary: Donald Trump's New Wall — Around His Tax Returns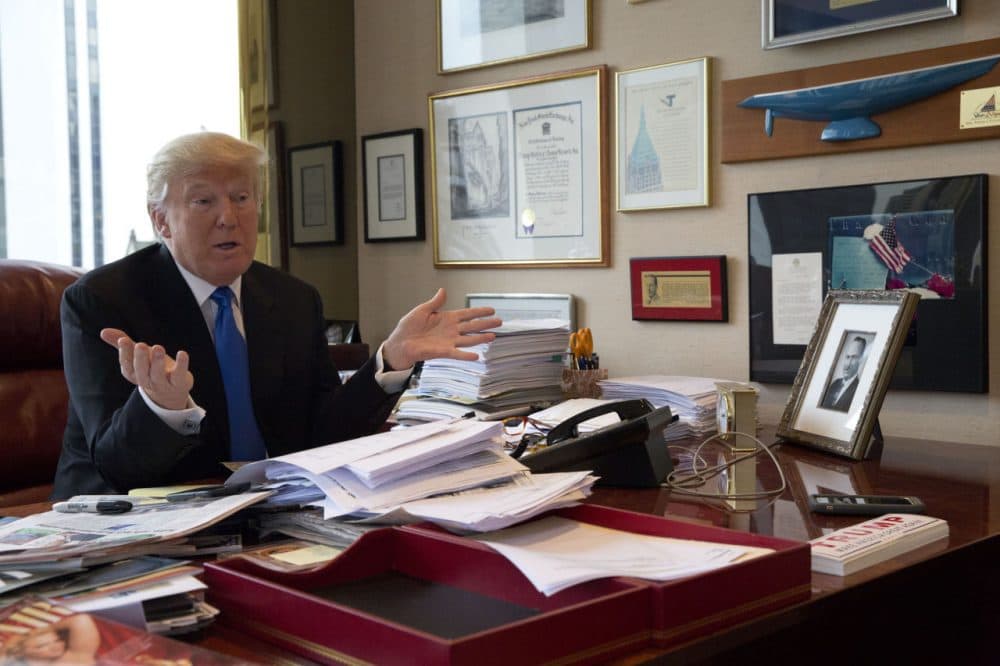 This article is more than 5 years old.
Donald Trump, the self-described "very rich" man who has all but captured the Republican nomination for president, has -- again -- reneged on a promise, this time to make his tax returns public.
After saying he would release them, he now claims he cannot because they were being audited. "I'm always audited...maybe because of the fact that I'm a strong Christian," said the man who calls the Bible his favorite book but refuses to cite his favorite verse.
As for disclosing returns during an audit, the IRS said in February: "Nothing prevents individuals from sharing their own tax information."
Now he says the audits won't be completed until after the November election. The Washington Post declared that Trump is "building a wall around his returns." Trump claims there's nothing to be learned from them. What they will show is how Trump, who has avoided debts by filing for bankruptcy four times, plays the tax game.
The returns could reveal politically damaging behaviors, tax dodges or unsavory associations. His troubles may include:
1) He may not be as rich as he brags he is. A Forbes economist says his claim of $10 billion in net worth is "ridiculously exaggerated;"
2) He may be taking advantage of the "carried interest" deduction he condemns and promises to close;
3) His charitable contributions could be minuscule to nonexistent — of special interest would be what he claimed he raised for veterans;
4) He may have stashed large sums in offshore tax havens, such as the Cayman Islands (Mitt Romney did, to his embarrassment);
5) He could own substantial shares in companies that have shipped jobs to Mexico or China or other foreign countries that he belittles;
6) His effective tax rate could be as low as Romney's 14 percent, well below what average people pay;
7) He may have ties to the mob; one of his Atlantic City casinos was built with two construction companies controlled by Philadelphia mobsters Nicademo "Little Nicky" Scarfo and his nephew Philip "Crazy Phil" Leonetti;
8) He may have contributed to liberal causes such as Planned Parenthood — plus the National Review found that from January 1999 to March 2015, he gave $601,000 to New York candidates, 58 percent were Democrats, 38 percent Republican;
9) The tax plan he proposes as a candidate may benefit him personally.
If Trump succeeds in hiding his returns, he will break a tradition that extends back to 1976. Yes, even Richard Nixon made his taxes public.
In the recent GOP primaries, candidates such as Ted Cruz, Marco Rubio, John Kasich, Carly Fiorina, Jeb Bush and Chris Christie all released their returns.
With the IRS and the Tax Court both in the executive branch, Forbes magazine wonders: What happens if Trump is audited while he is president? Indeed.
Dan Payne is a Democratic political analyst and a regular contributor to WBUR Politicker. He tweets @payneco.