Suspect In Shooting Death Of Auburn Officer Dies In Shootout With State Police
This article is more than 6 years old.
A suspect in the shooting death of an Auburn police officer has died in a shootout with the Massachusetts State Police after an hours-long manhunt, officials said in a press conference Sunday evening.
Speaking to reporters at around 7 p.m., State Police Col. Rick McKeon said the suspect, 35-year-old Jorge Zambrano, of Worcester, was discovered hiding inside a duplex on Watch Street in Oxford shortly after 6 p.m.
As officers searched the second floor, Zambrano emerged from a closet, opening fire on officers in an apparent attempt to "ambush" them, McKeon said. Troopers returned fire, killing Zambrano.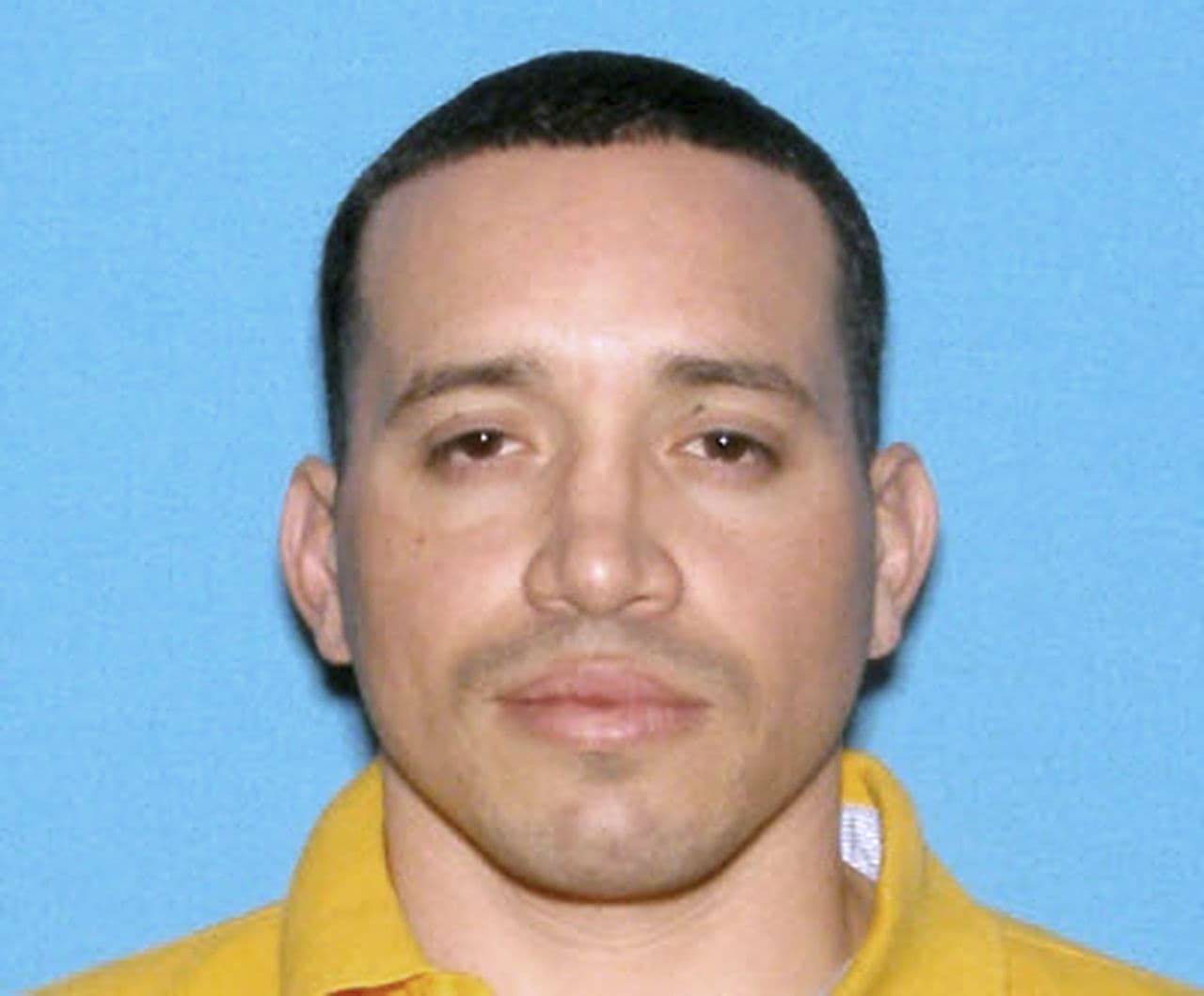 A state trooper, who was shot in the shoulder during the shootout, is expected to survive, McKeon said, adding that the trooper is an 18-year veteran and former Navy Seal.
Worcester District Attorney Joseph Early said Zambrano had a long criminal history, including several prison sentences.
The shootout took place about 4 miles from where 42-year-old Auburn Officer Ronald Tarentino was shot and killed at around 12:30 a.m. Sunday, during a traffic stop on Rochdale Street in Auburn.
As of 7:30 p.m., investigators remained at the scene of the shootout and were attempting to locate the weapon that killed Tarentino.
---
Our Original Post:

An Auburn police officer was shot and killed early Sunday in the central Massachusetts town, and authorities are searching for the suspect, officials said.
At a press conference at noon on Sunday, authorities said 42-year-old Ronald Tarentino Jr. was shot after he pulled over a vehicle at around 12:30 a.m. on Rochdale Street. The shooter fled the scene in a vehicle, officials said.
Tarentino was transported to UMass Medical Center in Worcester, where he was pronounced dead, Auburn Police Chief Andrew Sluckis Jr. told reporters. His body was taken by police escort from the hospital to the state Medical Examiner's Office in Boston.
Tarentino joined the Auburn police force two years ago after transferring from the Leicester Police Department. He leaves behind a wife and three children.
"We are devastated for his family," Sluckis said. "The residents of Auburn have lost a dedicated and brave public servant."
Auburn police, Worcester police, state police and the Worcester County district attorney's office are investigating the shooting.
"In order to protect the integrity of that ongoing investigation, we will not release any details about it at this time," Sluckis said.
Phil Berthiaume, who lives in the neighborhood near where the shooting took place, said he heard the gunfire.
"We heard rapid-fire gunshots," he said. "Initially, I thought it was fireworks. It was very loud." He added that typically, there are "never any problems" in his neighborhood.


People are dropping off flowers outside @AuburnMAPolice in memory of slain Officer Ronald Tarentino. pic.twitter.com/hthUkPvKzv
— Mass State Police (@MassStatePolice) May 22, 2016
This article was originally published on May 22, 2016.