A Night Of Shared Celebration At Elliot Norton Awards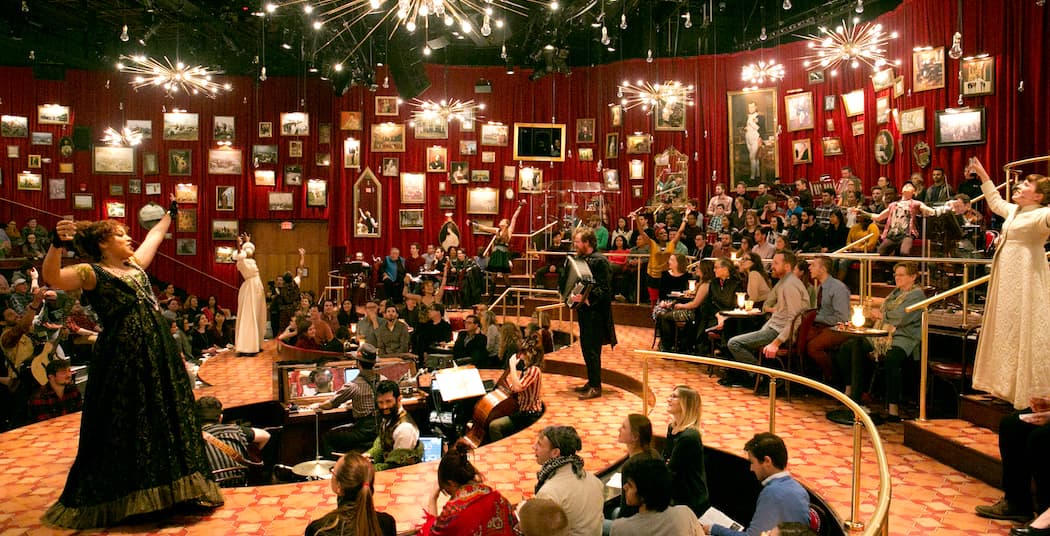 This article is more than 6 years old.
On a night when much of the love was spread around equally, the three theater companies who led the pack among Elliot Norton Award-winners each did so on the strength of one popular show from their respective seasons.
The American Repertory Theater led the field with five total wins, three of which came for "Natasha, Pierre & the Great Comet of 1812," composer/writer Dave Malloy's splashy musical that will appear on Broadway next season with singer John Groban on board.
The Norton Awards were bestowed Monday night in a ceremony at the Shubert Theatre that saw some hundreds of boisterous representatives (and fans) of the Boston area's theater companies converge for the annual conclave. Attire and spirits were festive, with various partisans unafraid to show their support for preferred nominees with whoops and cheers from all around the theater. The awards are presented by the Boston Theater Critics Association.
Huntington Theatre Company captured four "Norties," three of them for "Come Back, Little Sheba," William Inge's 1950 drama. And Lyric Stage Company of Boston was also saluted four times, thrice for "My Fair Lady" — including a pair of awards that cited artists' work in two different shows.
Company One Theatre and Boston Children's Theatre were the other companies to win at least two awards; another 11 captured one apiece.
Steven Maler, founding artistic director of Commonwealth Shakespeare Company, was given the Elliot Norton Award for Sustained Excellence.
"We want to call ourselves the Athens of America, we need to have free Shakespeare," he said of the original motivation behind Commonwealth Shakespeare, saying that one million audience members have since attended performances during the company's 20 seasons.
Guest of honor and Broadway veteran Mary Louise Wilson received a lifetime achievement award. "I love actors. That's the heart of it for me. I'm probably the only one in the room who's old enough to have been criticized by Elliot Norton. And he really liked me," she said to a delighted audience.
Among the awards for "Natasha" were nods for outstanding musical production, design and director (Rachel Chavkin) at a large theater. Also in the large theater category, the Huntington's "Sheba" netted awards for outstanding production (non-musical), actress (Adrianne Krstansky) and ensemble.
"My Fair Lady" was honored as outstanding musical production by a midsize, small or fringe theater. Its director, Scott Edmiston, won for outstanding director at a midsize theater on the strength of his work on "My Fair Lady" and "Casa Valentina" at SpeakEasy Stage Company; actress Jennifer Ellis was awarded for outstanding musical performance by an actress at a midsize, small or fringe theater for "My Fair Lady" and Reagle Music Theatre's "Wonderful Town."
The award categories, differentiated by theater size to make for an even playing field, provide for seven different awards for outstanding production, including musical and non-musical shows. Winning for visiting production was "Ghost Quartet" at the A.R.T., which, like "Natasha," was written and composed by Malloy, seemingly a rising star.
Among midsize theaters, "The Convert" at Underground Railway Theater won for outstanding production. "The Diary of Anne Frank" at Boston Children's Theatre won the equivalent prize for small theaters, and among fringe troupes, Apollinaire Theatre Company's "A Beautiful Day in November on the Banks of the Greatest of the Great Lakes" was the winner.
Two high-profile visiting artists were among the winners in the acting categories for non-musicals. Mark Rylance, whose Academy Award nomination this year was announced while he was in town for the A.R.T.'s "Nice Fish," won for outstanding actor at a large theater. (He can put his Nortie on the shelf next to the supporting-actor Oscar he indeed won for "Bridge of Spies," if he chooses.) Jennifer Coolidge, familiar from the film "American Pie" as well as a series of mockumentaries directed by Christopher Guest, won for outstanding actress at a midsize theater for the comedy "Saving Kitty" at Nora Theatre Company. The corresponding award for actor went to Johnnie McQuarley, for "Othello" at Actors' Shakespeare Project.
Among actors at small and fringe theaters, Zehava Younger won for "Anne Frank" and Brandon Green won for "An Octoroon" at Company One Theatre. His director, Summer L. Williams, was honored as outstanding director at a small or fringe theater for that show and "Colossal," also a Company One production.
For actors and actresses in musicals, Wade McCollum ("Ernest Shackleton Loves Me" at ArtsEmerson) and McCaela Donovan ("A Little Night Music" at the Huntington) won in the large theater category. For musicals at smaller companies, Tim Lawton ("Thoroughly Muslim Millie" by Gold Dust Orphans) joined Ellis as outstanding performer, after performing a barnburner of a performance of a number from the show.
The cast of "The New Electric Ballroom" (Gloucester Stage Company) won for best ensemble at a midsize, fringe or small theater; on the other end of the casting spectrum, Phil Tayler won for best solo performance, for "Buyer & Cellar" at the Lyric.
Busy local playwright MJ Halberstadt won the Nortie for outstanding new script for "The Launch Prize" at Bridge Repertory Theater of Boston.
A special citation was awarded to Matthew Aucoin in recognition for his opera "Crossing," presented by the A.R.T. Aucoin offered his thanks via a video message from Los Angeles, where he's working with the Los Angeles Philharmonic.