2 Charged With Murder Of Boston Teen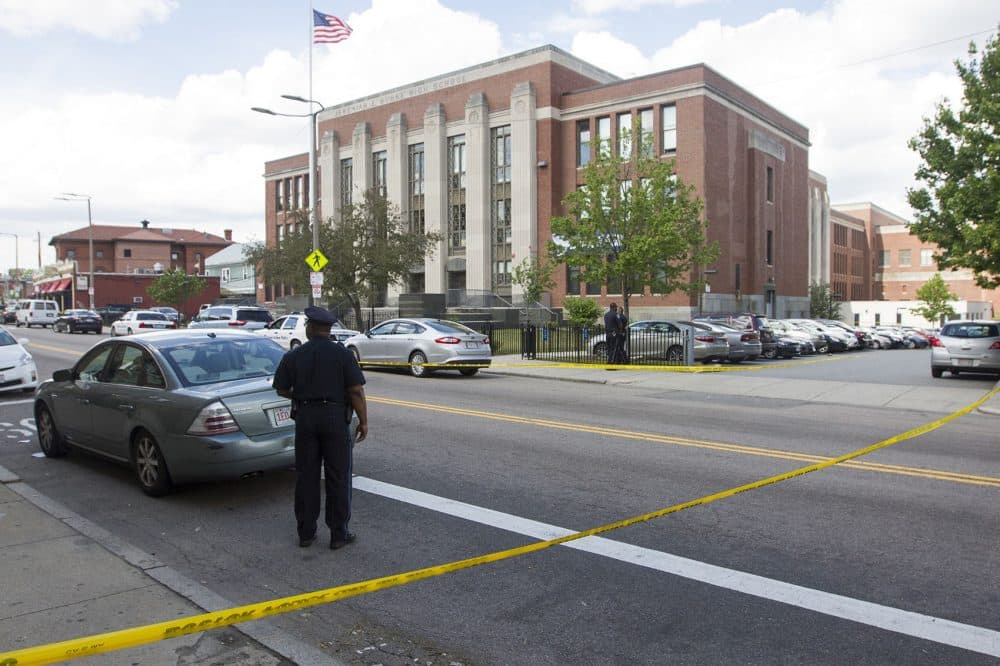 This article is more than 4 years old.
Two men are being held without bail on murder charges in connection with the fatal shooting of Raekwon Brown, a 17-year-old killed outside of his Dorchester high school two weeks ago.
Jonathan Aguasvivas, 23, of Roxbury, and Benzy Bain, 24, of Mattapan, were arraigned Wednesday in Dorchester Municipal Court following their arrests by Boston police, according to a statement from the Suffolk County District Attorney's Office.
Brown was shot less than half a block from the Jeremiah E. Burke High School while he was out of the building during a mid-afternoon fire alarm.
Three others, including a woman in her 60s, were injured in the shooting; they suffered non-life-threatening injuries.
"When a young man finishing up his junior year of high school gets gunned down in broad daylight, finding those responsible for such a senseless tragedy is of the highest priority to the men and women of the Boston Police Department," Police Commissioner Bill Evans said in a statement announcing the arrests. He added: "To Raekwon's family, I can only say that it is my sincere and humble hope that the news of today's arrests brings with it some small measure of comfort and solace."
Police said "camera footage and other digital evidence contributed to the arrests" and the investigation is still active with the possibility of more charges.
Authorities said both Aguasvivas and Bain were recently incarcerated on gun charges, and that Aguasvivas was among those in the car last year when Boston Police Officer John Moynihan was shot in the face by a convicted felon. At that time Aquasvivas was arrested on an outstanding domestic violence warrant but that case was dropped when the alleged victim declined to purse the charges.
Aguasvivas and Bain are scheduled to appear in court again on July 26.
"If these arrests hold up, this has all the earmarks of a gang-related shooting, but what makes it more tragic is that Raekwon, we don't believe, was involved with the gangs," Emmett Folgert, of the Dorchester Youth Collaborative, told WBUR.
With reporting by WBUR's Deborah Becker
This article was originally published on June 22, 2016.