Opponents Of Legalized Recreational Marijuana Warn Of Dangers From Edibles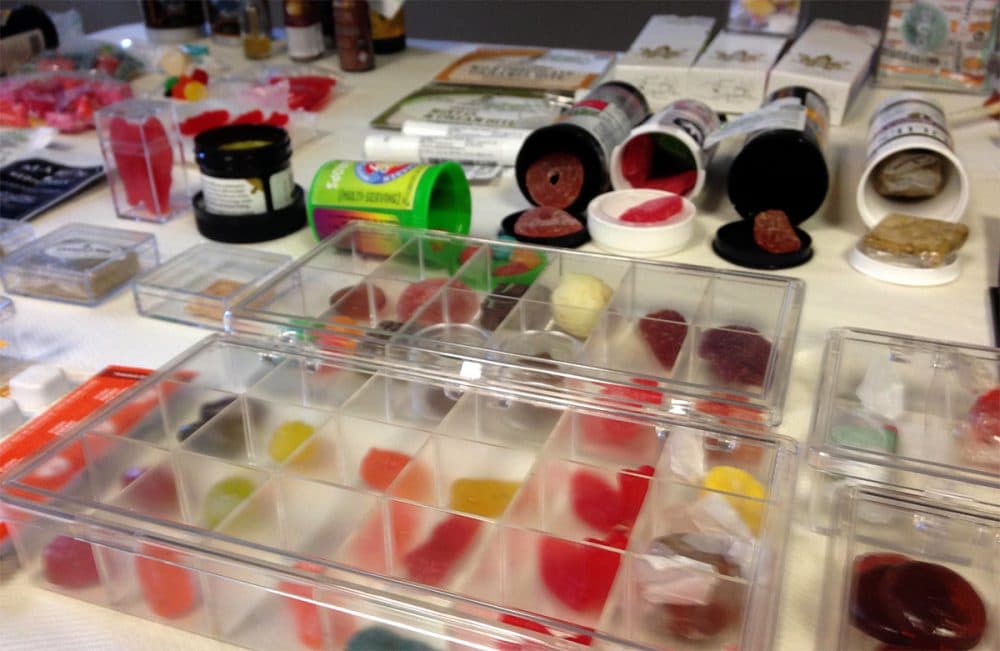 This article is more than 6 years old.
The campaign over whether the state should legalize recreational marijuana use is heating up, as opponents of a legalization referendum warned at a news conference Thursday that edible marijuana products could pose a danger for unsuspecting children.
Standing before a table covered with THC-infused candy, cookies, soda and other edible products, state Rep. Hannah Kane (R-Shrewsbury), of the Campaign for a Safe and Healthy Massachusetts, warned that similar products would flood the market, should voters approve a proposed referendum in the fall.
Kane said she fears the products would be especially enticing to children.
"You can tell from the packaging that it's very difficult to tell that it is a marijuana-laced product," Kane said. "And when you take it out of the packaging, it is impossible to tell the difference between something that is laced with THC and something that is not."
Accompanied by Walpole Police Chief John Carmichael, Kane said they were holding the news conference to let voters know that legalization does not mean that only the smoking of marijuana would be allowed.
"We want to have an opportunity to really illustrate what the ballot initiative is all about in November," Kane said. "If the voters vote to legalize and commercialize marijuana, they're going to be voting to authorize the edibles market to come into Massachusetts."
Carmichael said there are varying levels of THC in the edible products. THC is the active ingredient in marijuana, and can be extracted from the plant to be used in edibles.
"In these gummy bears, for example, the THC would range anywhere from 18 percent to 30 percent," Carmichael said, as he pointed to THC-infused gummy bears that were on display. "So that's quite a range, where they are sprayed with THC, we don't know the precise amount on each 10-milligram serving, and that could be a problem."
Supporters of marijuana legalization say opponents are trying to scare voters.
Jim Borghesani -- of the Campaign to Regulate Marijuana Like Alcohol, which is backing the legalization referendum — says it would be up to state regulators, and not the marijuana industry, to determine which products would be allowed to be sold in Massachusetts.
"I find it very difficult to believe that the Cannabis Control Commission, who has full authority to exercise what type of products can be sold -- what shape, what manner, how they're packaged, how they're marketed -- would allow anything to be sold that would pose any sort of a threat to children," Borghesani said.
Voters are expected to be asked this fall if they support allowing adults over the age of 21 to use marijuana recreationally. The proposed referendum would set up the Cannabis Control Commission within the state treasurer's office.