Baton Rouge Then Falcon Heights And Now Dallas: Here's What We're Reading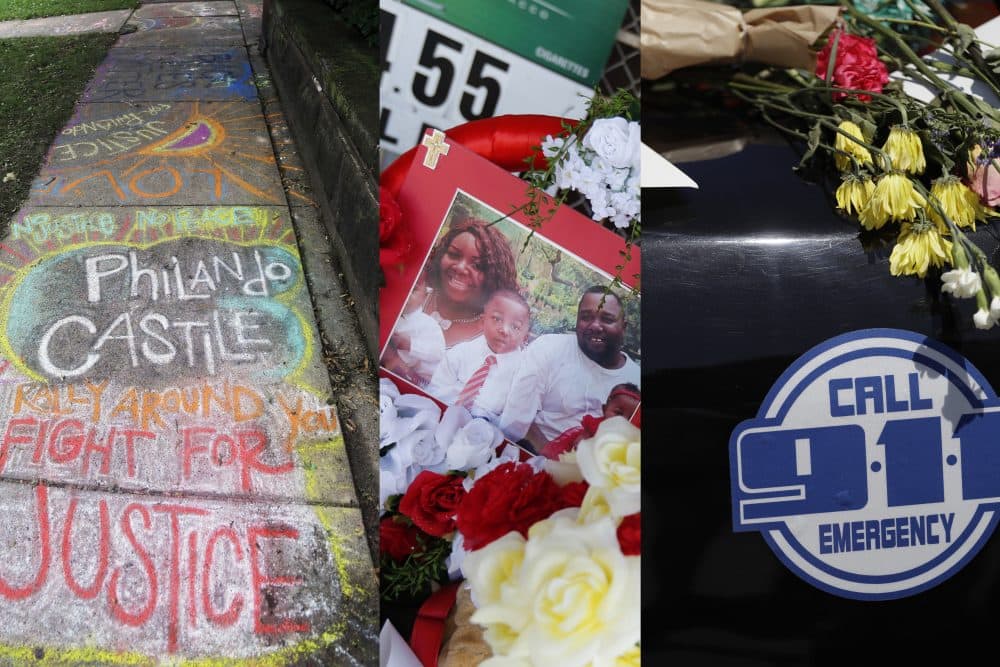 This week began with the police shooting of Alton Sterling in Baton Rouge, Louisiana, and just a day later Philando Castile was shot by Minnesota police with his girlfriend and her 4-year-old daughter in the car. There is video from both shootings online.
And now we're still finding out the details of Thursday night's mass shooting in Dallas that targeted officers, killing five on duty at a rally protesting police shootings of black men.
This week's headlines leave us drained. They make us reflect on racism, criminal justice and gun laws in America. There's a lot to process.
Here's 10 stories we've been reading and sharing in our newsroom. Please leave your suggestions in the comments.
Dallas' returning nightmare: A sniper's perch, an unthinkable crime, by Jacquielynn Floyd for The Dallas Morning News
"A photo, evidently taken just before or during the protest, was posted early Friday, and it showed what kind of protest this was intended to be.
"The photograph, taken on a downtown sidewalk, shows a protest marcher in shorts, sunglasses and T-shirt, holding a homemade poster that reads 'No justice, no peace.' He stands between two uniformed Dallas police officers; all three men are relaxed, smiling broadly at the camera."
---
Philando Castile, Facebook Live, and a new chapter for citizen journalism, by David Uberti for the Columbia Journalism Review
"I didn't do it for pity. I didn't do it for fame. I did it so that the world knows these police aren't here to protect and serve us," said Diamond Reynolds, who captured the moments after her boyfriend was shot by police on Facebook Live.
---
Dallas Officer-Involved Shootings Have Rapidly Declined In Recent Years, by Albert Samaha for Buzzfeed
"We're one of the premier community policing cities in the country and this year we have the fewest police officer-related shootings than any large city in America," said Mayor Mike Rawlings.
---
I'm a black ex-cop, and this is the real truth about race and policing, by Redditt Hudson for Vox
"Institutional racism runs throughout our criminal justice system. Its presence in police culture, though often flatly denied by the many police apologists that appear in the media now, has been central to the breakdown in police-community relationships for decades in spite of good people doing police work."
---
What We Know About Attacks On Police, by Dara Lind for Vox
"An average of 55 police officers are "feloniously killed" a year," writes Lind, using FBI data.
---
Fatal Force, by The Washington Post newsroom
The Post has developed this interactive graphic to track police killings in the U.S.
---
Iceland grieves after police shoot and kill a man for the first time in its history, by Traci Tong for PRI's The World (Posted: Dec. 3, 2013, Updated: July 8, 2016)
"It was an unprecedented headline in Iceland — a man shot to death by police."
---
Alton Sterling and When Black Lives Stop Mattering, by Roxane Gay for The New York Times
"I don't know where we go from here because those of us who recognize the injustice are not the problem... That this happens so often that resignation or apathy are reasonable responses is the problem."
---
The Fatal Shootings of Alton Sterling and Philando Castile, by The Daily Show
"The hardest part in having a conversation involving police shootings in America -it always feels like in America, if you take a stand for something you automatically are against something else... The point is you shouldn't have to choose between the police and the citizens that they are sworn to protect."
---
Read: Letters Between a Black Father and Son, by Eddie S. Glaude, Jr. and Langston Glaude for Time
"Funny, I too find myself wishing that I were a kid again. The world seemed so much simpler back then. But then I remember Tamir Rice. I remember Trayvon Martin, Michael Brown and Aiyana Jones."