Forecast: Afternoon Thunderstorms Will Break The Heat And Humidity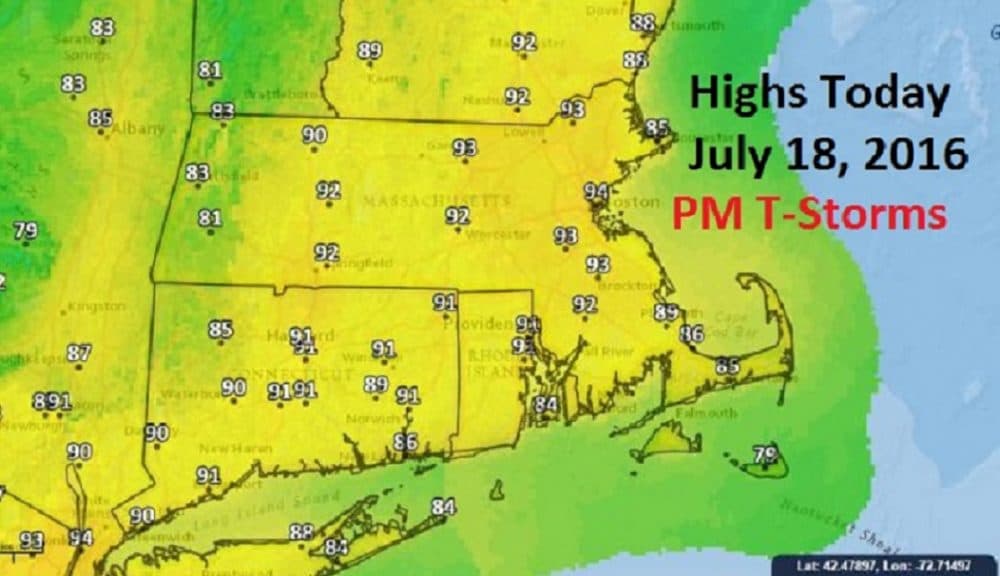 This article is more than 4 years old.
A strong front will approach from the northwest today. A line of showers and thunderstorms will form to our west and cross the area later this afternoon and this evening. Some of the storms may be severe with strong gusty winds, torrential downpours and small hail. Partial clearing will occur overnight as the front moves east.
On Tuesday, we will see a transition to cooler and drier air moving in on a northwesterly breeze. Mainly clear skies will dominate our weather Wednesday and Thursday as high pressure settles across the Boston area. It will be very pleasant for the midweek period — perfect for heading to the shore. Humidity levels will be at a much more comfortable level.
Later in the week, temperatures will again begin to rise with many locations reaching 90. As our winds shift to a more southerly direction, the humidity will start to increase as well. By the week's end, a few showers and thunderstorms will be back in the forecast.
---
Today: Mainly sunny, but with late afternoon thunderstorms; some may be severe. High 90-94. Cooler on Cape Cod and the Islands.
Tonight: Evening thunderstorms ending, then partly cloudy. Lows 67-72.
Tuesday: Partly sunny, breezy and less humid. Highs lower 80s.
Wednesday: Sunny and pleasant. Highs 78-82.
Thursday: Mainly sunny and warmer. Highs in the upper 80s.
Friday: Partly sunny. Afternoon showers, possible thunderstorm. Highs 85-90s.