Boston Midsummer Opera Delivers A Double Bill — 'Love, Italian Style'
One of the delights of the past summer seasons, when there's not a lot going on in town, has been the Boston Midsummer Opera's annual productions — usually relatively light, seldom-performed comic operas under the sure guiding hand of conductor Susan Davenny Wyner, who took over as music director in 2007, the year after the founding of the company. Productions have included Smetana's "The Bartered Bride," Nicolai's "The Merry Wives of Windsor" and, last year, von Flotow's "Martha."
My favorite production was the 2010 double bill of Leonard Bernstein's satiric soap opera about suburbia and unhappy marriage, "Trouble in Tahiti," with Lee Hoiby's delicious musical setting of a Julia Child recipe, "Bon Appétit," which saw an unforgettable star turn by Judy Kaye as the beloved French chef.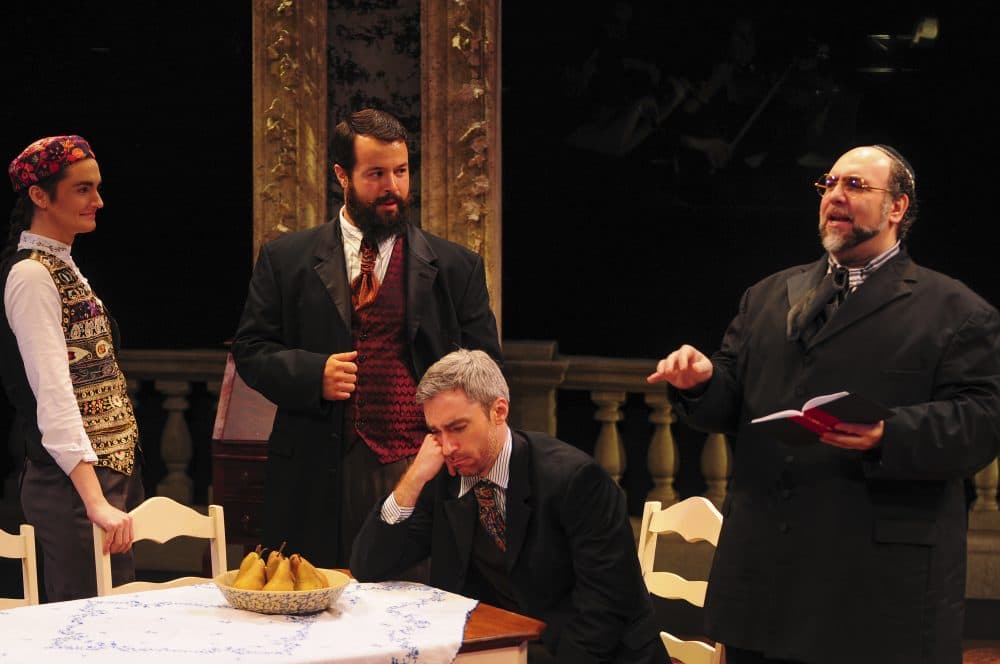 This year, there's another double bill under the title, "Love, Italian Style." Both operas are Boston rarities, though one is probably more familiar from recordings. Pietro Mascagni's "L'amico Fritz" (which might be loosely translated as My Friend Fritz), first performed in 1891, is the composer's second opera (and probably second best known work) after his popular melodrama "Cavalleria rusticana." As opposed to "Cavalleria," it's a romantic comedy, and, most unusually, the main characters are Jewish.
The landowner Fritz, the friend of a helpful rabbi named David, is a confirmed bachelor who is willing to help his friend supply dowries. He falls in love with Suzel, the young daughter of one of his tenants, as she gathers cherries. Minor complications ensue. But mainly the story offers several golden opportunities for a tenor and a soprano — the most famous of which is the enchanting "Cherry Duet."
Mascagni himself conducted a complete recording with the irresistible husband and wife team of Ferruccio Tagliavini and Pia Tassinari (on a Cetra/Everest LP set). Boston Midsummer Opera's website offers a link to another wonderful performance of the duet, with Tagliavini and the legendary Magda Olivero.
There's a particularly lovely performance by the young Luciano Pavarotti and soprano Mirella Freni — sung almost as a folk song. And here's a link to Freni singing Suzel's touching song to the bouquet of violets she offers Fritz:
Who wouldn't fall in love with her?
Mascagni's operas are making a kind of comeback. Two seasons ago, Odyssey Opera staged his gorgeous if static "Zanetto" (a recording of that performance is in the works). And at Bard College (July 22-31), Leon Botstein is conducting the American Symphony Orchestra in a production of Mascagni's "Iris" -- an opera about a betrayed Japanese girl, composed six years before his friend Puccini's "Madama Butterfly" (with one of the same librettists).
"Il Campanello di notte" (The Night Bell), the prolific Donizetti's one-act "melodramma giocosa" (comic melodrama) with his own libretto, dates from 1836 — the year after his most famous opera, "Lucia di Lammermoor." Before this Midsummer Opera production I'd never heard of it. But there are several complete performances on YouTube, including one in Estonian, and numerous excerpts. It's a tuneful farce about a young girl who has just married an elderly apothecary, while her ex-boyfriend, in various disguises, keeps interrupting the wedding night by finding excuses to ring the doorbell.
One spirited YouTube video is a complete performance by the Conservatory of Vicenza at the historic Teatro Olimpico:
When I spoke with Davenny Wyner, a week before the opening, she was tremendously excited ("It's been such fun!"), especially about combining "such disparate operas — Donizetti ridiculousness with tender Mascagni lyric comedy." The company has moved from BU's Tsai Center to the Watertown Arsenal (will Boston Midsummer Opera now have to change its name?). And because its new home is what she calls "a speaking theater," she's come up with a new performing version of the Donizetti — one that combines the composer's original version, which has spoken dialogue between the musical numbers (because he composed it to help a starving little theater company of singing actors in Naples) with his later revision, which has sung recitatives and a memorable duet for the two leading baritones. The performance will be in English.
"The Mascagni," she says, "felt so quintessentially Italian, an English translation didn't make sense." So "L'amico Fritz" will have supertitles. And since there's no orchestra pit, they've built a resonator box at the back of the stage, and the orchestra will play behind the singers. "This is a new — how shall I say — adventure/challenge, to intuit the singers' intentions. They will be able to see me on the video behind the audience. But I'll have to use all my loving antennae."
In the Mascagni, Davenny Wyner has pruned some 15 minutes — especially some of the longer offstage chorus sections — "to get to the essences of the love story unfolding." And she's taken out some of the stage business, which, she thinks, "may be one of the reasons this piece has gone out of fashion." It was very popular in the early 1900s, she tells me. Mahler conducted it. "But it's a strange length. Not quite a full evening, yet too long to combine with another opera. We've kept what's so beautiful — Mascagni's use of Alsatian tunes and melodies. It's been a joy to unpeel the characters within the piece and not doing it on a grand stage."
An element Davenny Wyner finds particularly striking about "L'amico Fritz" is that it's "one of the very few pieces that represents a rabbi as a central moral figure. And a gypsy as an integrated part of the community! It's very touching to see how the rabbi gets at Suzel's inner fears."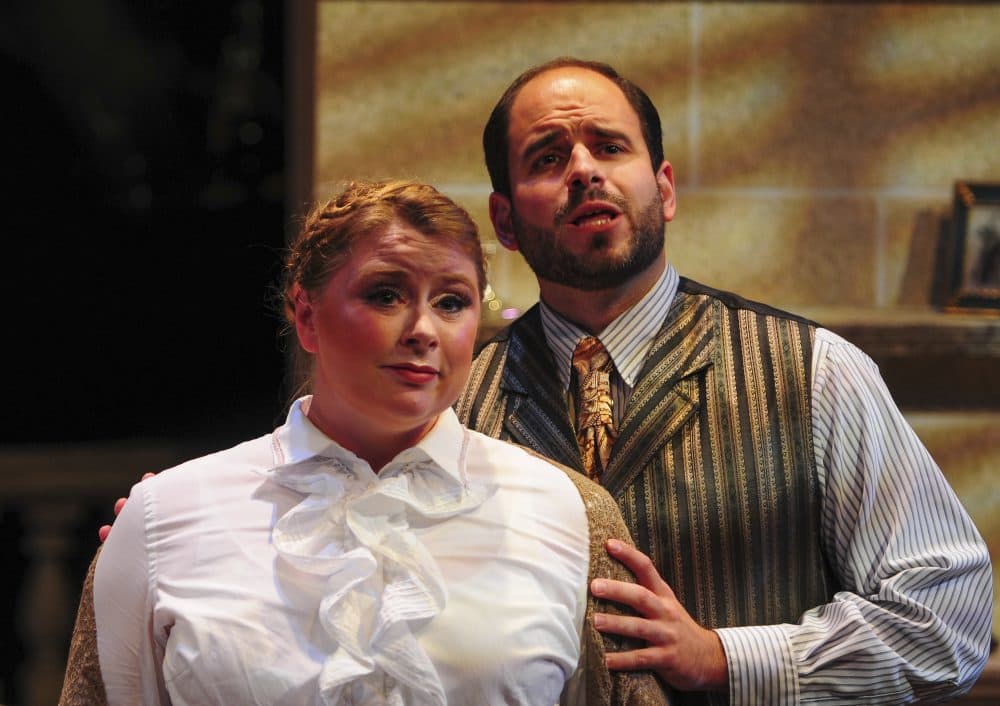 She also loves the way the music here is totally different from the "hotly dramatic" gestures of "Cavalleria rusticana." "Mascagni simply wanted to explore the tender, ordinary exchanges among people. It's incredibly lyrical all the time and only gets dramatic and Puccini-like when the two characters are finding that love is driving them crazy because they've never experienced anything like that." The introduction of the gypsy, Beppe (a "trouser role" sung by a mezzo-soprano), she adds, "is totally off the wall — an incredibly long offstage violin solo that the characters suddenly hear and stop dead. It reduces Fritz and Suzel to tears."
Davenny Wyner seems delighted to be working again with stage director Antonio Ocampo-Guzman (who previously collaborated with her on the Smetana and Nicolai operas). And she's thrilled with the cast. She said she couldn't have attempted the Donizetti if she didn't have two exceptionally versatile baritones (since there's no tenor role). David Kravitz, a happily familiar Boston presence who's now getting juicy roles (Tevye!) beyond Boston, plays the ardently inventive bell-ringing interrupter. And bass-baritone Jason Budd, Falstaff in BMO's "Merry Wives of Windsor," is both Don Pistacchio, the apothecary, in the Donizetti and the kindly Rabbi David in the Mascagni. Soprano Meredith Hansen, who has impressed me in smallish roles with Opera Boston, Boston Lyric Opera and the BSO, sings the quite contrary leading soprano roles in the Mascagni (tender, vulnerable) and the Donizetti (spunky).
One further perk. Retired Globe music critic Richard Dyer will once again be on hand for his witty and knowledgeable pre-performance talks an hour before curtain times.
Performances of the double bill (July 20, 22 and 24) will take place at the Mosesian Theater at the Arsenal Center for the Arts. For more information, visit the BMO website.