CSC Tackles Shakespeare's Rarely Performed 'Love's Labour's Lost' On The Common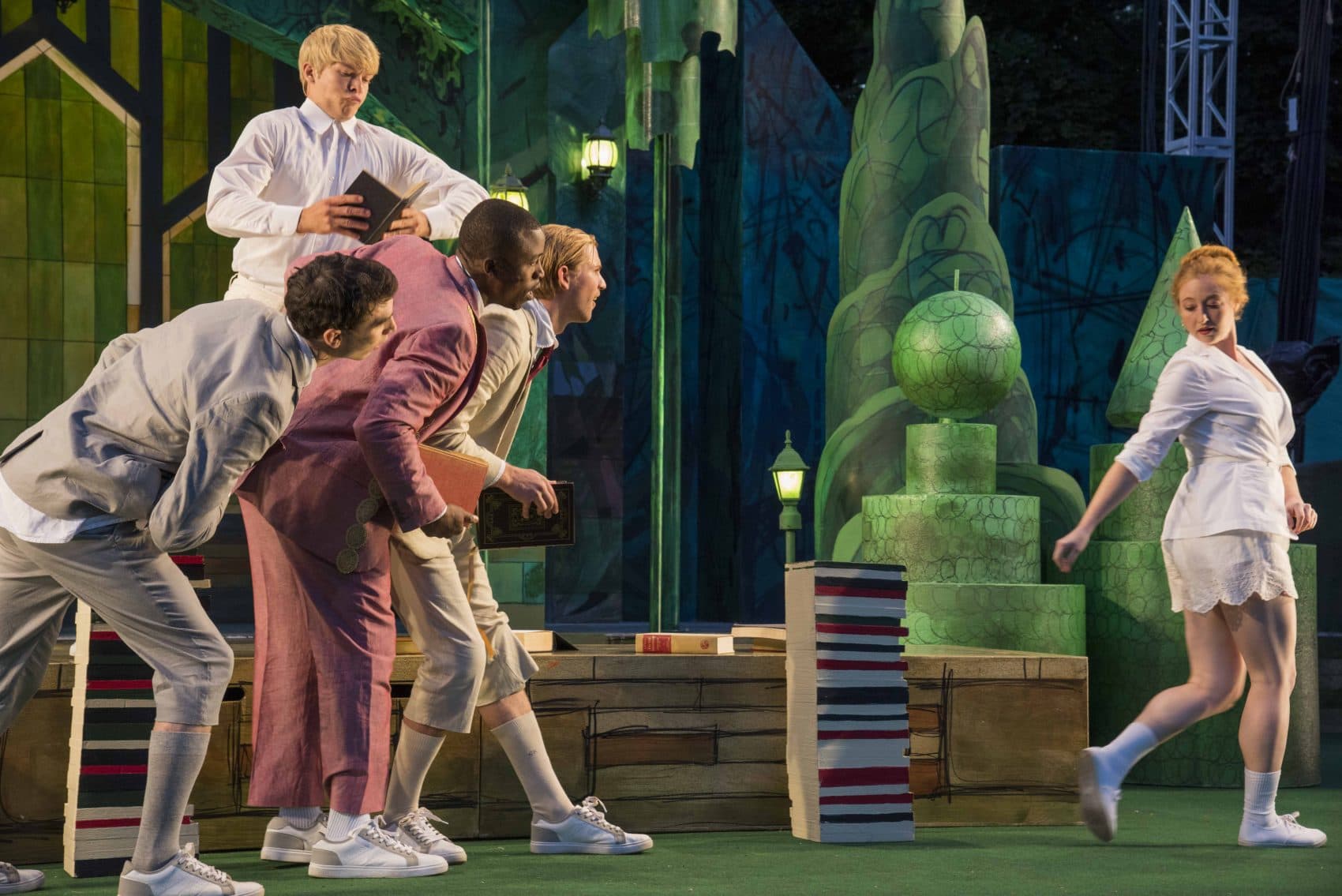 This article is more than 5 years old.
More than 400 years after it was written, the jury's still out on Shakespeare's "Love's Labour's Lost." The English writer and critic William Hazlitt pronounced in 1817: "If we were to part with any of the author's comedies, it should be this." And yet, no less an eminence than contemporary scholar Harold Bloom confesses, "I take more unmixed pleasure from 'Love's Labour's Lost' than from any other Shakespearean play."
Now Bostonians get a chance to weigh in on the rarely performed 1594 comedy, which Commonwealth Shakespeare Company (CSC) has chosen for its annual offering of free Bard on Boston Common (through Aug. 7). Ten years ago, Nicholas Martin helmed a delightful production for the Huntington Theatre Company. CSC artistic director Steven Maler follows up with this acrobatic, choreographic staging of the Bard's ornate satire of sex, sighs and scholarly pursuit. Removing the play to an Eton-esque early-20th-century milieu, the production both revels in the work's adoration of language and winks at its schematic structure.
You might call the Bard's comedy an "Upstairs, Downstairs" skewering of academic pretension. The young king of Navarre and three of his courtly chums have pledged themselves to spartan study for three years, forgoing food, sleep and the company of women. Inconveniently enough, the Princess of France and three of her witty ladies are due for a state visit — which will lead the lads to backbend their ways out of their oaths on the grounds that there is more learning in "ladies' eyes" than in dusty volumes. "They are our books, the arts, the academes," the king's cleverest sidekick, Berowne, declares with hyperbolic flair as the narcissistic fellows, seeing themselves reflected in their love objects' peepers, topple as neatly as dominoes.
Below stairs, holding the fort for what Hamlet calls "country matters," are the clown Costard and the wench Jaquenetta, for whom the visiting Spaniard Don Armado has fallen like a ton of bricks despite her "baseness." On dramaturgically thornier ground, the insulated, two-bit academic Holofernes and the pompous parish cleric Sir Nathaniel brandish knowledge and wits more butchering than brainy. Of course, their shenanigans were probably funnier to a 16th-century audience with enough of a grip on Latin to know when it was pinging falsely off the tongues of fools.
For this two and a half hour production, Maler has gone a way toward solving that problem by making cuts in the arcane banter of the provincials as well as by filling the comic parts with some of his most surefire actors. When Remo Airaldi dons the dandified slippers of Don Armado, lisping his pained lust in a Spanish accent stronger than saffron and singing his melancholy lines (to guitar and even castanets) like some lovesick Tevye, the appearances of the quixotic Spaniard are as anticipated as those of the sublimely verbose Berowne.
Even the pretentious exchanges of Holofernes and Sir Nathaniel, which can be tedious, are greatly ameliorated by presenting CSC favorite Fred Sullivan Jr. as Holofernes. Flouncing in academic cap and gown and wielding a ruler like a junior high school vice principal, the affable actor makes the schoolteacher's arias of botched learning humorous if not sidesplitting. Moreover, Maler's trimming allows four of the Bard's acts to unfold in one glorious crescendo, leaving for after intermission only the hairpin-turn fifth, which the director steers from abject silliness, with the courtiers visiting their ladies disguised as dancing Russians, to the unexpectedly somber finale.
One reason for Bloom's championing of "Love's Labour's Lost" (which James Joyce also liked) is what he calls its "florabundance of language." And dazzling it is, particularly in Berowne's arch arias and scathingly flirtatious ripostes with the visiting Rosaline, the latter exchanges like a blueprint for the love-pricked sparring of Benedick and Beatrice in "Much Ado About Nothing." Here Jason Bowen makes a dashing if also sheepish Berowne, Obehi Janice a honey-voiced, utterly-in-command Rosaline, her every silken put-down echoed by an undulating shoulder.
Justin Blanchard is a regal if geeky King of Navarre, Jennifer Ellis a warm if stately Princess of France. And with the other two pairs of lovers, the production has a lot of fun, making Dalton Davis's gymnastic Longaville and Nash Hightower's darting, whining Dumaine near carbon copies of each other. Jes Bedwinek's Maria and Margaret Clark's Katharine, with their flowered frocks and smug coquetting, are also something of a matched set.
The reliably funny Larry Coen brings a likeable combination of clowning and swagger to the coarse Costard, who proves a very poor mailman but a touchingly hilarious Pompey in the ham-fisted fifth-act presentation by the comic characters of "The Nine Worthies." Diminutive Ray O'Hare, in motley booties and shorts, is a quick-witted Moth, the "well-educated infant" who waits on Don Armado. It is Moth who wisely observes of compatriots Don Armado, Holofernes, Sir Nathaniel and Costard that "they have been at a great feast of languages, and stolen the scraps." And as the Princess and her ladies' worldly chaperone, Boyet, Brandon Whitehead ably illustrates the priapic underlayment to the play's headier doings.
"Love's Labour's Lost" is not high on subtlety but lends itself to choreographic arrangement and a prancing pageantry that suits the large, amplified surrounds of Boston Common. Changes of scene are almost danced as the players scoot around elements of Scott Bradley's Oz-like set, with its green ice-cream-scoop topiary and moving platforms decorated with painted tomes. Dave Remedios's sound design features merry or swollen flourishes, heavy on horns and drums, in contrast to the tinkling guitar that follows Don Armado like the crocodile tailing Captain Hook.
The young lords leap and tumble, rather than walk through, their parts. The ensemble carts books and swats at imaginary tennis balls as if on a quad of academe. And choreographer Yo-el Cassell provides both pithy and formal arrangements, including an achingly protracted farewell for the couples parted at the comedy's oddly wedding-free conclusion. So, if "Love's Labour's Lost" is not among the Bard's best efforts, there really is no such thing as a Shakespearean stinker. And Commonwealth Shakespeare Company's saucy, sunny and then mordant labors are far from lost on Boston Common.