New Law Will Increase State's Reliance On Renewable Energy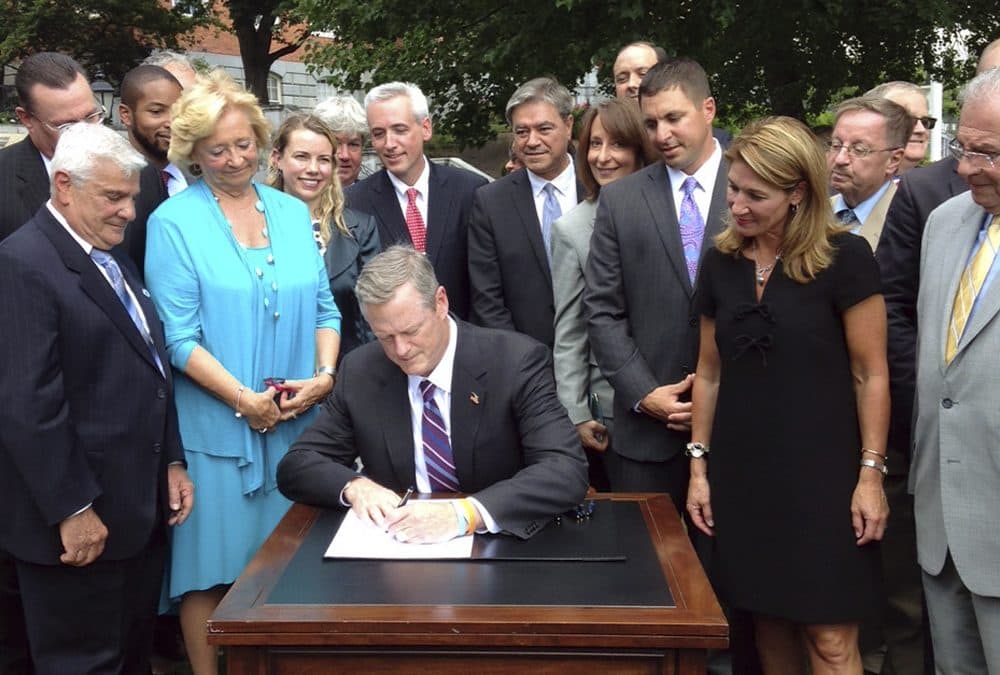 This article is more than 6 years old.
Massachusetts will ramp up its reliance on renewable and alternative sources of energy under a bill signed into law Monday by Republican Gov. Charlie Baker.
The new law requires utilities to solicit long-term contracts from offshore wind farm developers to bring at least 1,600 megawatts of wind energy to Massachusetts in the next 10 years. It also encourages the delivery of larger supplies of Canadian hydropower and other renewables, and provides incentives for utilities to develop energy storage technology.
In a statement released Monday, Baker said the bill represents a "major step towards providing residents and businesses with a cost-effective and reliable clean energy future."
At the bill signing ceremony at the State House, Baker added that the legislation will also help the state to meet the requirements of the Global Warming Solutions Act of 2008.
Massachusetts' highest court ruled in May that the state had failed to meet the requirements of that law, which calls for a 25 percent reduction in greenhouse gas emissions by 2020.
Baker said he's planning to sign an executive order to make sure the state acts more aggressively toward that goal.
"In the coming weeks, our administration will begin to take strong and coordinated action to reduce greenhouse gas emissions, safeguard our residents from the impacts of climate change, and build a more resilient commonwealth," he said.
Supporters have hailed the bill, passed last week during a frantic finish to the Legislature's formal sessions for the year, as a critical step toward reducing greenhouse gas emissions.
Greg Cunningham -- the energy and climate program director at the Conservation Law Foundation, one of the plaintiffs in the lawsuit against the state over its implementation of Global Warming Solutions Act — said in a statement that while the bill isn't perfect, it's a big step forward.
"The forward-thinking diversity of resources advanced by this law, including offshore wind and energy storage, will help us reach our shared climate goals and move beyond the dirty fossil fuels of the past," Cunningham said.
With reporting by The Associated Press and the WBUR Newsroom