Parts Of Mass. Facing 'Extreme Drought' Conditions For First Time On Drought Monitor's Record
This article is more than 5 years old.
Nearly 4 percent of Massachusetts is now in "extreme drought" conditions for the first time since the United States Drought Monitor began tracking drought data in 1999.
In Massachusetts, 3.66 percent of the state reached the second-to-worst ranking on the Drought Monitor's scale in a report released Thursday morning. The area in "extreme drought" covers parts of Middlesex and Essex counties north of Boston. "Extreme drought" conditions include major crop and pasture losses, as well as widespread water shortages.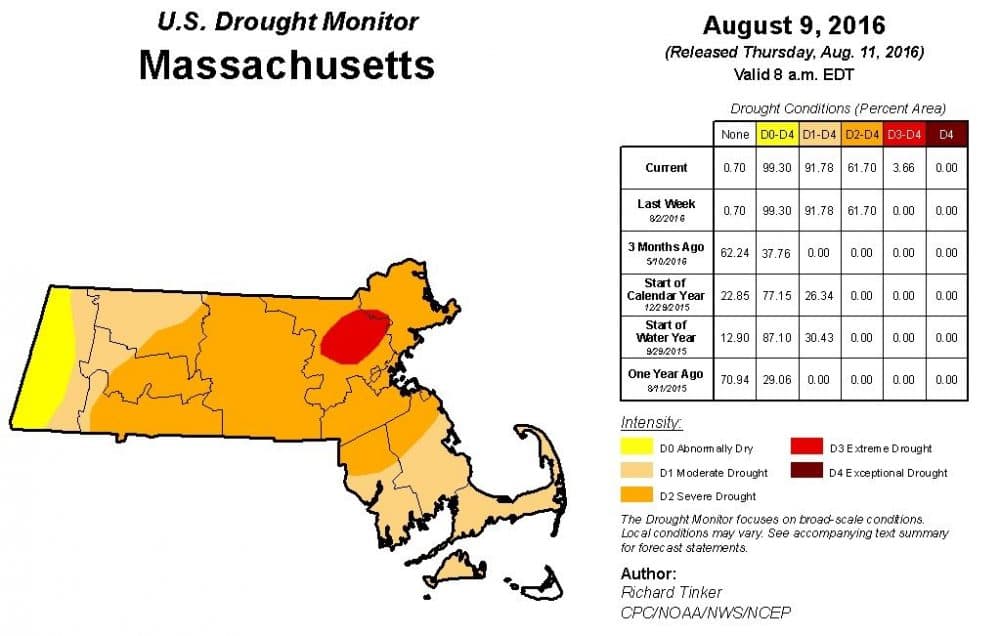 State officials made a "drought declaration" on July 1. The Massachusetts Drought Management Task Force met Thursday morning to examine the drought's effects and whether more water restrictions were necessary.
Dozens of Massachusetts communities have imposed mandatory water restrictions, while others are asking residents to voluntarily cut back on watering lawns and gardens, filling pools and washing cars.
Another 58 percent of the state is under the less harsh "severe drought" conditions.
The National Weather Service in Taunton reports some parts of Massachusetts have received half the normal rainfall so far in August.
"We did receive a good soaker [Wednesday] across portions of Massachusetts," said NWS Meteorologist Stephanie Dunten. "However, that will probably not alleviate the drought too much as we are at least seven inches below normal for this time of the year."
The forecast for the next several days includes chances of showers and thunderstorms across Eastern Massachusetts.
"Perhaps the only way we can actually alleviate our way out of the drought is if we do receive a tropical system," Dunten said. "Unfortunately looking at the long-term [forecast] right now, that doesn't seem likely at this point."