This Boston Optician Helps Others See What He Can't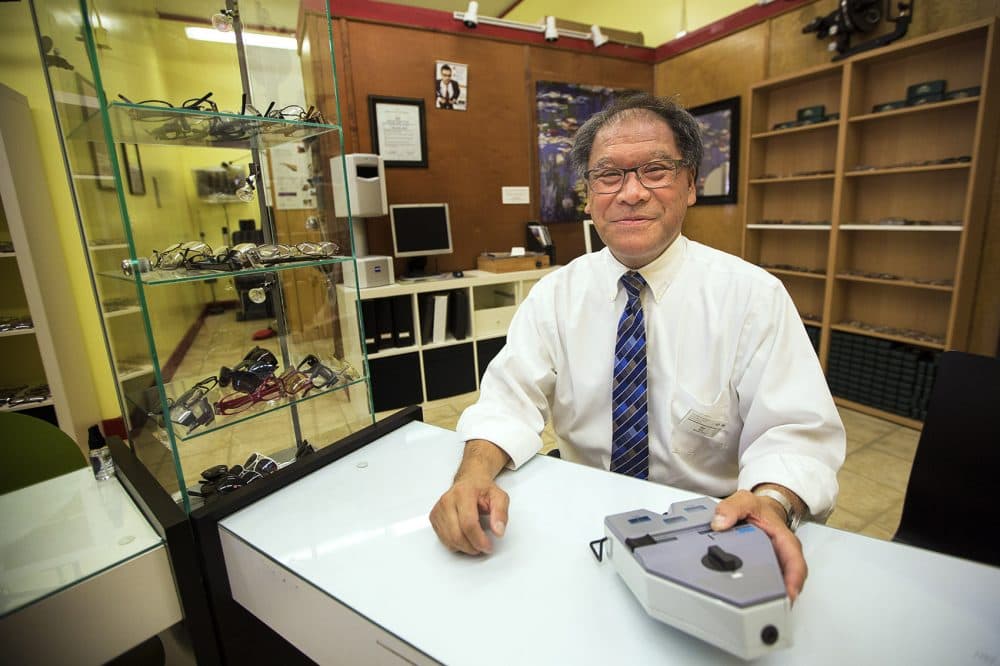 This article is more than 6 years old.
Dr. Blair Wong has spent most of his life helping others see. But he can barely see himself.
"As we're talking now, I can't make out the details of your face, and I can't tell what you're wearing," he explained.
Wong was in his mid-20s, fitting and selling eyeglasses as an optician, when he began noticing changes in his own vision. He struggled to make out shapes in the dark and found himself stumbling over objects in his periphery.
Doctors identified Wong's condition as retinitis pigmentosa: the progressive degeneration of the retina, or the part of the eye closest to the brain. In what he describes as a slightly "surreal" twist of fate, his older brother — seven years his senior — was diagnosed with the disorder on the same day that he was.
"As horrible a day as it was for my brother and me, it was an even worse day for my parents," he recalled. "They were devastated."
The realization that he would soon lose most of his sight led Wong into a period of reflection. He left retail and threw himself into teaching, spurred by a desire to help young people launch their own careers.
In 2006, Wong founded the Program for Opticianry at the Benjamin Franklin Institute of Technology, a small technical college in Boston's South End. The trade struck him as not only personally fulfilling — he likes knowing that his students "really help people" — but also a practical path for young adults facing an increasingly competitive job market.
Since the program began, Wong has had an impressive placement rate: 99 percent of his students find jobs in their first year out of school. Many accept positions well before they graduate. Jameel Jno-Baptiste, a first-year student from Mattapan, said he has already received three offers.
This is in part because the demand for opticians is growing. As the population ages, Wong explained, the number of people who need glasses is increasing— and so is the need for the professionals who make and sell them.
Yet, for many of his students, Wong's classroom is more than the fast track to a dependable career.

"He's the most extraordinary teacher I've ever had," said Jennifer Hyde, a mother and first-year student from Newton.
Though most of Wong's students are recent high school graduates, Hyde already had a bachelor's degree and came to the Franklin Institute from the Peace Corps. Once she has her degree in opticianry, she hopes to work with a nonprofit organization that provides glasses to communities in the developing world.
When she first learned Wong was visually impaired, Hyde says, she was taken aback.
"I thought, well, this is going to be interesting," she said. "How could he possibly teach about learning how to see better if he can't see?"
Now, though, she says Wong's disability is anything but a handicap.
"In a way, because he can't see, all his other senses are sort of enhanced," Hyde said, "in particular, the way that he communicates and cares about people. And that makes him very attuned to what all of us students are thinking, and feeling, and understanding."
"He was such a cheerleader to me," agreed Ahhyee Ma, who graduated in 2011. After earning her high school diploma at the brink of an economic recession, Ma, like many other young Americans, felt highly uncertain about her future.
Wrestling with an undiagnosed learning disability, she had always struggled academically, and she was reluctant to shoulder the financial burden that would come with returning to school. Yet without a college degree her career prospects seemed bleak.
"I was underemployed," she said; she worked as a long-term temp for a year and a half.
Wong's hands-on curriculum engaged Ma, she said, in a way that her textbook-heavy high school courses hadn't. And when, only six weeks into the course, she was formally diagnosed with a reading impairment, she never doubted that her teacher would give her the additional support she needed.
"He would devote the extra time so you could do everything the other students were," she explained. "That alleviated a lot of my fears about going back to school, and staying through the program, and actually graduating."
Ma is now happily employed as an optician for the Boston Teachers Union.
If Wong's visual impairment has contributed to his sensitivity as a mentor, it also opens up practical opportunities in the classroom.
"It's kind of a unique blessing, because I'm visually impaired, and teaching students who will be working with patients who have the same challenges I do," he said.
On the first day of class, Wong teaches students how to be his "sighted guide." Together, they walk around the school, and he explains how they can best support his unique needs.
Now, every evening, one of Wong's students volunteers to walk him to the nearby commuter rail station. At night, his vision is almost completely gone, and he relies on his guide to navigate the steps, slopes and sharp turns of the city sidewalk.
Jno-Baptiste sees the walk as a chance to learn more about the challenges of blindness and low vision.
"You're doing more than learning," he said. "You actually get to experience it with him."
Wong is grateful for the help — but he knows that, as necessary as it is for him, it also benefits his students.
"The more that they become comfortable with me, the more comfortable they're going to be when they're working with people who have visual impairments," he said. "And that's probably one of the greatest challenges in their profession."