Early Research Shows 'Hint' Of Slowing Alzheimer's, But More Testing Is Needed
This article is more than 5 years old.
Might we be one small step closer to treating Alzheimer's disease?
New research published Wednesday in the journal Nature suggests it's possible, that is, if results can be reproduced in larger studies currently underway.
Researchers report that treatment with the experimental drug aducanumab reduced the buildup of beta amyloid plaques in the brains of patients with Alzheimer's. Such buildup is considered a hallmark of the disease.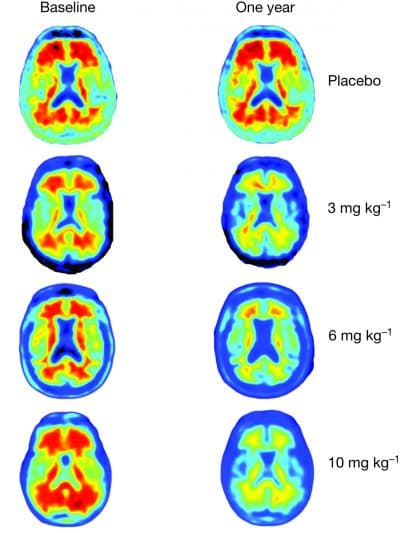 In addition, the researchers said, the new findings "hint" that high doses of the drug may slow cognitive decline in patients with early stages of the memory-robbing disease.
Still, researchers warn, the trial was not designed to show whether patients improved on the drug and the findings related to cognition are part of an "exploratory analysis" involving small numbers of patients.
Dr. Alfred Sandrock of Cambridge-based Biogen, and the study's senior author, summed up the research highlights during a press briefing in advance of the paper's release. He said the study showed that treatment with aducanumab, a human-derived monoclonal antibody, resulted in reducing the potentially harmful amyloid plaque buildup in the brains of people with Alzheimer's — and that the more drug they took and the longer they were on the it, the better the results.
Also, he said, an "exploratory analysis" similarly showed a possible "dose and time dependent" slowing of cognitive decline, measured using a standard rating tool.
"We believe that's a hint of efficacy," he said. "That needs to be confirmed with further study."
Sandrock said two larger, Phase 3 studies seeking to confirm these early results are currently underway and data should be available in a few years.
Despite the many cautions, researchers expressed optimism.
Dr. Stephen Salloway -- a professor of neurology, psychiatry and human behavior at Brown University, and one of the study authors — said: "This is the best news we've had in my 25 years of doing Alzheimer's research."
In an accompanying commentary piece, Eric Reiman, of Banner Alzheimer's Institute in Phoenix, writes that confirmation of a cognitive benefit "would be a game-changer." He adds: "If these preliminary cognitive findings are confirmed in larger and more-definitive clinical trials...it would provide a shot in the arm in the fight against Alzheimer's disease and compelling support for the amyloid hypothesis."
How might this antibody-based immunotherapy work? The researchers report that in mouse models, the drug is shown to be a sort of plaque-buster, entering the brain, binding to its target and clearing potentially harmful aggregated beta amyloid proteins — the ones that have been implicated in Alzheimer's, a progressive, devastating disease that can hijack cognitive function. In the trial, researchers report the dose and time dependent reduction in the amyloid plaque burden based on PET imaging.
In the double-blind, placebo-controlled Phase 1 trial, led by Biogen and the Swiss company Neurimmune, 165 patients were randomized into different groups and treated between October 2012 and January 2014 at 33 U.S. sites. Patients with a clinical diagnosis of early or mild Alzheimer's were given monthly intravenous infusions of a placebo or aducanumab at four different doses for one year. Researchers report that of these patients, "125 completed and 40 discontinued treatment, most commonly due to adverse events...and withdrawal of consent."
The most notable side effect, the researchers said, included so-called "amyloid-related imaging abnormalities," or ARIA, which can result in fluid shifts in the brain and, in rare cases, bleeding. The incidences of ARIA depended on the dosing, and were more common in patients with a certain gene linked to Alzheimer's risk, said Salloway, of Brown, adding that the researchers are working on moderating the dosing in these patients. Other side effects included headache, urinary tract infection and upper respiratory tract infection, they report.
The researchers said that these findings are consistent with previously reported results but that this report pulls all of the data together.
NPR's coverage of the new study offers this background:
The results are encouraging for pharmaceutical companies that have spent billions of dollars on efforts to come up with the first drug to treat the underlying cause of Alzheimer's. Those efforts have failed to produce a single approved drug so far.

But last summer, Biogen began presenting its results with aducanumab at scientific meetings, including the Alzheimer's Association International Conference in July. These early reports suggested the drug had a remarkable ability to remove plaques in the brain.

"It was surprising, encouraging and thought-provoking to see such a striking reduction of existing plaques," Reiman says.
In his Nature commentary, Reiman also tries to balance enthusiasm with caution. He writes that the trial "provides convincing evidence that aducanumab can enter the brain, target [amyloid-beta fibrils] and substantially reverse plaque deposition -- a major advance. Although the authors' additional cognitive findings are encouraging, they are not definitive. It would be prudent to withhold judgement about aducanumab's cognitive benefit until results from the larger trials are in."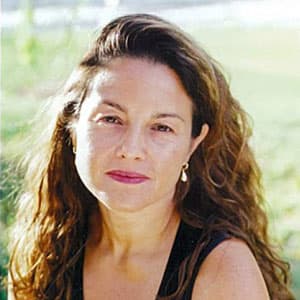 Rachel Zimmerman Health Reporter
Rachel Zimmerman previously reported on health and the intersection of health and business for Bostonomix.