Forecast: Warmer And More Humid With A Chance Of Storms
It's another nice sunny day and with temperatures starting a bit warmer than the past few mornings.
You'll notice the humidity increasing throughout the day, but it won't get to oppressive levels. Temperatures will warm into the 80s and the heating of the day will allow a line of showers and storms to develop.
You likely don't need to be reminded these situations bring very little rain to most areas. Unless you have a thunderstorm over you for more than a few minutes, the amount of rain will be negligible and may not even wet the area under the trees.
The map below shows a slight risk for severe weather in eastern areas, but it's only a small chance.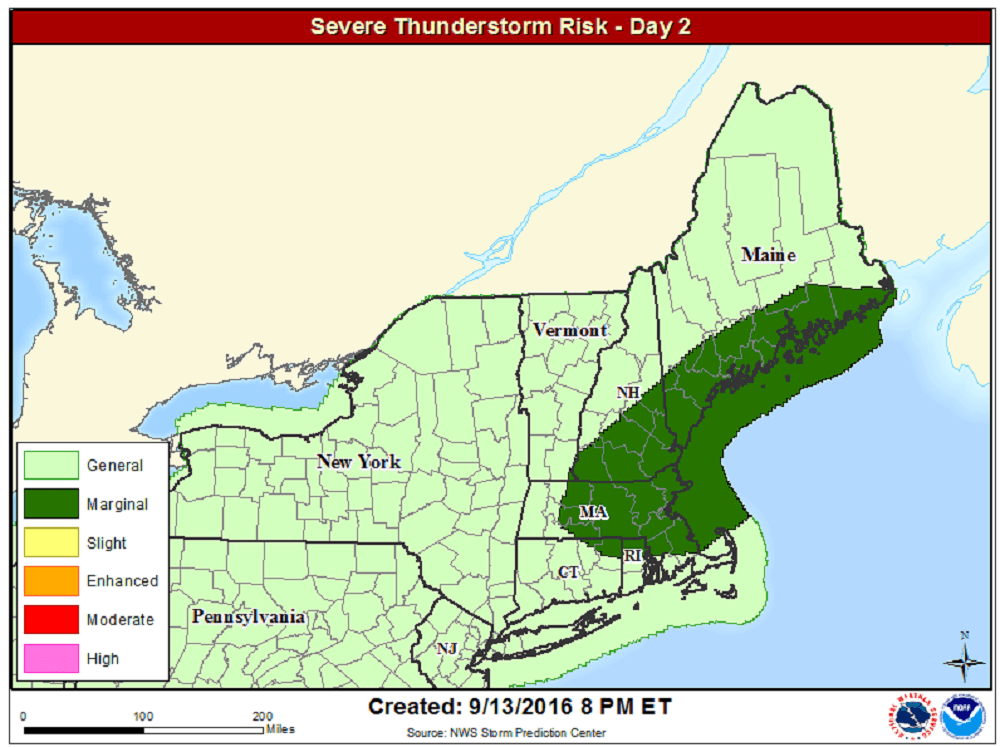 There could be some briefly gusty winds in any storms, but nothing damaging is expected. I do need to mention that the drought has made tree limbs much more brittle, so some branches can fall in gusty winds which I normally wouldn't mention in a more typical summer.
After the showers end a cooler and drier air mass from Canada will take over. This will be the first really cool air of the early fall season and Thursday is one of those days you'll be reminded that summer is quickly coming to a close.
The weekend is going to start mild and sunny, but a weather system on Sunday should bring an increase in clouds. The shower chances will increase later in the day and Sunday night. It's too early to say if the Red Sox game will be impacted.
You can follow my weather updates on Twitter at @growingwisdom.
---
Wednesday: Sunny and warm. Highs in the upper 70s to lower 80s.
Wednesday night: Early showers and possible thunderstorms. Some storms could be strong. Becoming clear and comfortable by morning. Lows in the 50s to lower 60s.
Thursday: Sunny and cooler. Highs near 70.
Friday: Sunny and pleasant. Highs 70-75.
Saturday: Mostly sunny highs in the mid 70s.
Sunday: Sunshine then clouds. There could be some afternoon showers. Highs 75-79