More Than Half Of Mass. Is Now In An 'Extreme Drought'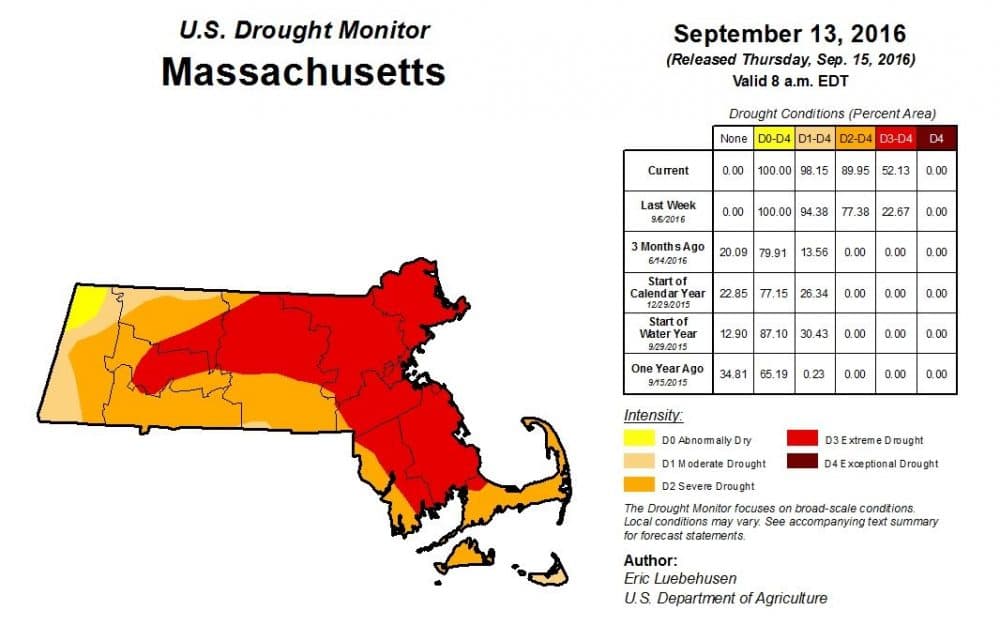 This article is more than 4 years old.
For the first time on record, more than half of Massachusetts is now in an extreme drought — a 30 percent hike from just last week, according to data kept by the U.S. Drought Monitor and released Thursday.
The area in "extreme drought" covers all of Essex, Suffolk and Plymouth counties, nearly all of Middlesex and Norfolk counties, and large swaths of Worcester, Hampshire and Bristol counties. Places in Franklin County closer to central Massachusetts also are experiencing these conditions.
More than 98 percent of the state is in at least "moderate drought," according to the Drought Monitor, and 90 percent is facing at least a "severe drought." September is the sixth-straight month of dry conditions for most of Massachusetts.
Places that fall into the "extreme drought" classification are seeing major crop and pasture losses, as well as widespread water shortages or restrictions. A week ago, for example, the city of Worcester declared a stage 3 drought emergency, banning all outdoor water use. Many other towns and cities throughout the state have similar bans, though restrictions may vary across municipal lines.
2016 was the driest meteorological summer ever recorded in Boston. And within the nation's Northeast region, areas of Massachusetts and New York have been hit hardest by dry conditions.
As the city of Boston's arborist, Greg Mosman, explained on Morning Edition Thursday, the drought is causing many trees to lose their leaves faster — even killing about 20 percent of young trees planted last spring.
WBUR meteorologist David Epstein forecasts showers for Sunday — but don't expect that to impact the area's overall dryness.
The U.S. Drought Monitor began tracking drought data in 1999, providing weekly data and maps documenting drought conditions across the nation.