Opposing Question 1, Gov. Baker Says He Wants To See Casino Impacts First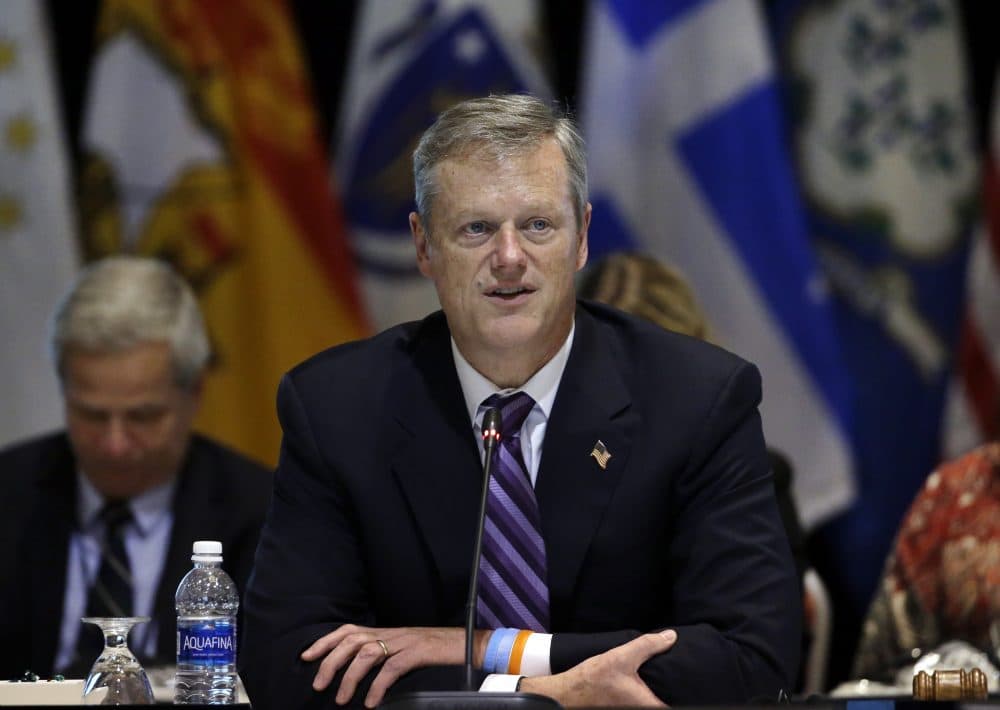 This article is more than 4 years old.
Gov. Charlie Baker — a vocal advocate for one of the four questions on November's ballot who is looking to defeat another — outlined on Monday his thoughts on the other two initiatives, leaving a question mark over his stance on restricting farm animal confinement.
Voters in the Nov. 8 election will be faced with four statewide questions: one that would allow an additional slots parlor; one allowing education officials to authorize up to 12 more charter schools each year; one requiring that all eggs sold in the state come from hens that have enough room to stand and turn freely; and one legalizing and regulating the adult use of marijuana.
Baker on Monday said he plans to vote against Question 1, a carefully worded addendum to the state's expanded gaming law that would favor licensing a new gambling facility at Suffolk Downs.
"I get the fact that they'd have to go back through the Gaming Commission on this, but, you know, we have one slot parlor in Massachusetts, we have two very significant casinos that are going through, that are actually into construction at this point in time," Baker told reporters after meeting with House Speaker Robert DeLeo and Senate President Stan Rosenberg. "I've always thought we should be mindful of the fact that we don't exactly know what the consequences and the impact of all this is going to be when the dust settles on the Lottery and on a whole bunch of other things. Let's wait and see what happens before raising the possibility of yet another facility in Massachusetts."
Baker, DeLeo and Rosenberg greeted reporters together after their meeting, though DeLeo and Rosenberg left while Baker answered questions. Asked about his stance on the slots parlor initiative, Baker looked over his shoulder for the two legislators before responding, saying, "Mr. Speaker? Mr. President?"
Baker and DeLeo both oppose Question 4, which would allow adults over the age of 21 to use marijuana.
The governor actively supports Question 2 to raise the cap on charter schools and has appeared at rallies and other events for Great Schools Massachusetts, the coalition backing the question.
Baker said Monday he has not yet made up his mind on Question 3, which deals with farm animal confinement, saying he wishes he "knew more about how much it was going to cost." The question would require that calves, pigs and hens raised in Massachusetts be given enough room to stand up and turn around freely. Those standards would also apply for products of animals raised out of state and sold in Massachusetts, with exceptions for "combination food products" such as pizza and hot dogs.
"As I understand this one, it's a much bigger issue for purchasers in Massachusetts than it is for farmers in Massachusetts. I think most of the eggs that are bought in Massachusetts are purchased by producers from outside the state," Baker said. "While I worry a little bit about what that might mean to the cost of eggs here in the commonwealth, I'm quite sympathetic to the perspective that's being offered by the Yes on Question 3 people."
Citing dissatisfaction with both Democrat Hillary Clinton and Republican Donald Trump, Baker has repeatedly said he plans not to vote for any of the presidential candidates this year and will focus instead on legislative and ballot races.
Results from a WBZ-UMass Amherst poll of 700 likely Massachusetts voters, released late Monday afternoon, showed Clinton leading Trump 46-33 percent, with Gary Johnson at 8 percent and Jill Stein at 2 percent.
Baker plans to watch Monday night's presidential debate after campaigning for state legislative candidates. He is listed as a special guest at a Plainville fundraiser for Republican Rep. Elizabeth Poirier of North Attleborough, and said his wife will record the debate if he does not make it home in time.
DeLeo and Rosenberg, both Democrats, ribbed the Republican governor about his plans, with Rosenberg suggesting, "Maybe you could just drop a few of those events," and DeLeo adding, "Unless you're going out for some Democrats."
As far as launching his own campaign for a second term, Baker said he and Lt. Gov. Karyn Polito "have always said that we weren't going to make any decisions about this until the first part of next year."