Apple Orchards Bear The Burden Of State's Extreme Drought
Resume
With much of the state experiencing extreme drought conditions, some apple growers are reporting big drops in their harvests this season.
According to the U.S. Apple Association, production is down by nearly a third in Massachusetts. That's the second worst decrease among apple-growing states.
Brian Medeiros, owner of Dartmouth Orchards on the south coast, says he has seen bad seasons before — from hailstorms to hurricanes to moth plagues. This year, he says the lack of rain has cost him half the apple harvest.
"You can see the damage, from the yellowing of the leaves. There's even trees that are just totally toast, just brown right out," he says. "I tried tanking water out here and it was just too much to keep watering."
Medeiros is the third generation owner of Dartmouth Orchards. About half his trees are watered by irrigation, and those ones are doing just fine. It's the trees that aren't irrigated that are wilting and putting out undersized fruit. Medeiros says the parched weather is attracting lots of wildlife onto his land. That's more bad news for the trees.
"The deer came in and just mowed 'em down, 'cause there's nothing for them to eat," he says. "See all the crows? They're just pecking all the apples, the birds have been raising hell with the fruit."
This year Medeiros had to shut down one of the most lucrative parts of his business: "Pick Your Own" apples. He's still selling shiny apples at his farmstand, but they won't last long.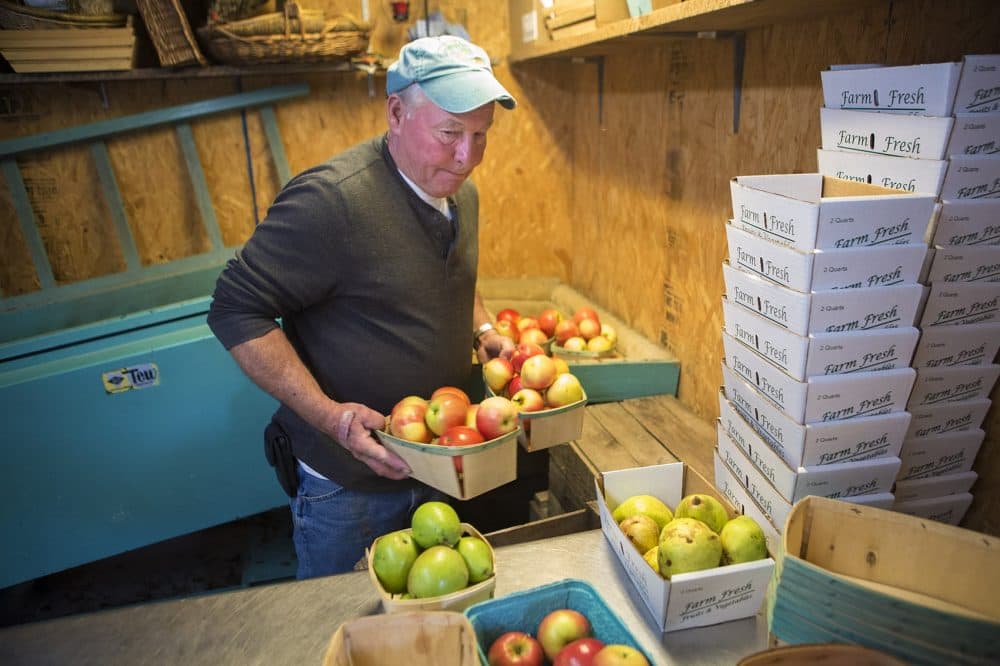 The health of one orchard's harvest can vary vastly from another's, even if it's relatively close by.
"Orchards are so variable," says Jon Clements, an apple expert at University of Massachusetts Amherst Extension. "We have orchards in the Berkshires all the way down to where Brian is in the southeast. Here in western Mass. the drought hasn't been quite as bad. Location is everything."
Clements says it's no disaster for the Massachusetts apple harvest, though some farms are reporting deep losses.
"Some orchards [in the] driest parts of the state, who haven't been able to supply trees with water, they could be having yield reduction as much as 50 percent," he says.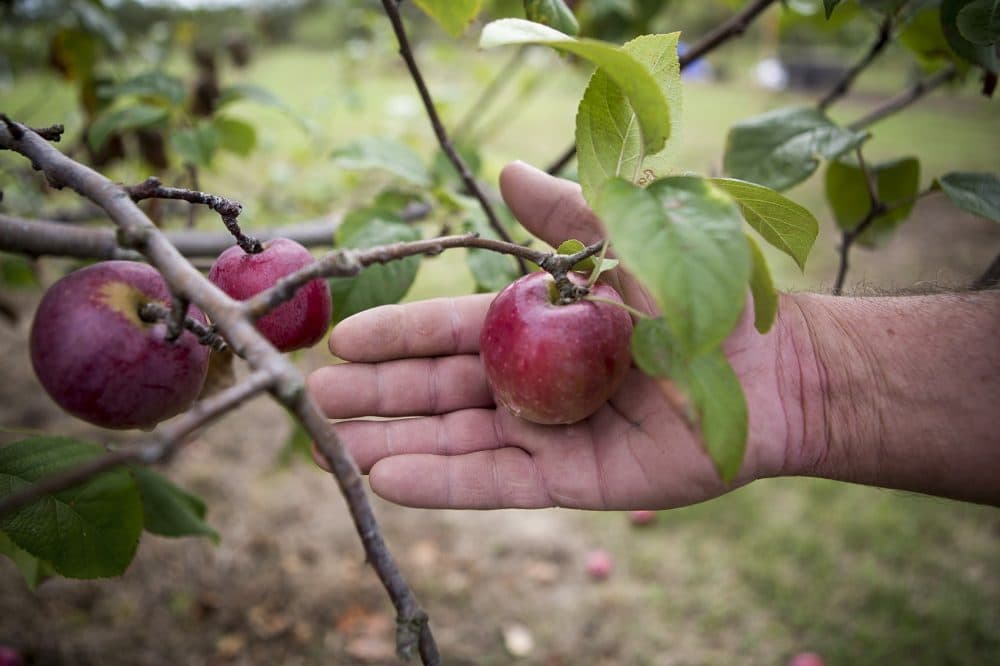 Apple growers in the state are talking about a "triple whammy" this season. By Clements' account, it started with a bumper crop last year — which foreshadows a season with less apples this year. Then there was a freeze in April, and now extreme drought.
Keith Bohne, owner of Drew Farm in Westford, says his trees are bearing apples that are deformed and small — by volume he's lost up to 40 percent. Still he says people are happy as ever to pick his trees and take in the crisp air. But the "Pick Your Own" season could be cut short.
"I thought we, in sections, had plenty of apples, and with only three weeks it's started to look thin," he says. "It's because a lot of people are coming, and there weren't as many apples as I thought there were."
Considering the extreme drought that's covering much of Massachusetts, things can get a lot worse. An acute event can last years, like the five-year drought that started in 1962.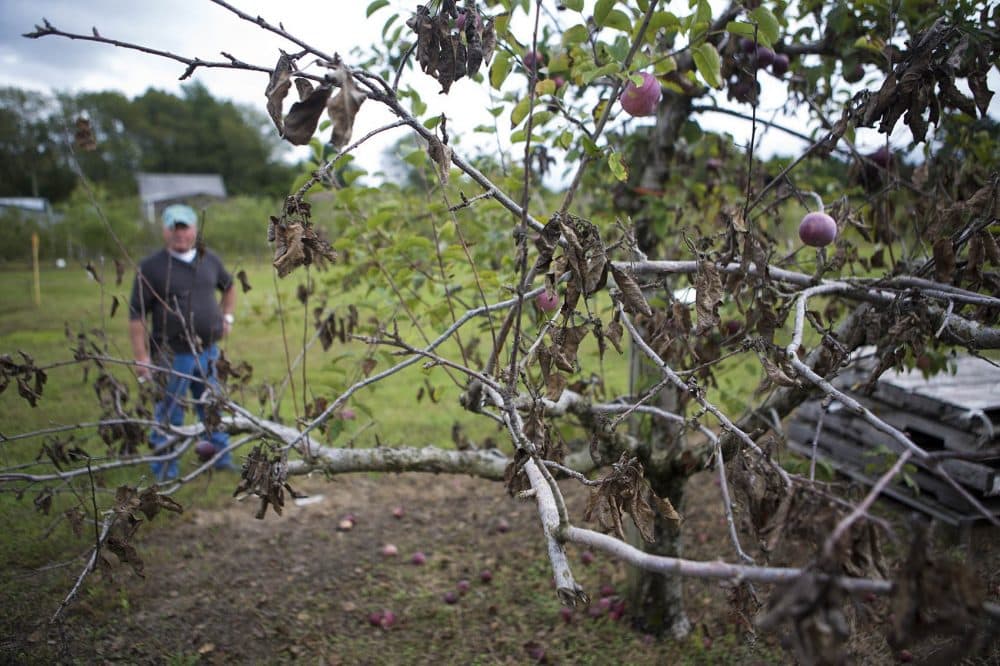 Medeiros at Dartmouth Orchards says one season is enough.
"Hopefully we don't get too many of these, you know what I mean?"
Medeiros sees a dim future for the farm his grandfather started eight decades ago. He has no children to take over the orchard, and he's sure his co-owners — his brother and sister — will want to sell.
"They'd put 50 houses. Sure, and then they'll call it Cider Hill Estates," he muses. "Everybody wants to live on a farm."
A subdivision may be in the cards, but this life-long apple grower insists the season of 2016 will not be his last.
This segment aired on September 29, 2016.