Israel Horovitz Premieres 'Man In Snow' In Gloucester, Before It Heads To La MaMa In New York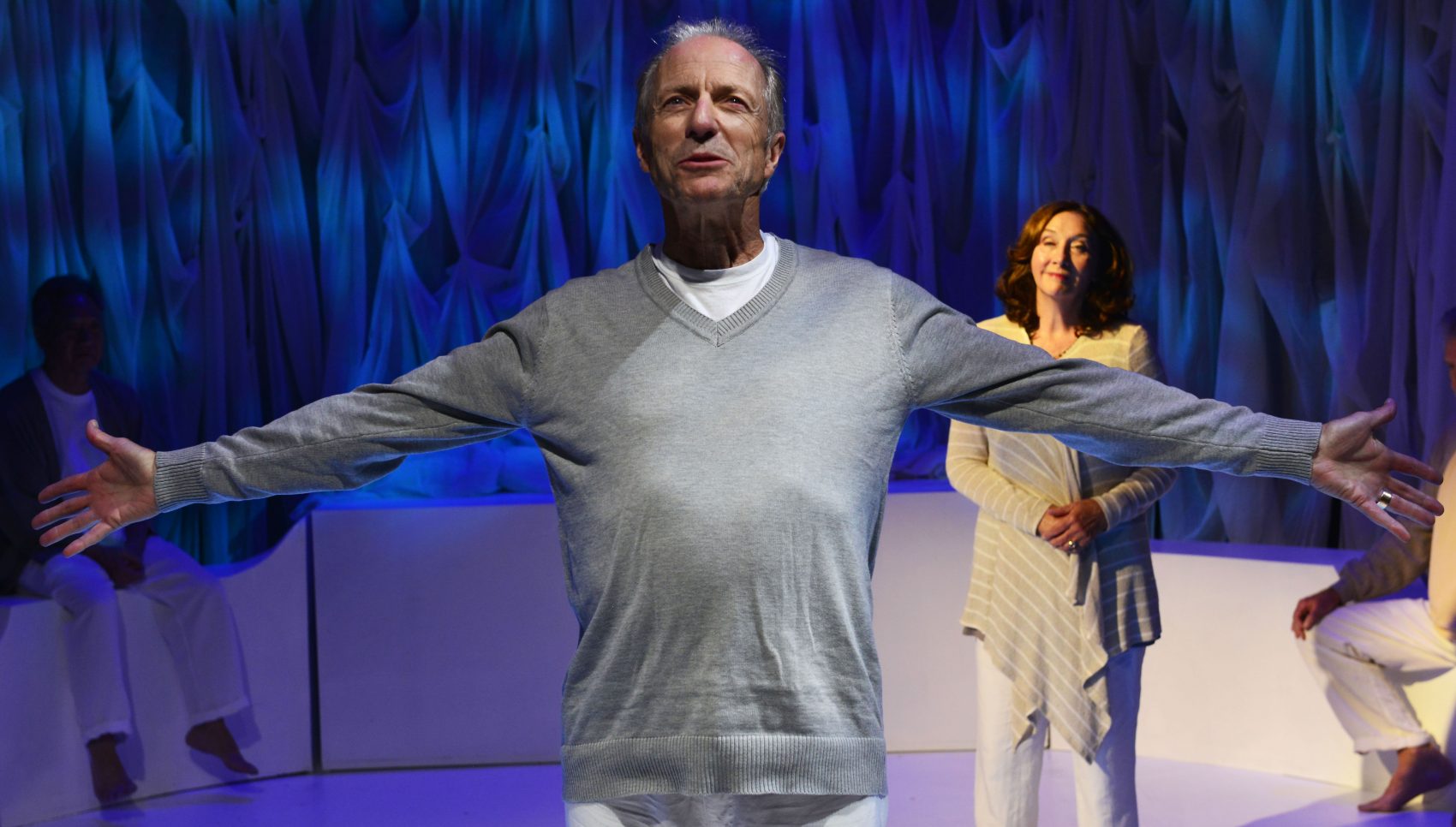 This article is more than 6 years old.
GLOUCESTER, Mass. -- When playwright Israel Horovitz was in Alaska 20 years ago he was struck by the dramatic story of a man trapped under 30 feet of snow on Mt. McKinley. The man spent his last hours talking by cellphone to his wife.
He used the story as the basis for a radio drama by the BBC before turning it into a play, "Man in Snow," that's having its world premiere at the theater he founded, the Gloucester Stage Company, (through Oct. 23). The cast and crew then head off to New York's La MaMa in November.
And what a cast and crew — the riveting Will Lyman in the lead, supported by Gloucester stalwarts Paul O'Brien and Sandra Shipley, New York actor Ron Nakahara and the young and promising Ashley Risteen and Francisco Solorzano as the children of Lyman and Shipley's characters. Jenna McFarland Lord's white circular set is simple but stunning, a combination of snowy Alaska and Zen acceptance and transcendence. The rest of the design team's work is perfectly complementary, particularly Chelsea Kerl's costume design.
As director as well as writer, Horovitz makes "Man in Snow" the affecting story of a man who wonders what's next while contemplating what was. Lyman's David Kipling has his demons. His son, Joey, was killed in a motorcycle accident six years earlier and he blames himself for pushing the young man too hard. Kipling, himself, had climbed Mount McKinley when he was 25 and he has returned there to nourish his depressed soul with the spectacle and reconnect with the beauty he had encountered earlier in life. The Japanese honeymooners he's helping are there for something else — they're convinced that the mountain and the Northern Lights confer sexual prowess.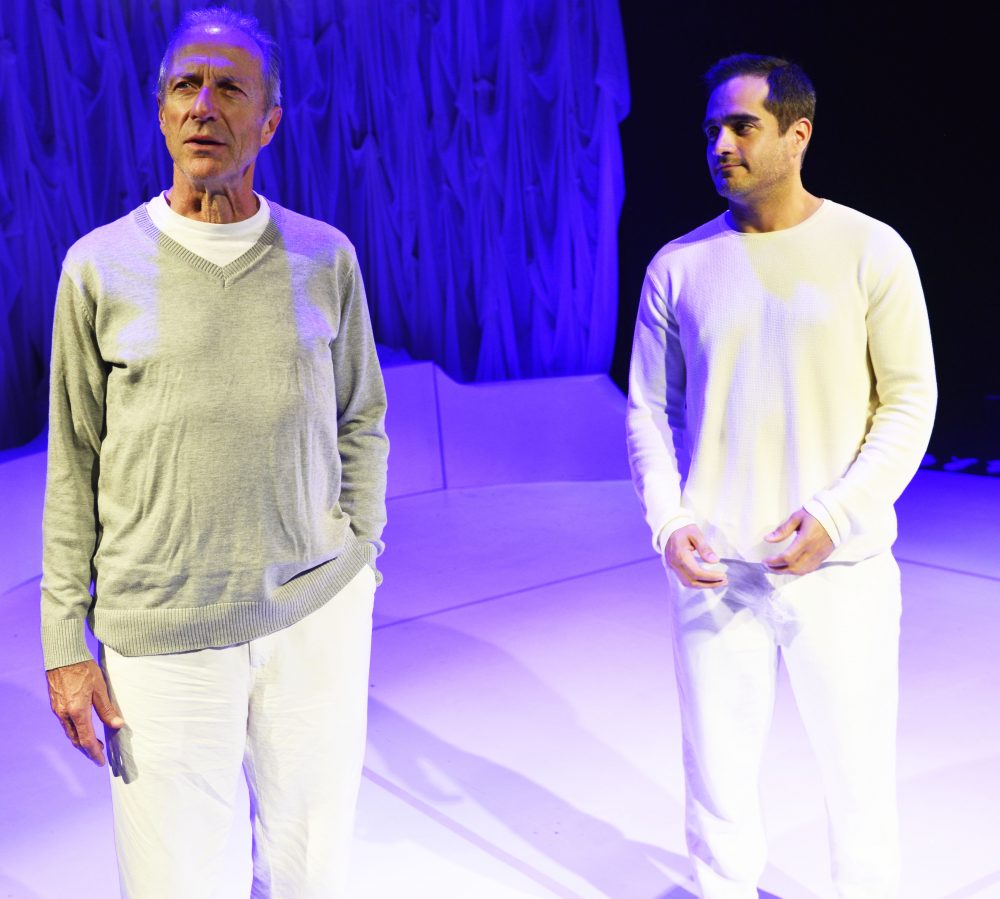 So there we have it — womb to tomb in a moving 90-minute one-act. Moving, if not fully satisfying. Kipling is visited throughout the play by the spiritual presence of Joey, telling him not to fret, that there is indeed life after death — that death had prepared him for the afterlife and that the afterlife is preparing him for the next life. This all seems to be taking place on a literal "Lovely Bones" plane, not just a metaphorical one.
All that sets off a couple of personal alarm bells. I think ghosts should have been retired from film and theater after "A Christmas Carol" unless they're used for comic effect, as in "Slings & Arrows." And as much as I would love to believe in a life after this one, I'm content to take Iris DeMent's (and Joseph Campbell's) advice and let the mystery be.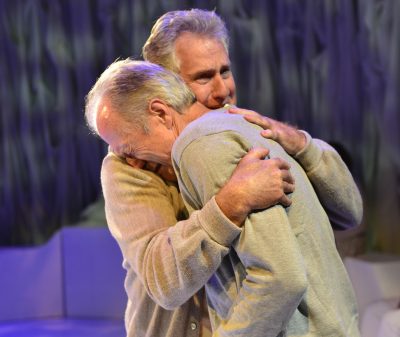 Horovitz, of course, is entitled to his own beliefs, and whether "this is it" or not, as O'Brien's character says, isn't the issue. Horovitz has nicely balanced Eastern and Western views of how to live as well as how to die. It's as if Kipling is flashing back on scenes from his life in non-chronological fashion, from singing "Tutti Frutti" at a birthday party to apologizing to his wife for an affair after Joey's death.
Most of these are nicely turned, particularly Kipling's conversation with Nakahara's Mr. Takayama about life (the Japanese "conceivers") and death (their personal losses). There are also one or two clunkers among the scenes — the daughter, Emily, confronting him with the fact that he loved Joey more he loved her right after Joey's death. It's hard for those of a certain age to sit through the whining without thinking of the Smothers Brothers' "Mom Always Liked You Best" routines.
Good or bad, the scenes seem like snapshots from a life. That's perfectly in keeping with the idea of David revisiting his life, but Horovitz also needs to bolster his philosophical case with more than wishful thinking, and with scenes that add up to more than the sum of their narrative parts.
That said, "Man in Snow" is never less than engaging. I kept rooting for Horovitz to take it to the next level, but the level it's on reminds us of the unique position that Gloucester Stage Company holds in local theater. Seeing Horovitz talk to the new leadership of Robert Walsh and Jeff Zinn before the play began was a sign that the theater remains in good, adventurous hands. Whether there's life after death or not, "Man in Snow" is emblematic of how much artistic vitality there is at Gloucester Stage in the here and now.