Mythical Irish Island Inspires A Sculpture Floating In Boston's Back Bay Fens
This article is more than 6 years old.
In the 14th century, maps of Ireland began showing an island lurking off the west coast. They called it Hy-Brasil. Connected with the Irish belief in Tír na nÓg — the "otherworld" or "land of eternal youth" — it was an elusive place, said to appear only once every seven years, shrouded in mist. Some stories spoke of sailors landing there and meeting a wise man, who might give visitors gold.
"It would come and go like a mirage," explains visiting Irish artist Caoimhghin Ó Fraithile, the creator of "South of Hy-Brasil," a temporary public sculpture floating in a lagoon of the Back Bay Fens behind Boston's Museum of Fine Arts through the end of October. "It would appear and disappear. They couldn't find it."
The "Tír na nÓg" temporary public art project, organized by Kathleen Bitetti, chief curator at South Boston's Medicine Wheel Productions, also includes "Well House" by Michael Dowling, a Boston-based Irish-American artist best known as the creator of the annual December art installation and vigil commemorating the tragedy of the AIDS epidemic. And the Norman B. Leventhal Map Center at the Boston Public Library in Copley Square is exhibiting drawings by Ó Fraithile and historic maps of the island in "Hy-Brasil: Mapping a Mythical Island" through Oct. 23.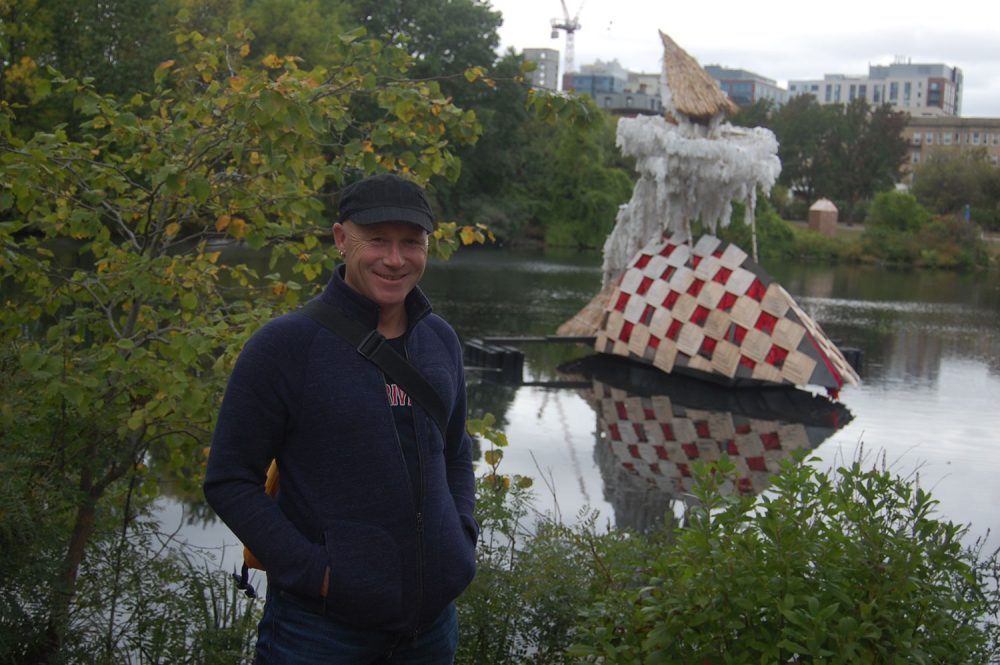 "South of Hy-Brasil" is abstract. Two shapes along the base recall roofs or the hulls of overturned boats, part made of thatch, the other a lattice made of plywood rectangles with red accents. Above white cotton fringe cascades down or hangs like furled sails. Ó Fraithile says he was thinking of "sea serpent cresting the water," of World War I dazzle camouflage, of "an island shrouded in clouds," of immigrants seeking mythic possibilities in the United States.
"So many people have come here from Ireland, have come here from Europe, searching for a better life," Ó Fraithile told me recently, as we stopped along the shore, watching the floating sculpture slowly drift this way and that.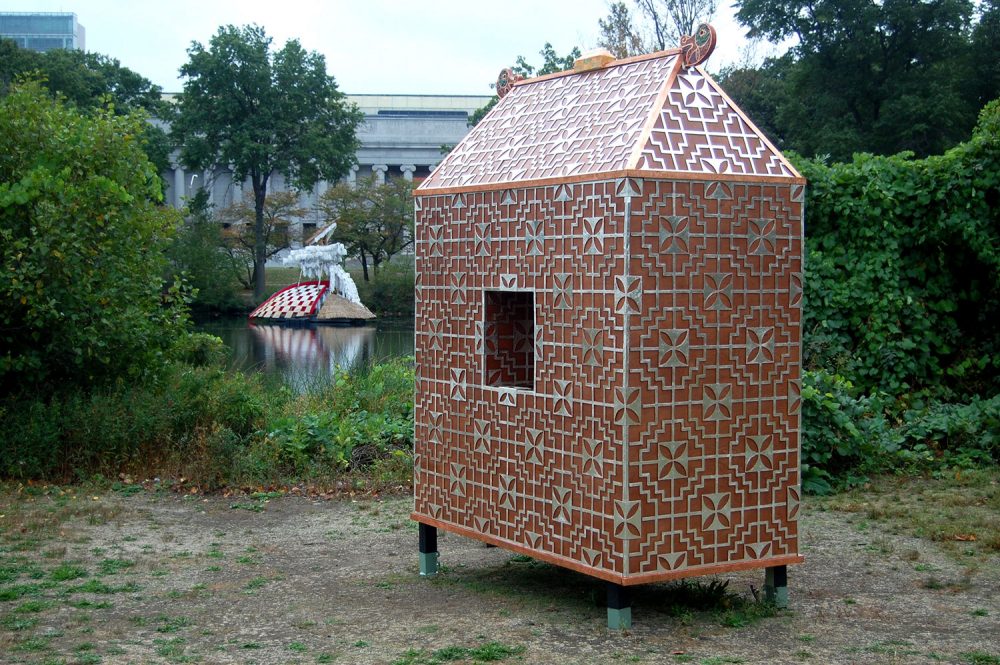 While Ó Fraithile's "South of Hy-Brasil" is a drifting abstraction, Dowling's "Well House" is a solid structure, standing sentinel along the shore of the Fens watching Ó Fraithile's sculpture. "Well House" resembles a small peaked house covered all over with an ornate, silver geometric pattern on red walls. A niche in one side holds a solar-powered fountain.
"I have always looked at water as being sacred, being a blessing, water being a gift," Dowling says.
"Well House" is inspired by pump houses on drinking water reservoirs, by sacred wells and springs of Ireland, by the shape and patterns of the Emly Shrine, an early 8th century, Irish reliquary casket, made to hold sacred relics of a saint (usually parts of a saint's body), that's now part of the Museum of Fine Arts' collection.
"My Irish grandmother was a keeper of a sacred well in Ireland," Dowling says. Later, "she kept a small bottle of holy water in her home in Quincy. Always empty. When you went to visit, she filled it from the tap and sprinkled a bit on you. I remember saying to her one day that isn't blessed, her reply as she tapped me on the shoulder was 'it tis.'"
That magical transformation was on Dowling's mind. "In this summer of drought, on this waterway in this beautiful park, this waterway that's really polluted and toxic," Dowling says, "I wanted to site that piece as if it was drawing water from that river and offering it back to as is if it was pure and beautiful."