East Boston Shooting Leaves 2 Cops Wounded, Suspect Dead
Resume
The audio attached to this post is from WBUR's Morning Edition. But the post below been updated to reflect new information that has come out during the day. 
---
Two veteran Boston police officers are in critical but stable condition, after they were each shot multiple times while responding to a domestic incident in East Boston late Wednesday, authorities said.
A suspect was then fatally shot by other officers.
The two officers who were shot -- Richard Cintolo, a 27-year veteran of the Boston Police Department, and Matthew Morris, a 12-year veteran of the force — are recovering after surgery at Massachusetts General Hospital, Boston Police Commissioner William Evans told reporters Thursday afternoon.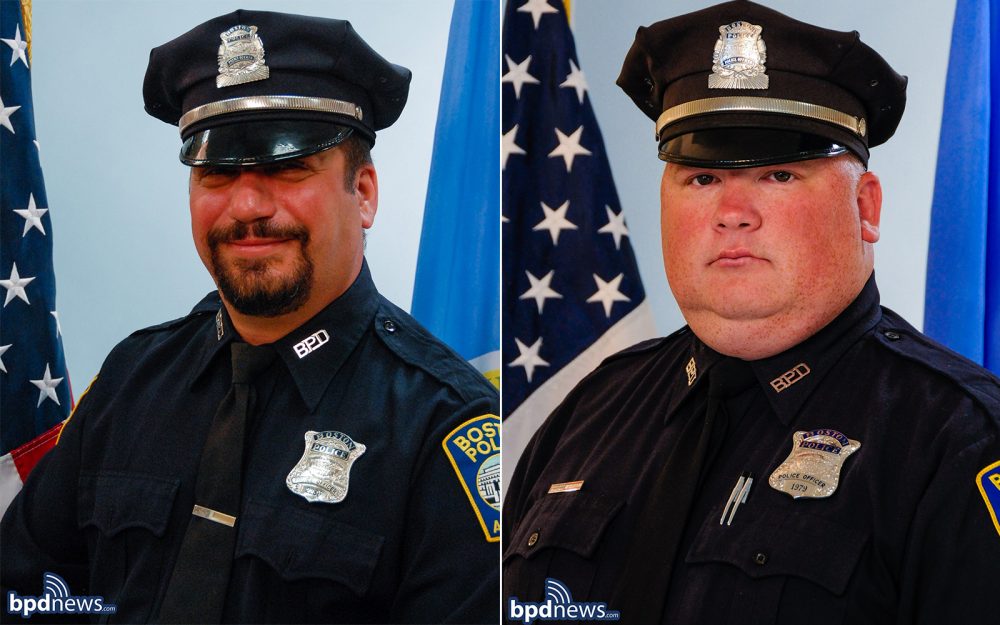 At around 10:50 p.m. Wednesday, the officers responded to a call about an incident between two male roommates at 136 Gladstone St. in Eastie's Orient Heights neighborhood.
According to Boston police, the officers were shot multiple times by Kirk Figueroa, 33, of East Boston, who was wearing a ballistic vest and had armed himself with what Evans said police believed was a "tactical shotgun."
Several other officers then entered the premises to get the wounded officers out of the line of fire. Other officers, in a prone position, continued to exchange gunfire with the suspect, Evans explained.
Here's more from WBUR's All Things Considered Thursday evening:
"I'd like to commend my officers for rushing into that building with no fear whatsoever to rescue their fellow officers," Evans said.
Morris was hit in one of the main arteries in his leg, Evans said. He attributed Morris' survival to the officers who came to his aid, applying a tourniquet to the wound.
Evans said he doesn't believe the officers were lured to the residence to be ambushed. "It clearly was a call where there was a domestic disturbance," Evans said.
Figueroa, the now-slain suspect, worked as a Boston constable and was hired by the city for the first time in July, the Boston City Clerk's office said. (Here's what a constable does.)
Figueroa didn't have a license to carry in the state, Evans said. "He had no right here in Massachusetts to possess the guns that he had," Evans said.
Evans said that to his knowledge, Figueroa did not have a record in Massachusetts, but had felonies for impersonating a police officer and for arson elsewhere. Evans said he couldn't confirm where those crimes were committed.
"He did have a record, but, from what I understand, nothing in Massachusetts," Evans said.
He added that there was nothing that would have prohibited Figueroa from getting a constable license in the state. Background checks for constables are "limited," Evans said.
"Constables serve civil process, subpoenas and whatnot," Evans said. "When we do a background check on someone like that we're not allowed to check the FBI database, it's a general check ... A constable is very much like a mailman. He goes, he delivers the [civil] process in hand."
Evans called the suspect's death unavoidable.
"We're not proud when we have to use deadly force, but obviously we had two officers gravely injured here, and it left no choice," Evans said at an earlier briefing with the press.
Suffolk County District Attorney Dan Conley said midday Thursday that an independent investigation into the use of force by officers has been opened, as is standard in all police-involved shootings.
"We have a general understanding of what happened; but in several months we'll have a better understanding. My role will be to evaluate the justified use of force," Conley said. "I want the public to know I haven't made any preconceived notions."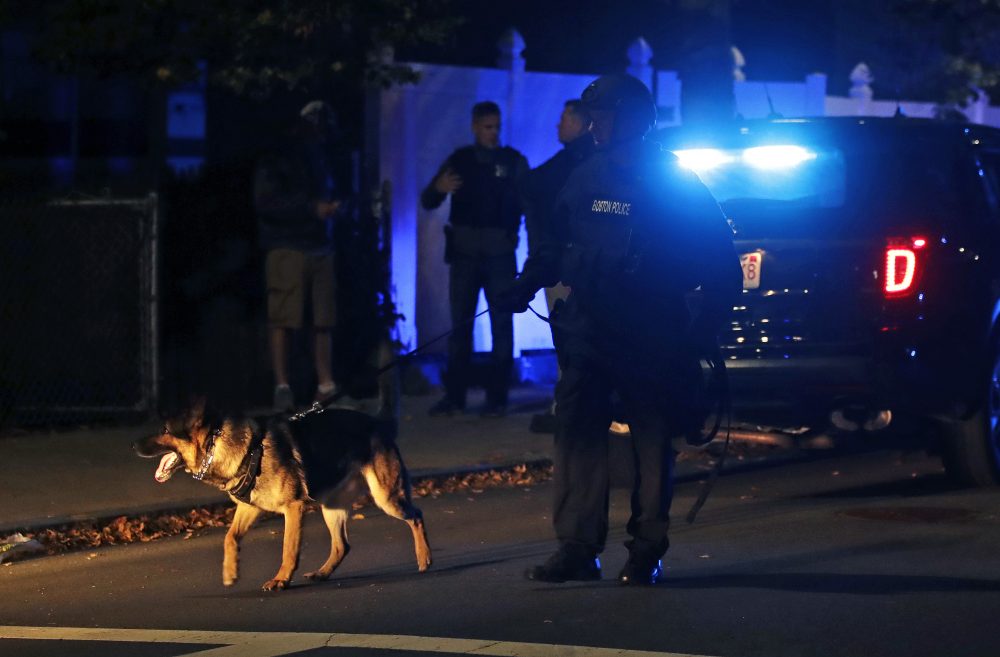 For about 30 minutes Wednesday night, Boston police asked nearby residents to shelter in place until they secured the scene. The suspect's roommate was not hurt or arrested.
Nine other officers were treated at Tufts Medical Center for minor physical injuries and emotional stress.
"They're going in to protect the officers and you know, very easily, could have — with an act of gunfire going on — waited until the fire stops, but they didn't," Boston Mayor Marty Walsh told WBUR Thursday morning. "They went right in there and were able to get the two officers out."
Here's Mayor Walsh's update earlier Thursday:
Neighbors and others in the area said they heard the exchange of gunfire.
"It was rapid," said Eric Discrescenzo, who was visiting a friend a few doors down. "It wasn't like one at a time, separated by seconds, it was like, 'pop, pop, pop, pop.' "
Gov. Charlie Baker and Lt. Gov. Karyn Polito said in a statement Thursday that they were "shocked and saddened" by the incident and praying for the officers and their families.
This incident comes as Boston is one month into a body camera pilot program. One hundred officers are equipped with body cameras in five districts across the city -- covering Roxbury, Mattapan, parts of Dorchester, the South End, Fenway, Back Bay, Allston-Brighton and Hyde Park. East Boston is not part of the pilot program — a point of concern raised by some activists before the program began. But Evans said even if the officers in East Boston were equipped with body cams Wednesday night, it's unclear whether the cameras would have been turned on since there are privacy concerns when dealing with a domestic dispute.
"When we go across a threshold we're going to have to ask permission of the occupant — can we put them on?" Evans said. "In a situation like this, they would have asked for permission and I don't think anyone could have anticipated how quickly this incident went violent."
The department has policy guidelines on when cameras should be turned on and off. Under the policy, officers must get consent to record before entering a person's private residence if they don't have a warrant or during a non-emergency situation. Officers also have discretion not to record in some instances where there is an expectation of privacy, according to the policy.
With reporting by WBUR's Delores Handy, Bruce Gellerman, Lisa Creamer, Amy Gorel, Zeninjor Enwemeka and Anthony Brooks. The audio atop this post is from Bruce's morning feature.
Correction: A photo included in an earlier version of this post featured a house not involved in Wednesday night's incident. We regret the error. 
This article was originally published on October 13, 2016.
This segment aired on October 13, 2016.