New Mural In Somerville Honors Beloved Auto Mechanic
The other day Liz LaManche was busy painting her new mural on the stairs that climb up a small, grassy hill from Pearl Street to Medford Street in Somerville.
The image is split up across the risers, so that each set of five stairs combines to form portraits of, from bottom to top, a blue Volkswagen Beetle, mustard yellow Vanagon, and red Saab 96. The painting is a tribute to Al Riskalla, who died three years back, and faces Marshall Street where he ran ABJ Auto Repair for years. The mural's current title: "The Soul's Journey as a Series of Weird Old Automobiles."
"We kind of start out as the Beetle, which is small and ordinary, but containing the seeds of greatness," the Somerville artist says. "Then you go through a middle period, which is [ABJ mechanic] Wendell's old Vanagon, when you're embroiled in life and all its confusions. Then with luck you come out the other end only by realizing you've been a magnificent being the entire time.
"It was quite the local institution," LaManche says of ABJ. "Al would make sure we could fix our cars when we were students and artists and folks just trying to get by. … It was the kind of place were you could bring in a Volkswagen engine on a hand truck and they would fix it for you."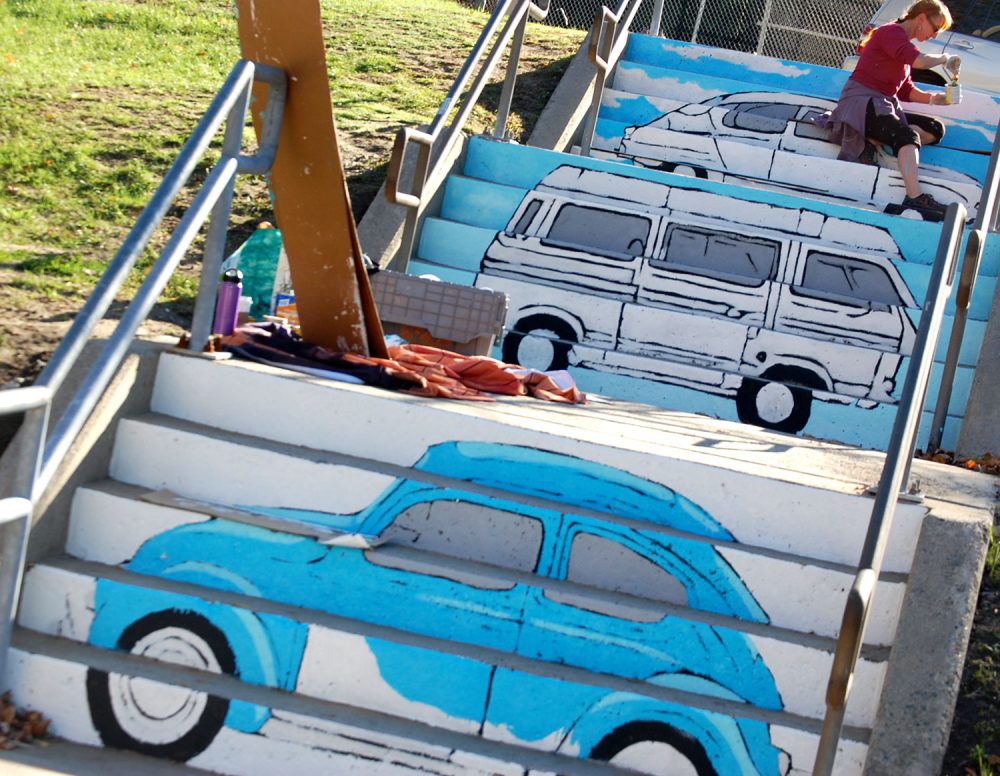 LaManche's other projects have included her "Dock Tattoo Project: Connected by Sea" along a pier at HarborArts in East Boston, a mural inside Cambridge Brewing Company of regulars at the Cambridge establishment as well as "famous people with ties to Boston," and the rainbow "Stairs of Fabulousness" (formerly) in the lobby of Boston City Hall.
LaManche began painting "The Soul's Journey as a Series of Weird Old Automobiles" mural last week and hopes to finish it up—adding rainbow tire tracks—next week. "It kind of celebrates the old neighborhood. And this is a place that's about to have a lot of change due to gentrification.
"Rather than having places that are considered waste spaces, bare concrete," LaManche says, "I would rather have them fancied up so people could feel better about their day, so that people get a little boost of happiness in their day, get in a better mood and maybe pass that along. It always feels better to have color and surfaces that have been loved rather than things that are dingy and plain around you."