Surreal Mural By Iranian Artist Mehdi Ghadyanloo Materializes On The Greenway
Play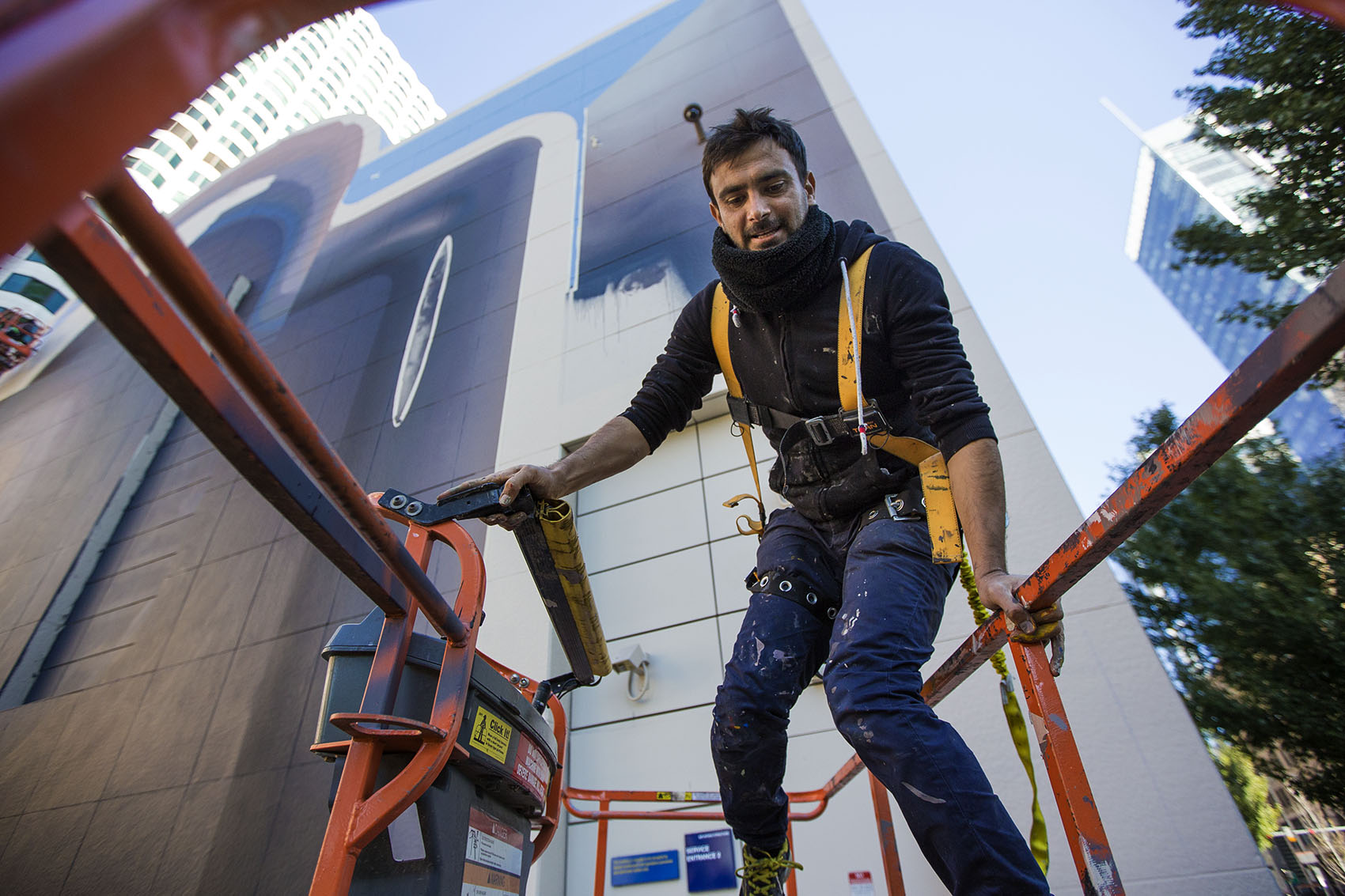 This article is more than 6 years old.
Each fall, a new mural materializes on the towering facade of the transportation building that sits on the Rose Kennedy Greenway in Dewey Square. This year the wall is being painted by Mehdi Ghadyanloo, a 35-year-old Iranian artist known for creating more than 100 surreal public works of art in Tehran. The Greenway mural is his first in the U.S.
Lucas Cowan, the Greenway's public art curator, says he'd been following Ghadyanloo for years.
"When I first contacted Mehdi I said to him, 'I'm a curator here in Boston and I have this very large wall. You may not know about it,' " Cowan recalled.
But it turns out the Iranian artist did know about it. He'd been dreaming about the wall from his city across the world.
"I was doing my paintings in my studio that I received this email," Ghadyanloo recalled, "and I looked at this picture and said, 'This is the wall that I wanted to paint.' "
Cowan admits he was taken aback by the thought that the program was "reaching the corners of the globe."
Ghadyanloo said he had seen pictures of the Greenway wall online back in 2012, when it featured the work of the twin brother Brazilian street artists known as Os Gemeos.
"I really liked the shape of this wall," Ghadyanloo said. "And I wanted to create something between these skyscrapers."
Now Ghadyanloo is realizing his wish.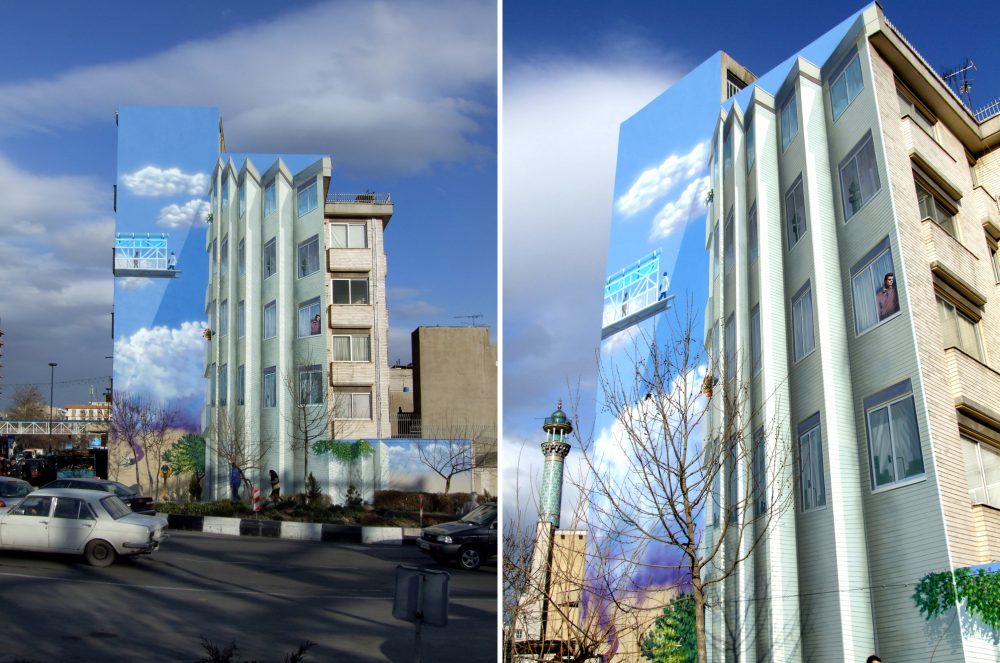 More than 100 of Ghadyanloo's surreal murals can be found on buildings around Tehran. They were commissioned by the city's Beautification Bureau.
"I had this idea 11 years ago when I started to paint my murals in Tehran, to give a moment of maybe happiness to people," Ghadyanloo explained. "And my aim was when people see my mural [they] think about something else rather than their problems."
So he painted vibrant blue skies as an antidote to Tehran's hazy, polluted ones.
His playful, surreal murals trick the eye. You can see floating taxi cabs in one, a floating person holding a bunch of colorful balloons in another. Sometimes it's hard to tell where his fantastical worlds end and the real world begins.
"I think all of us — people in Iran, people in America, people everywhere — usually receive lots of bad news, and we all need hope," Ghadyanloo said.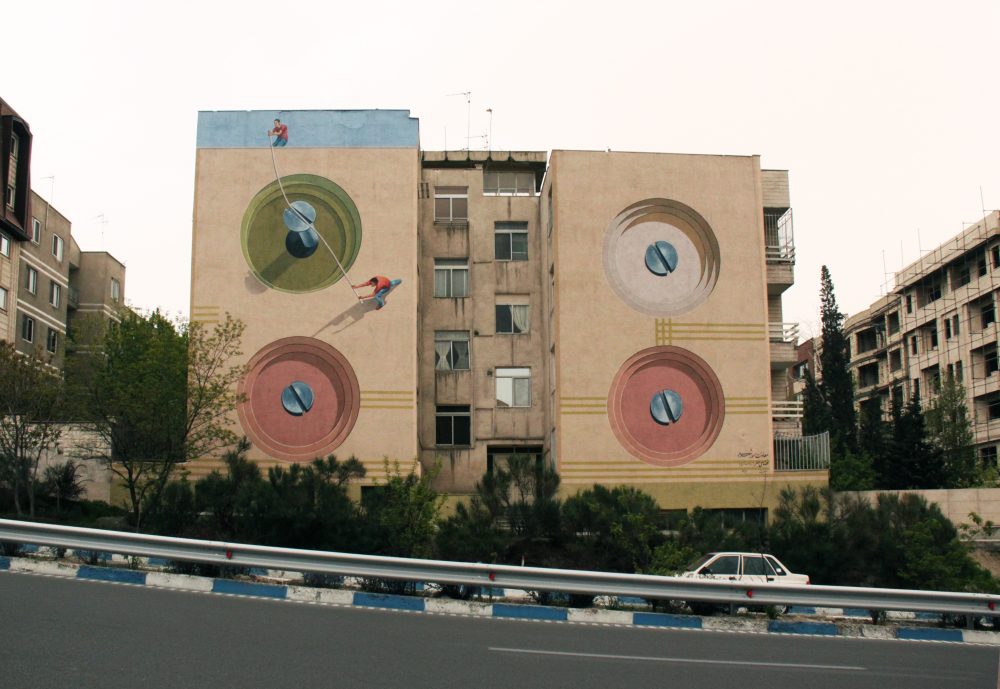 "Spaces of Hope" is the title of Ghadyanloo's Boston mural. At this point the artist doesn't want to reveal too much about his design because he's still painting it. But his gallery representative, Richard Howard-Griffin, says the artist's works are always beguiling.
"They're hard to describe," he said. "You can see them having an effect on the viewer -- you can see them transported to another reality almost."
Tim Cole, of Cape Cod, and his son Dylan, who recently moved to Boston, have walked by the mural two days in a row.
"It's remarkable to watch the process, because it's still kind of a mystery," Tim Cole said.
"Oh — I see what it is now," Dylan Cole added. "I think it's a balloon going through a hole in the ceiling of a tunnel."
The just uncovered big red balloon looks like it's popping out of the wall. It's clearly eliciting the type of surprised reactions Ghadyanloo hoped for.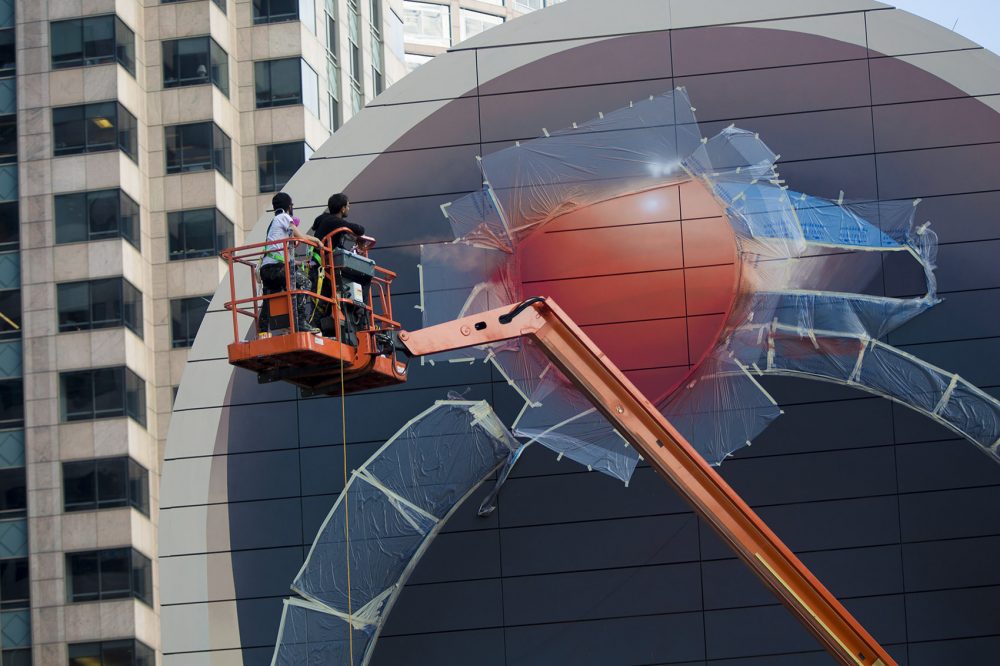 This is the first public mural Ghadyanloo has painted in a few years. Instead, his dealer says, Ghadyanloo has been making smaller works on canvas.
"With his public work the audience is the world," Howard-Griffin said. "With his works on canvas, they're not in the public realm, people have to choose to go and see them either in a gallery or a museum, and he can express a darker side of his psyche."
Ghadyanloo grew up during the years of war between Iran and Iraq. "I think this had lots of impact on my subconscious," he said. "And I can see the result in my canvases."
In a few of his paintings kids play in the shadow of a floating, three-dimensional cube. In another, people swim around the maw of an enormous, watery abyss.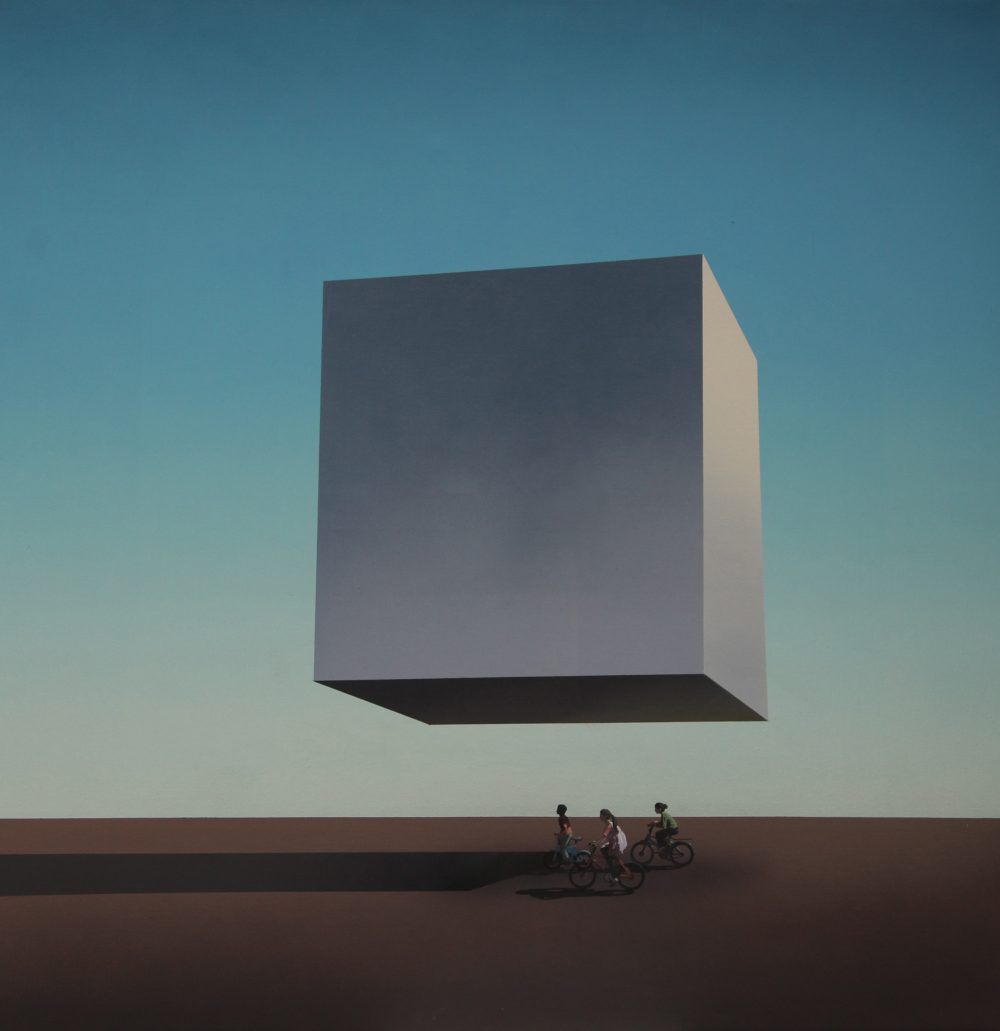 Ghadyanloo was a farmer before he went to art school. Western novels and movies also influenced his aesthetic. Before designing his new mural, the painter visited Boston to get a feel for the space and the people. He says many of them talked to him about the Boston Marathon bombing.
While his new mural is hopeful, Ghadyanloo revealed that a part of it he has yet to paint will touch on that dark period in this city.
"The row of people in this painting will remind you maybe of the people that are watching and of people that are being bombed everywhere in the world," he said, "I think it's a deep connection."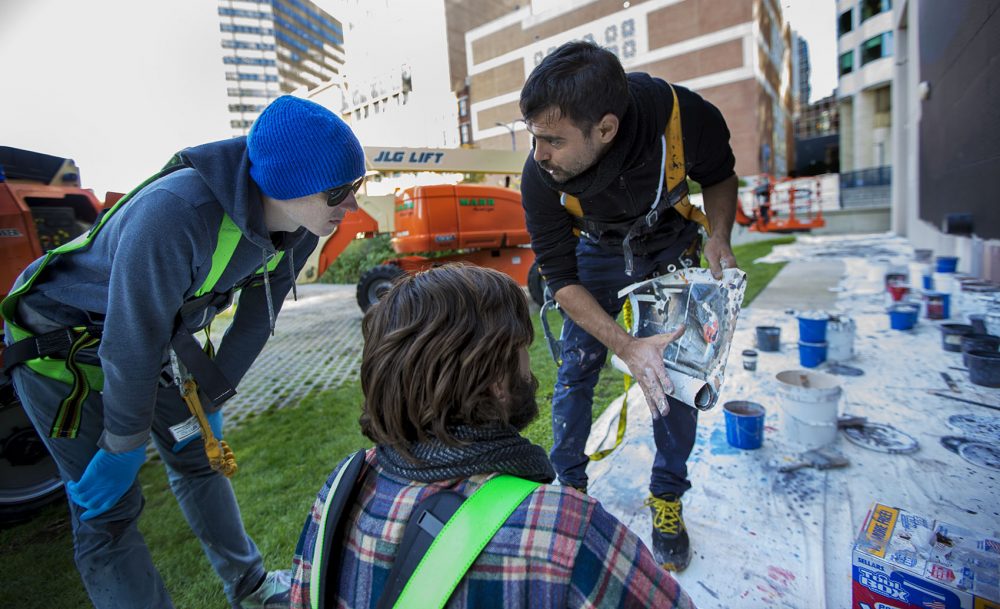 After Boston, Ghadyanloo is scheduled to paint another mural in the U.S., at the University of Michigan. And he's touring a few cities where he'll give lectures and meet museum curators.
Howard-Griffin says the enormous piece on this wall in Boston is something of a calling card for Ghadyanloo and his generation of contemporary Iranian artists.
"I think Mehdi has an important role to play to show something really positive coming out of Iran," he said. "I think there's something really good about that."
Ghadyanloo and his assistant Henry Kunkel are feeling elated about how the Boston mural is turning out — especially that big red balloon.
"It gives it life," Ghadyanloo said. "And there are many more elements I will add to this mural."
He and his team will be working hard to finish the mural over the next few weeks. The blending technique they employ has taken a bit more time than Greenway curator Lucas Cowan expected, but with a laugh he said: "At the end of it you're going to be floored."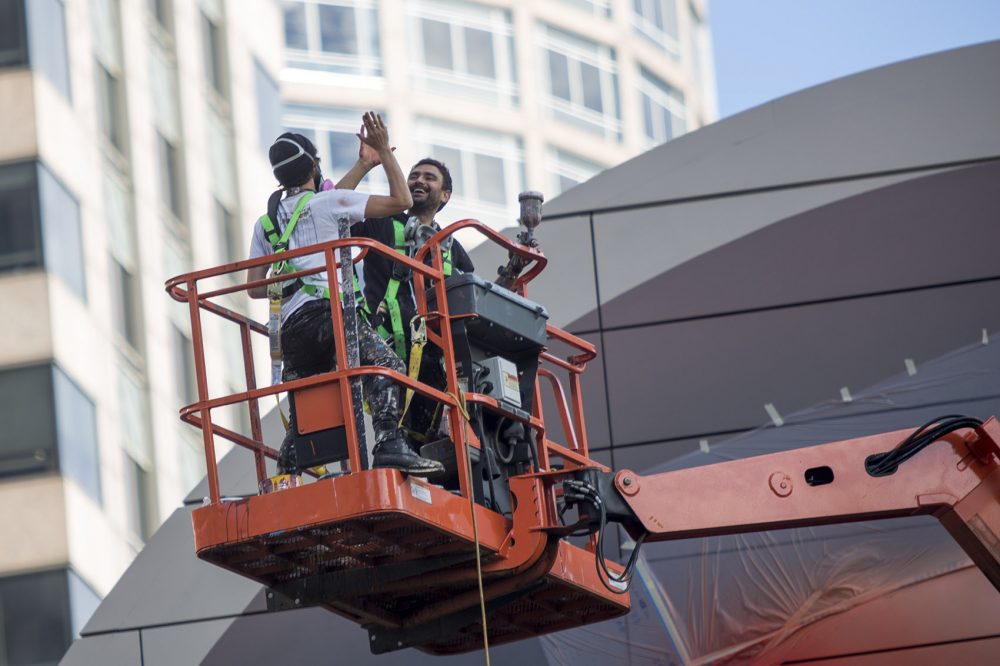 Examples of Mehdi Ghadyanloo's gallery work will be on display at Lesley University's College of Art and at Boston City Hall.
This segment aired on October 19, 2016.