What Orange People Clinging To Inner Tubes In Boston Channel Says About Refugee Crisis
In the middle of October, a swarm of 22 people clinging to black inner tubes appeared in the waters of Boston's Fort Point Channel, just west of the Congress Street bridge. And they were completely orange. Like a warning.
"The swimmers relate the channel to the seas crossed by those in search of shelter, freedom, prosperity and safety and they invoke Boston's long history of welcoming immigrants," Ann Hirsch and Jeremy Angier, the Somerville artists who created the public art project, write on their website. "Each figure represents nearly 1 million of the United Nations High Commissioner for Refugees' estimated 21.3 million refugees in the world today."
"We are very specifically concerned with the magnitude of the [international refugee] crisis and how many people are displaced. We're talking about a global issue. But it's important to connect back to Boston," Hirsch tells me. "We're a city of immigrants in a country of immigrants."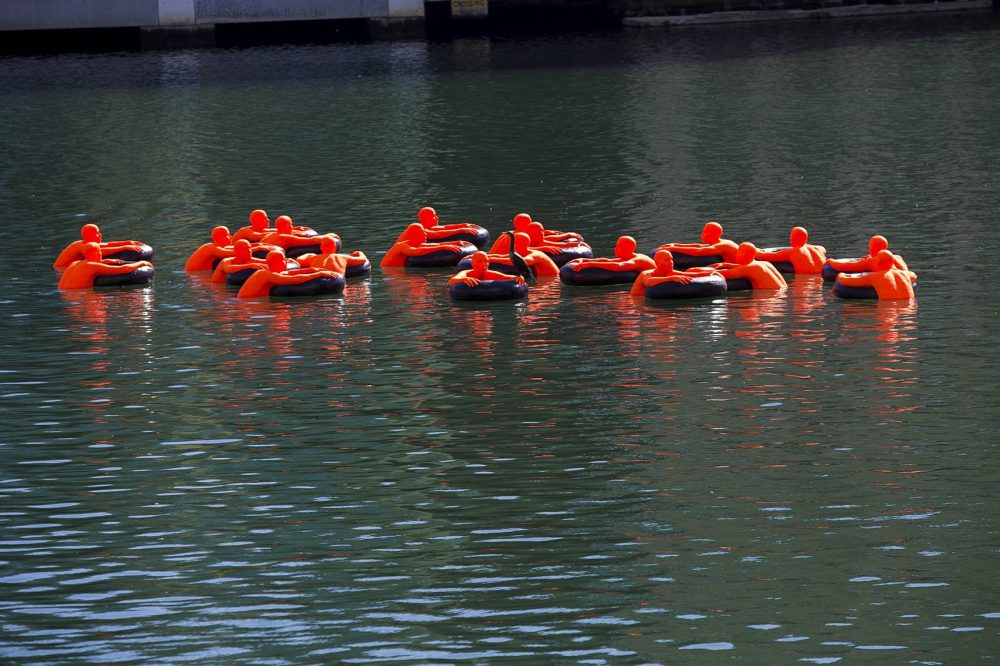 The artists, who work together under the name A + J Art + Design as well as being a married couple, say "SOS (Safety Orange Swimmers)" is "our first true collaboration in art." She's best known for sculpting the monument to Boston basketball legend Bill Russell on Boston City Hall Plaza. He sculpts and paints and creates digital animation. Their temporary public art project, which is expected to be floating in the channel until late November or early December, was commissioned by the Fort Point Arts Community in collaboration with Friends of Fort Point Channel with funding from the Fort Point Channel Operations Board.
The 22 orange people are all the same single figure. Angier rendered the person digitally, then they sculpted it in clay and made casts of it in polyurethane foam. The figures and the inner tubes are actually one piece, painted two colors, with the person's body stopping just below the water line. They stay floating in place because of an anchor connected, not far below the waves, to a rigid framework that keeps them bobbing in formation, without tangling up.
"There's a vulnerability to them," Angier says. "They're dwarfed in that big space."
"These figures in the middle of this body of water, turning and turning and turning," Hirsch says. "We don't know what's going to happen to them."