Late NFL Player Turner's Brain Called 'Best Evidence' Of Trauma Link To ALS Symptoms
In 25 years as a fullback, including eight in the NFL for the New England Patriots and the Philadelphia Eagles, the late football player Kevin Turner constantly led with his head as he battled opponents. When he was 39, he started developing arm weakness, and was diagnosed with the degenerative nerve disease ALS. He died in March at age 46.
"The question in our mind, as we watched Kevin go through this valiant effort to overcome this disease, was always: Is this really ALS, or is this CTE that's affecting the parts of his brain that control his motor system?"
Dr. Ann McKee of Boston University, a leading expert on CTE — chronic traumatic encephalopathy, the brain disease that can develop from repeated hits to the head — shared Turner's story and that question with an audience of doctors, reporters and late athletes' family members on Thursday.
Then she answered herself: Kevin Turner's brain was "riddled with CTE."
It had shrunk dramatically, and had extensive deposits of tau, an abnormal protein, including in the nerve cells that control movement. In effect, McKee said, Turner had symptoms of ALS, caused by CTE.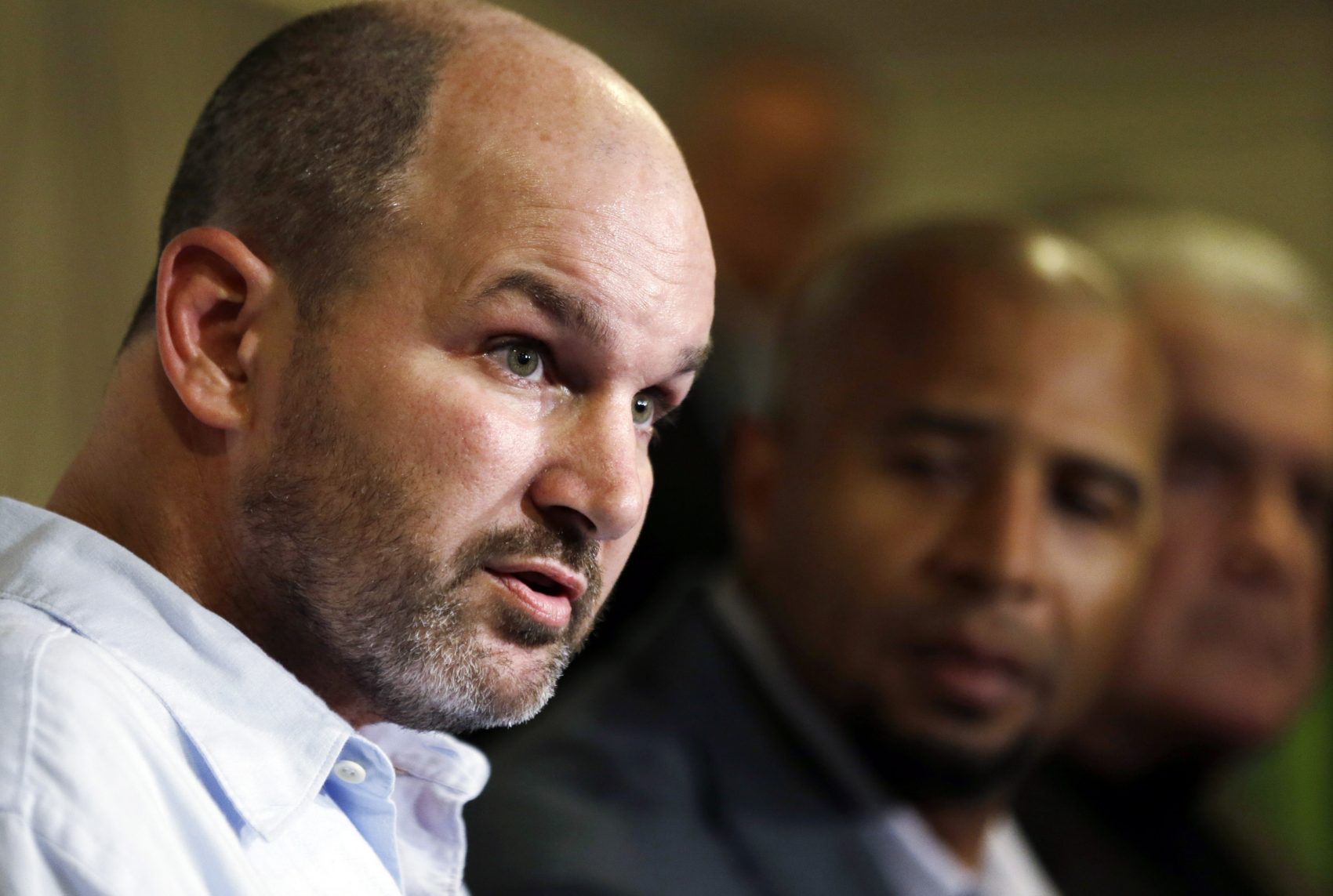 The link between ALS and CTE has been known for years — NFL players face a quadruple risk of getting ALS — but McKee said Turner's brain offers the best evidence yet of the connection.
"What Kevin's brain showed us, more than any other brain, is this incredible connection between the tau pathology and the motor nerve system," she said. "He showed it better than any other case, and I doubt we'll ever get a case like this in the future. This is the best circumstantial evidence we will ever get that this ALS type of motor neuron disease is caused by CTE."
Of 90 brain-bank specimens examined so far, she said, 17 have been found to have both CTE and signs of ALS. The bank — run jointly by the Department of Veterans Affairs, Boston University School of Medicine and the Concussion Legacy Foundation — has received more than 380 brain donations so far.
Turner had been a prominent plaintiff in the major concussion lawsuit brought by former players against the NFL. McKee's aim, she said, is not to stop contact sports in this country, and military activity, which can also lead to head trauma, cannot be stopped.
But the message from this latest finding, she said, is "This is not ALS, folks, this is CTE! And this is ALS affecting young people. Kevin was in his 40s, but we've got people in their 20s with this — 20-year-olds that are coming down with a motor neuron disease from playing contact sports. I think this is unacceptable. We have to eradicate this. It's a totally preventable disease. Let's start preventing it."
Asked by a reporter what she would say to the commissioner of the NFL and Patriots owner Robert Kraft, McKee said, "I do think that it's a billion-dollar industry and we need to make billion-dollar efforts to try to take care of the players." That would mean "long-term care, more diagnostics, and certainly more prevention. I think we've made an effort, but it's trivial compared to what we should be doing."