With Polls Showing Dead Heat, Clinton And Trump Bring Campaigns To New Hampshire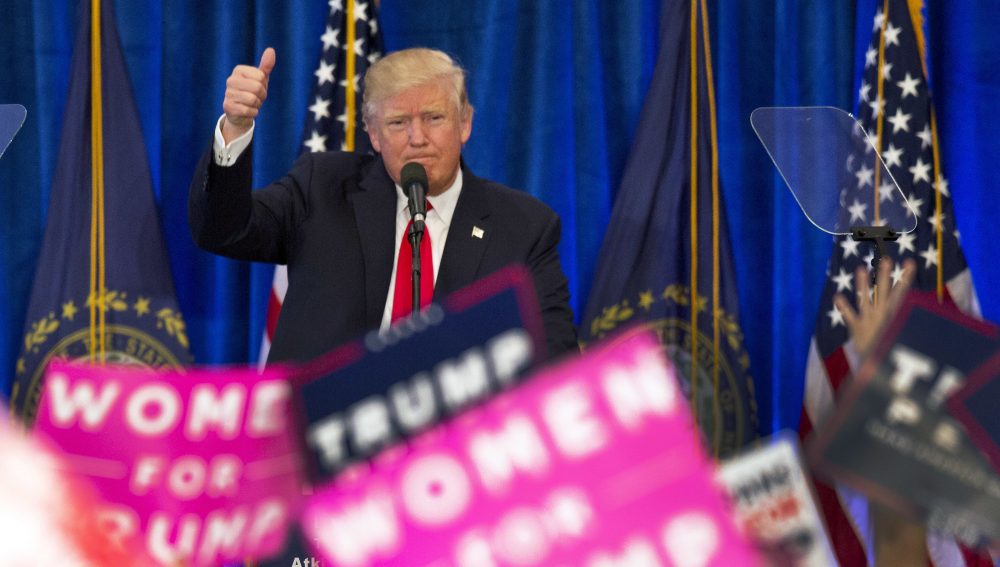 This article is more than 5 years old.
New Hampshire is getting a lot of attention in the final days of the presidential campaign.
Republican Donald Trump campaigned in Atkinson on Friday. He will also hold his final event of the campaign in Manchester on Monday night, alongside his running mate, Indiana Gov. Mike Pence.
Democrat Hillary Clinton has scheduled a last-minute visit to Manchester for Sunday, and President Obama will campaign on her behalf in Durham on Monday.
The flurry of activity in New Hampshire follows a series of polls released this week showing Clinton and Trump in a dead heat there. A WBUR poll released Thursday gave Trump a 1-point lead — well within the 4.4 percentage point margin of error.
Steve Koczela, the president of the MassINC Polling Group, which conducts the WBUR survey, says the race in New Hampshire "couldn't be closer."
Some Massachusetts politicians will also make visits to the swing state over the weekend.
Boston Mayor Marty Walsh and U.S. Rep. Stephen Lynch will be in Manchester Saturday to campaign for Clinton. Massachusetts U.S. Senator Elizabeth Warren also campaigns Saturday in Rochester and Concord, speaking to volunteers before they head out to canvass and knock on doors.
U.S. Reps. Seth Moulton and Katherine Clark will also stump for Clinton on Saturday.
Also Saturday — Massachusetts Republican Gov. Charlie Baker will be in Nashua, though he's not campaigning for Trump.
Baker is making the trip to campaign alongside Republican New Hampshire gubernatorial candidate Chris Sununu. The recent WBUR poll showed Sununu with a 5-point lead over Democrat Colin Van Ostern.
Baker has refused to endorse Trump and says he will not vote for any presidential candidate on Election Day.
With additional reporting from The Associated Press
This article was originally published on November 05, 2016.