City Releases Draft Plan For Future Development In Boston
This article is more than 4 years old.
To prepare for the population growth Boston expects to see over the next couple of decades, city officials on Thursday released a long-term plan aimed at bringing development to all corners of the city.
The Imagine Boston 2030 draft plan calls for expanding neighborhoods by targeting pockets of the city that could accommodate large mixed-use developments — where residents can live, work and socialize. These areas include Beacon Yards in Allston, Sullivan Square in Charlestown, Readville in Hyde Park, Widett Circle in South Boston and Suffolk Downs in East Boston.
"This city is going to be very different as we move forward and we want to make sure as we grow, as we change, we change and grow for everyone," Mayor Marty Walsh said during a press briefing on the plan Thursday.
The plan also calls for making the city's commercial centers -- such as downtown, Longwood Medical Area, the South Boston Waterfront and Government Center — more livable by allowing for more mixed-use developments as well as places for people to gather, and open spaces for arts and culture.
Housing is a major concern as the city's looks toward the future. Boston's current population is 656,000 and the city projects it will reach 724,000 by 2030 and surpass 800,000 by 2050. To accommodate this growth, the city is looking to add more affordable housing. Walsh said the approval of Question 5 — the Community Preservation Act — in last Tuesday's election will help with that because it "allows us to get at least up to $16 to $20 million a year for affordable housing, open spaces and historic preservation."
Climate change is another key component of Imagine Boston 2030. City officials say they want to make sure the waterfront lasts for future generations. The plan calls for protected shorelines, updated regulations so existing buildings are "climate-ready," and preparing neighborhoods that are particularly vulnerable to coastal flooding.
The Imagine Boston 2030 plan also touches on how people move around the city. Walsh said the city will work collaboratively with the state and the MBTA to improve transit service.
"It's going to be vitally important for the T to look at this plan and come up with a plan that works in parallel with us," Walsh said.
The Imagine Boston 2030 plan was developed after the city spent a year gathering feedback from the public through community meetings and an online survey. More than 12,000 residents contributed ideas that were incorporated into the draft plan. Walsh said the current plan is a "living document" and the public can still weigh in and help refine it.
Read the draft plan here. And give feedback on the plan here.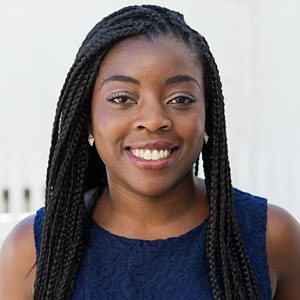 Zeninjor Enwemeka Senior Business Reporter
Zeninjor Enwemeka is a senior business reporter who covers business, tech and culture as part of WBUR's Bostonomix team, which focuses on the innovation economy.