Forecast: Another Day Of Wind And Chilly Air
How about that wind yesterday? When I got up Monday, my lawn had not only been recovered by leaves, but a coating of snow as well. The winds gusted to over 50 miles per hour in several places making for a truly wintry feel.
Today is better. However, the wind is still going to be an issue, though not as strong. It will still be cold, though not quite so much below average. Sunshine will be more abundant and in the afternoon — if you are in a sunny, sheltered location — it will feel much more pleasant.
Many of you will be traveling over the next few days and the weather looks like it will mainly cooperate. Tomorrow is the pick of the week with the most sunshine and the the least wind. Temperatures will be near averages for late November.
A weather system will bring a period of very light spotty freezing drizzle or plain drizzle on Thursday morning. This isn't a big system by any means, but even a small amount of frozen precipitation can create issues. Just be aware this is coming. I will take a closer look at the timing of this tomorrow. Notice on the map below how little precipitation is forecasted.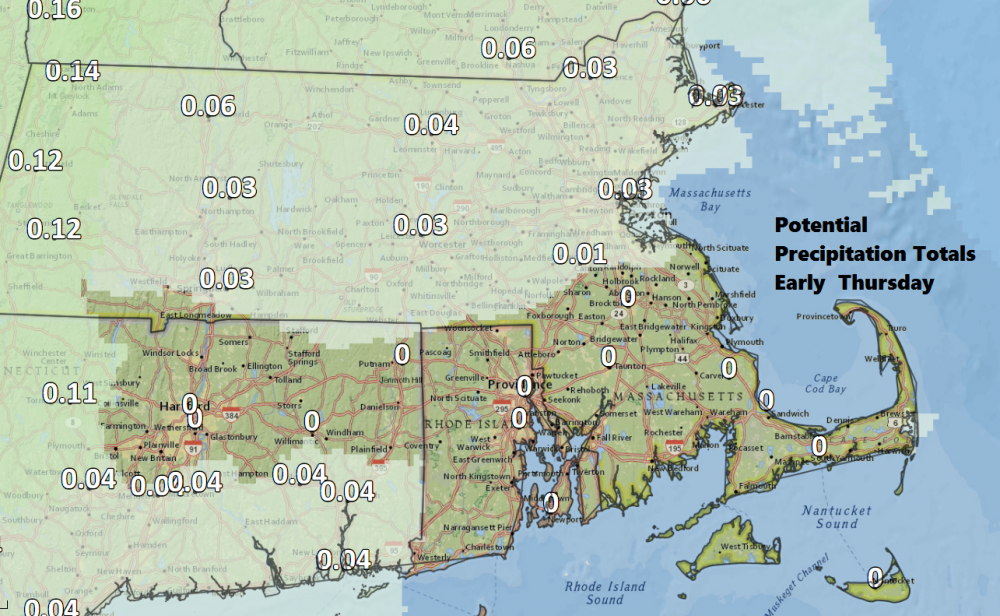 A storm may affect the region with some rain Friday night or Saturday morning, but it's not a clear cut forecast and I could see the whole thing missing us. This would leave us with clouds and chilly air, but not rain.
The bottom line — just a couple of days before the Thanksgiving holiday — is we are not looking at any major weather issues, but there are a couple of small glitches to watch for.
---
Tuesday: Partly to mostly sunny and chilly. Highs 38-44.
Tuesday Night: Clear and cold. Lows 28-32
Wednesday: Mostly sunny and chilly. Highs in the lower 40s.
Thursday (Thanksgiving): Cloudy, a period of drizzle or freezing drizzle in the morning. A bit of snow is possible. Highs in the upper-30s to near 40.
Friday: Cloudy, a few showers. Highs in the mid-40s.
Saturday: Some showers possible. Highs in the mid-40s.
Sunday: Partly sunny, highs in the mid- to upper-40s.