Group Begins Push For $15 Minimum Wage In Mass.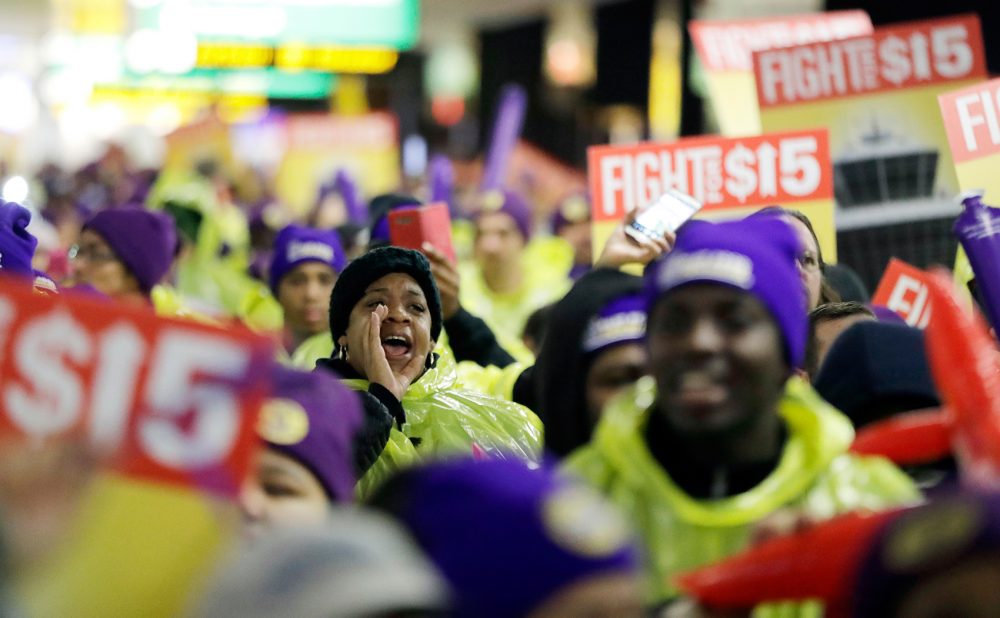 This article is more than 6 years old.
A coalition that advocated for the successful raising of the state minimum wage in 2014 is calling for another hike in the pay floor.
On Tuesday, the union-affiliated group Raise Up Massachusetts began a campaign for a $15 minimum wage, and also raising the lower pay level for tipped workers.
Two years ago, state legislators superseded a ballot drive by Raise Up and approved a bill to increase the pay floor incrementally, from $8 an hour to $11 an hour over three years.
The third step, to $11 an hour, occurs on Jan. 1.
Now, the Raise Up coalition is planning another push, angling for lawmakers to take what it called "the next step in the campaign for livable wages in Massachusetts." House Speaker Robert DeLeo has said he expects a minimum wage increase will be debated next year in the Legislature.
Tuesday was also billed as a nationwide "day of disruption" to call for $15-an-hour pay and union rights. Locally, a protest in front of a McDonald's in Cambridge ended with 34 "pre-planned arrests," city police said in a tweet, and non-union workers at Logan Airport went on strike, according to Raise Up.
The day of disruption was timed to coincide with the fourth anniversary of the Fight for $15 campaign, which began with fast food workers in New York City in 2012.
When Massachusetts legislators passed the minimum wage legislation in 2014, the state was set to have the highest pay floor in the country, at $11 an hour.
But that effort has now been eclipsed by other states. California and New York, along with Washington, D.C., have laws on the books to raise their respective minimum wages to $15 an hour over the next several years. And on Nov. 8, voters in four more states — Arizona, Colorado, Maine and Washington — approved state minimum wages of at least $12 an hour by 2020.
In Massachusetts, politicians in the high-cost-of-living communities of Boston and Cambridge, for instance, have discussed establishing municipal minimum wages of $15 an hour, but those localized efforts appear to be hampered by existing state law.
Though momentum appears to be on the side of Fight for $15 and its allies -- as evidenced by the four state ballot initiative victories three weeks ago -- the issue itself remains hotly debated.
Opponents of a higher minimum wage say higher pay floors just increase labor costs, which force employers to then raise prices and/or cut other wages, benefits or jobs.
Proponents of higher minimum wages say they put more money in workers' pockets, leading to more spending in the community. And they say places like Massachusetts, with a relatively high cost of living and median income, can afford to pay workers more.
Raise Up cited an August report from the left-leaning Massachusetts Budget and Policy Center, which found that increasing the minimum wage to $15 by 2021 would boost the wages of about 947,000 workers, or 29 percent of the state workforce.