25th Medicine Wheel Vigil Honors Those Lost To AIDS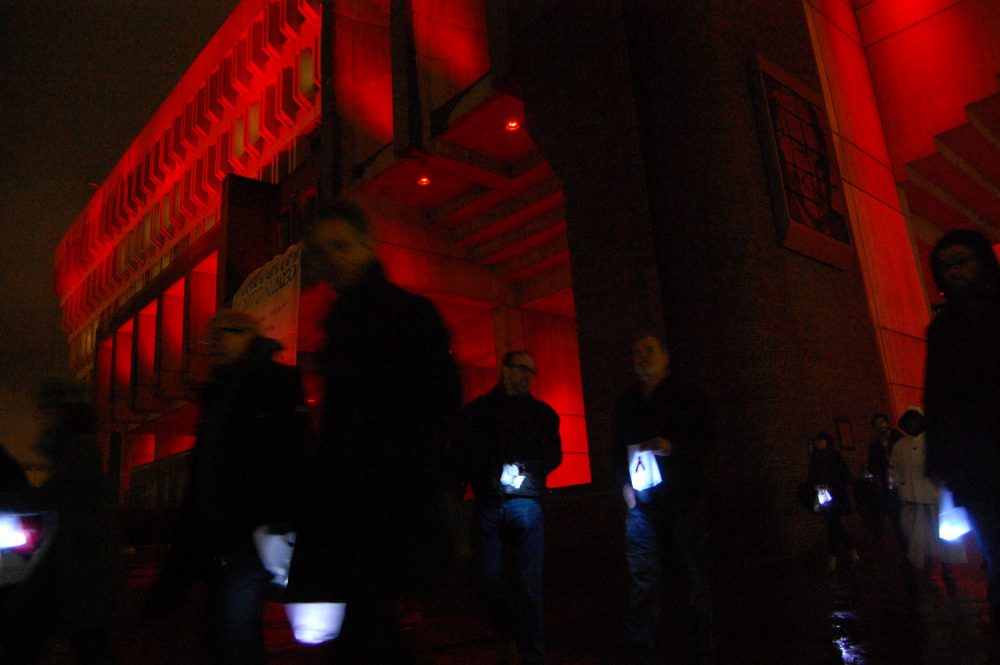 This article is more than 6 years old.
Some 30 people gathered near the entrance to Boston City Hall, out of the pouring rain, around 11 Wednesday night to begin the 25th Medicine Wheel. The annual 24-hour vigil in Boston marks Day Without Art and World AIDS Day. It honors the millions of people lost to the disease.
"In the early years, artists marked this day to hold the human heart, to hold the human condition," Boston artist Michael Dowling, who created the event two and a half decades ago, told the group.
"I'm 62 years old. Of my generation, one in four of us died from AIDS," he noted. City Hall had been lit all in blood red for the occasion, bathing the group in crimson light.
"I've always believed art is the thing that guides us through those difficult times," Dowling said, "and those wonderful times."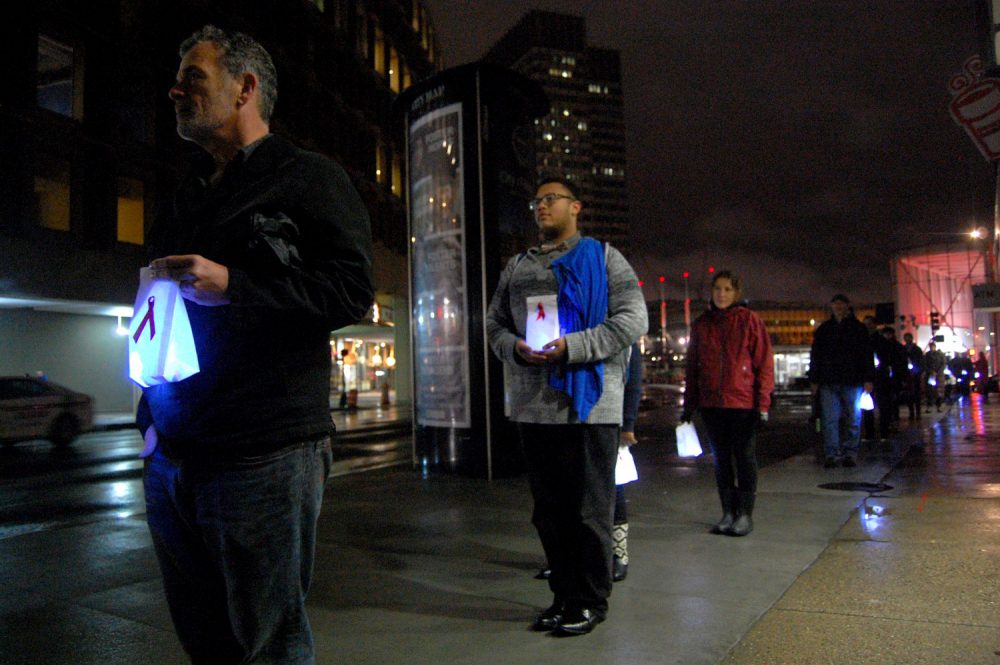 White paper lantern bags, marked with red AIDS ribbons and lit from within with flashlights, were distributed to the participants. Then they set off on an hour-long procession to the Boston Center for the Arts Cyclorama, led by a group of four dancers in white, who walked with their arms up, then stomped, then would stoop and point.
"What we're trying to do here is a processional that acts as a meditative walk into the [BCA] space," Aden Lindholm told the group. "Nothing fancy, but time to reflect on what we've lost."
The rain had paused for a bit. But about halfway through the participatory ritual, as the group solemnly walked long Tremont Street, the rain picked up again. Others on the streets, tried to puzzle out what was happening. Some teased the dancers. Others wondered aloud, "Is it a performance?" "That's definitely something," one observer said.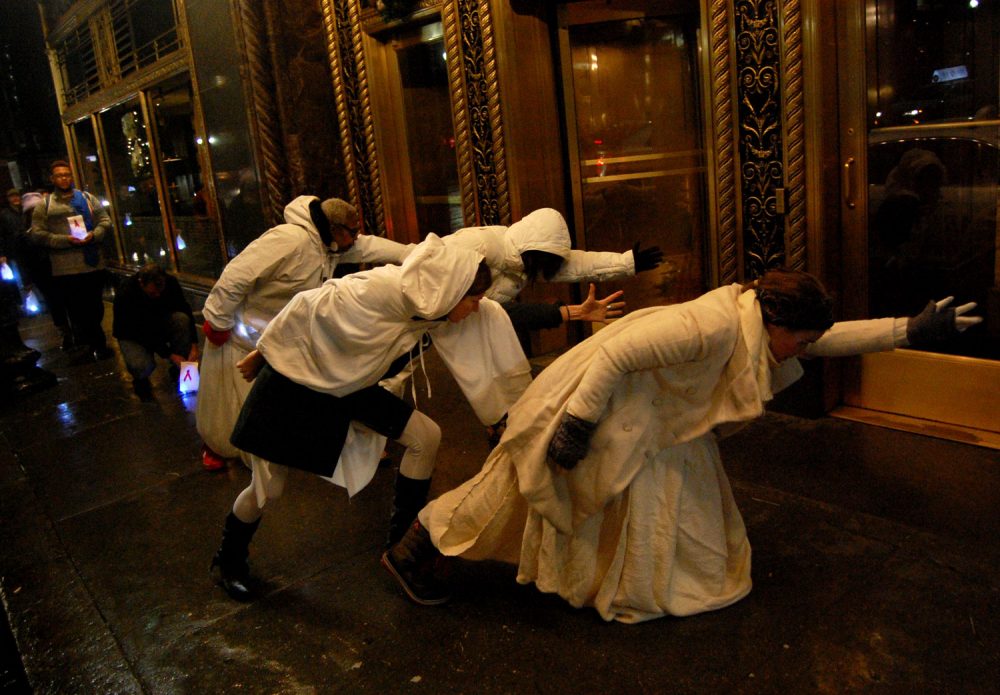 Around midnight, the group reached the Boston Center for the Arts, heading inside. A wall of panels from the national AIDS Memorial Quilt remembering Boston-area people lost to AIDS hid the shire inside the broad circular room. The marchers put down their lit bags in front of the quilts. Then they entered the hall, which was ringed by red and black panels, painted by some 300 artists, and lit by just a handful of spotlights.
The line, which had grown to some 75 people, circled along the walls, then slowly spiraled inward, toward a ring of boxes standing on pedestals like reliquaries. The people continued inside that ring, where a spiral of flagstones occupied the center. A cellist sat playing as four new women danced—some of the more than 100 artists scheduled to perform during the daylong event. (Performances continue through the end of the event at midnight Thursday.)
The audience was invited to put on gloves, paint was poured into their hands, then they were invited to make hand prints on the flagstones. Dowling said, "We all leave our imprint on the earth."