Massachusetts Mourns Victims Of Oakland Warehouse Fire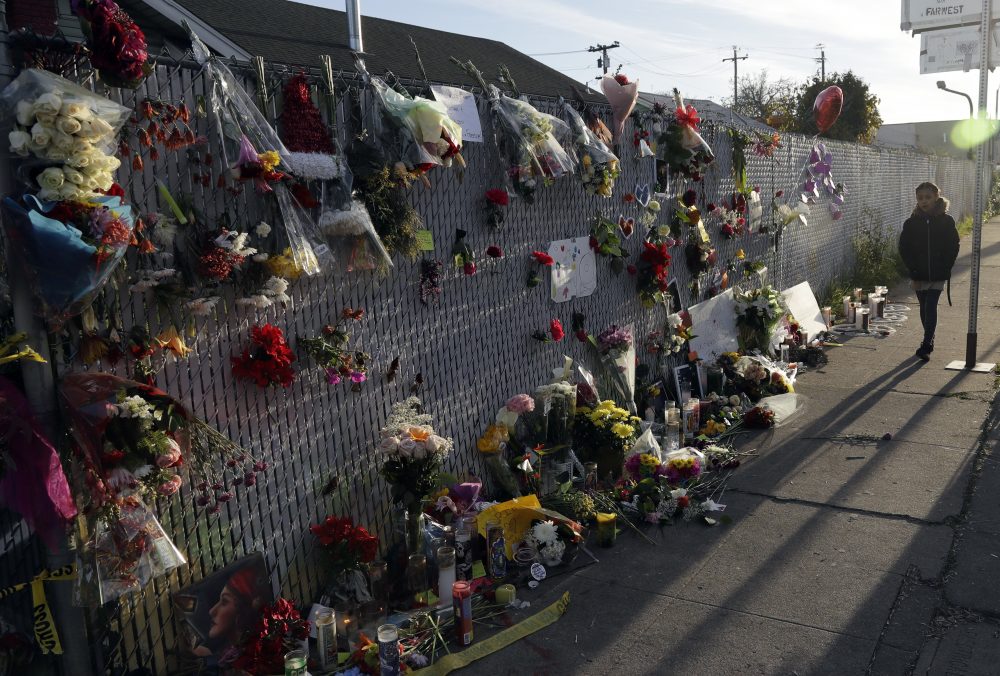 This article is more than 4 years old.
Three people with Massachusetts roots were among those trapped in an Oakland warehouse when it went up in flames over the weekend.
Thirty-six people were killed in the fire in the makeshift artists' loft called the Ghost Ship on Friday night.
Amanda Allen, originally from Chelmsford, and Micah Danemayer, originally from Somerville, have been confirmed dead. Peter Wadsworth, from Cohasset, is still considered missing.
Here's a little of what we've learned about the three:
Amanda Allen
Allen, who was also known by her married name, Kershaw, was confirmed to be among the dead on Tuesday. She was 34 years old.
Allen moved to San Francisco several years ago and worked as a photographer.
"It's still really surreal," said Becky Rowlands, a friend from childhood who now lives in Lowell. She said she and Allen met as children and became best friends in high school. "She was the friendliest person I'd ever met. She was friends with so many different kinds of people, which is something I really admired about her."
Rowlands' husband, Pete Sylvain, said he became friends with Allen more than 15 years ago.
"When she graduated college, she had this cool bohemian lifestyle in Dorchester and was hanging out with people and checking out new music and she kind of just blossomed into this amazing person that people would just flock towards," Sylvain told WBUR's Newscast Unit.
Rowlands said that Allen was always creative, studying ballet through her late teens and getting into photography while she was a student at Bridgewater State University.
Allen photographed professionally under her married name. Along with the usual wedding photography and portraiture, her website depicts numerous concerts and parties she attended in the San Francisco Bay area, with a special focus on performers: DJs bent over consoles, singers belting into microphones, a lone dancer whirling across the floor.
"She would always post about these parties and stuff she was going to, organizing and photographing," Rowlands said. On the night of the fire, Rowlands remembered seeing a picture Allen posted to Facebook from the show. "I'm sure she was there, right in front."
Micah Danemayer 
Danemayer, 28, was one of the presenters at the Ghost Ship last Friday night.
He graduated from Massachusetts College of Art and Design in Boston in 2011.
"He did not accept the status quo or the expected norms of polite society," Nita Sturiale, who chairs MassArt's Studio for Interrelated Media, said in a statement. "He asked questions constantly, was like a perpetual wide-eyed child, and always willing to try new things. He was open to new collaborations. He was goofy and edgy."
About a year and a half after graduating, Danemayer moved to Oakland. He went on to make experimental electronica music — one name he used was Paralycyst -- and organize an ongoing experimental music series called "Trance Mutations," under the company name of Obscura Machina.
"[Oakland] was a real catalyst for him to express himself and explore. He just exploded there, doing exactly what he wanted to do," his father, Chris Danemayer, said in the statment issued by the school.
Peter Wadsworth
Wadsworth, 38, is among the missing. He was a resident of the Ghost Ship.
Wadsworth attended Reed College in Oregon and studied for a short time at Harvard University. According to friend Tammy Tasoff, he was an entrepreneurial "jack-of-all-trades" who held an eclectic series of jobs, including designing drones and customized LED lighting.
Tasoff, an MIT graduate and now dental student at University of California, San Francisco, met Wadsworth in 2010 through mutual friends while both were living in the Boston area. She described him as "a big brother."
"I'm kind of disorganized as a person. I'm messy. And Pete saw that and wanted to kind of take care of me in the ways that I wouldn't take care of myself," Tasoff said. "He was going to be my office manager when I become a dentist. He just wanted to do everything to make things easier for me.
"I'm going to miss him very much. I kind of don't know what I'm going to do without him. He spoiled me. I don't think anyone's going to spoil me like he did."
Though Wadsworth tended to focus his efforts on the business side of things, Tasoff said he had gotten more interested in art since moving into the artist collective.
But mostly, she described Wadsworth as a "playful" guy. They often got together to play video games — though more often than not, Wadsworth was happy just to hang out and watch. "He bought me a game system once. He was very generous, and he would just come over and watch me play video games," Tasoff said. "We actually had plans for next week."
With reporting by WBUR ARTery's Amelia Mason and Greg Cook