Forecast: It's Feeling Like Winter With Cold Temperatures Arriving
This article is more than 4 years old.
December is one of those months that usually has the feel of transition about it: still a bit like fall at times, and then finally feeling like winter.
In some years, this transition happens early in the month. In other years, later. And in some years, like 2015, we never really transition into winter.
This year, without El Nino, winter is doing its typical thing. Although some are using words like bitter, frigid and unbearable to describe the cold across the country, I prefer to simply call it winter. This is what the atmosphere typically does in December. And, it's December.
Today is a tranquil day without a lot of sunshine, but temperatures will rise above the 32-degree mark and make it into the lower 40s this afternoon.
A strong cold front will cross the area late today and this evening, ushering in the first arctic air mass of the season. This can be seen in the look below. The purple, colder colors represent arctic air. Notice three different pushes of this air from the north and west between now and Christmas Eve. The loop repeats.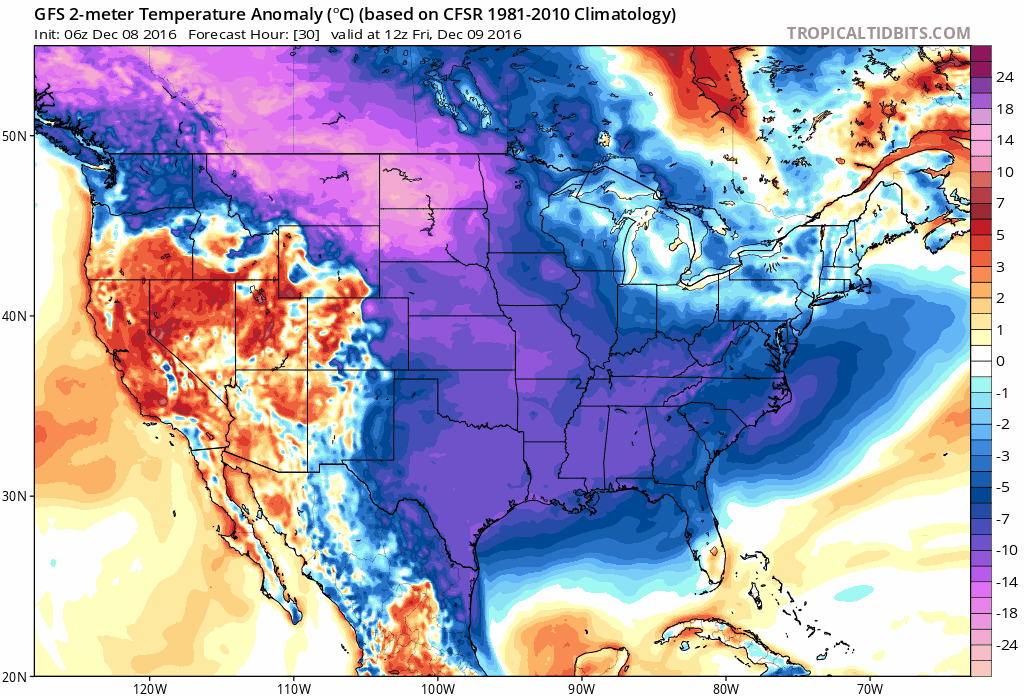 This means we are going to stay in a winter pattern for a while and temperatures will average well below seasonal normals. This could end up as a below-average month of temperature, the first since April.
Of course, when it gets cold the chances for snow increase. I do see a chance of an accumulating light to moderate snow event late this weekend and early next week. It could also be rain along the coast. This would put the Monday morning or evening commute under the gun for problems. I am still unsure of the timing as well this far out. More on this tomorrow and later this weekend.
You can follow my weather updates on Twitter at @growingwisdom.
---
Thursday: Clouds and a few sunny breaks. Highs in the low to mid-40s.
Thursday Night: Mainly clear and chilly. Lows in the mid-20s to lower 30s.
Friday: A mix of clouds and sunshine. Highs in the mid- to upper 30s.
Saturday: Sun and clouds, cold. Highs remaining just below the freezing mark in most areas.
Sunday: Mainly sunny to start, then clouding up with a chance of snow at night. Highs in the lower to middle 30s.
Monday: Snow, mixed snow and rain or rain. Timing still unsure of when it starts. Highs in the low to upper 30s from north to south.
Tuesday: Partly sunny. Highs in the mid 30s.