Forecast: As Snow Changes To Rain, Watch For Messy A.M. Commute
Snow fell overnight, but has already changed to rain in Boston and will continue to change to rain inland this morning.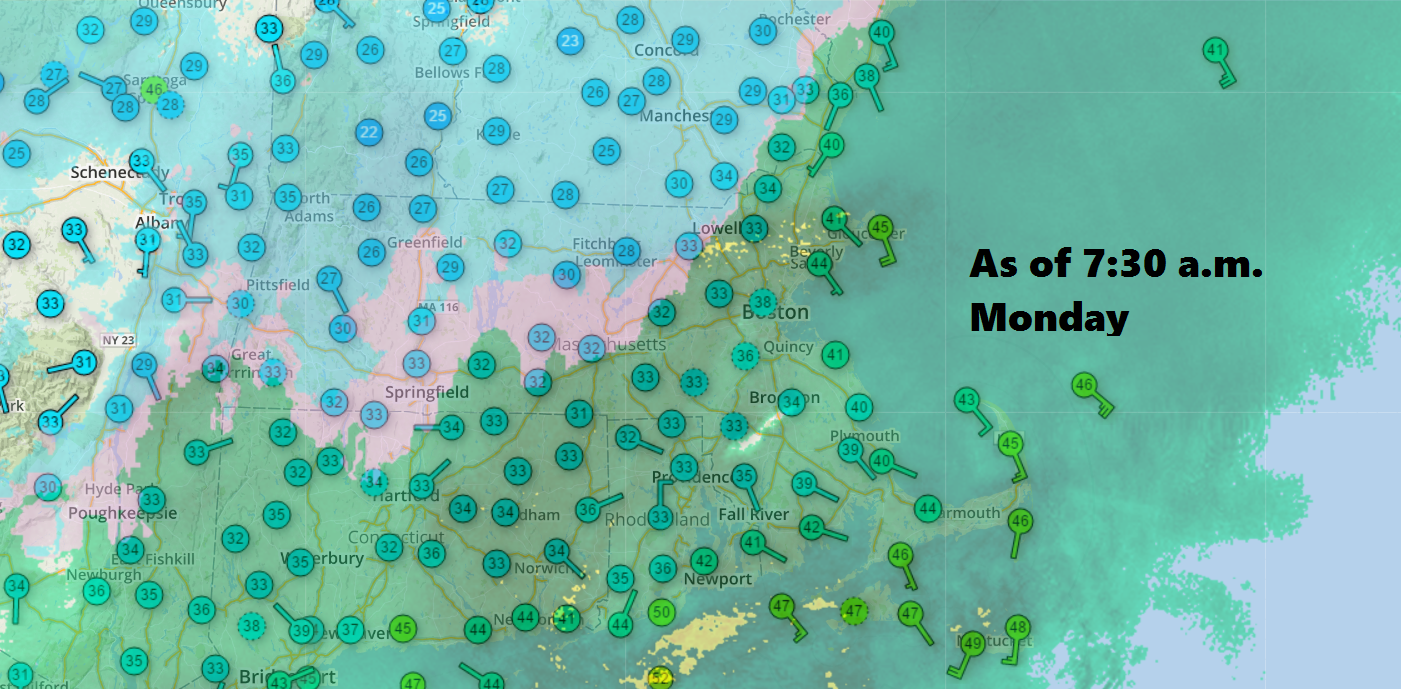 In some areas, the rain will be heavy at times over the next couple of hours. I expect temperatures to warm well into the 30s and eventually lower 40s, melting a lot of the new snow. The map above shows how far the rain has now pushed inland, as of 7:30 a.m. Notice the difference between this map and the one below, which was posted less than two hours earlier.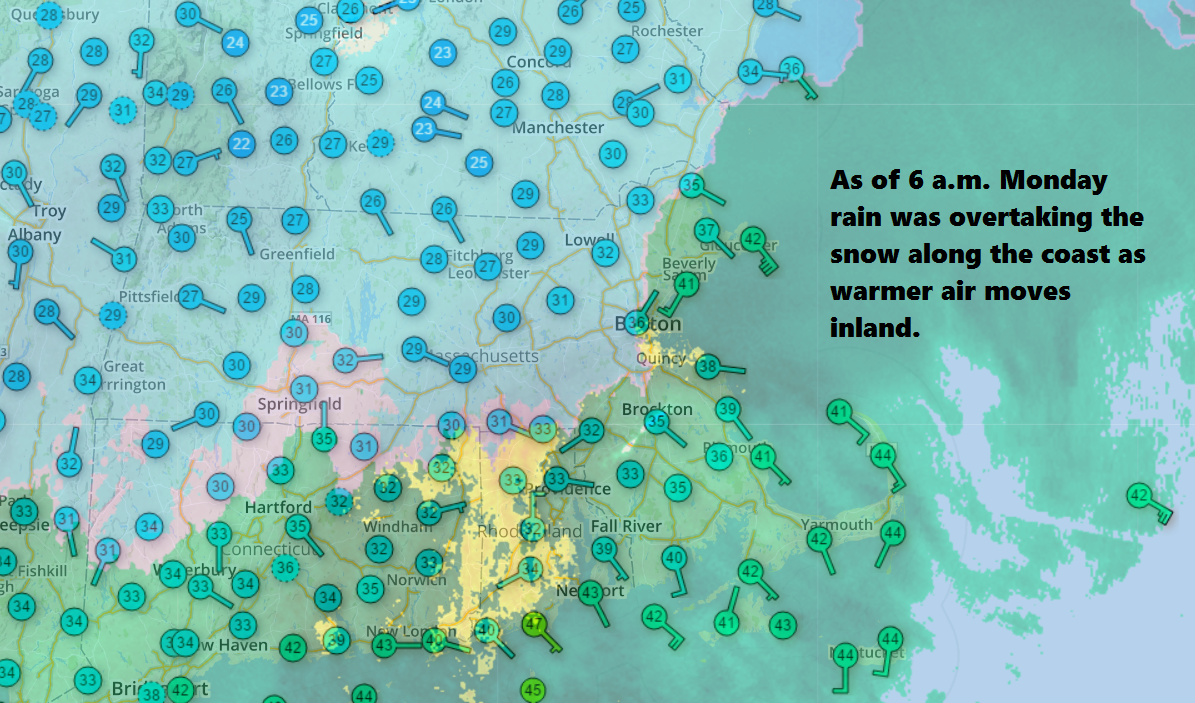 Today, the a.m. commute will be worse than the afternoon commute. Roads during the afternoon commute will be vastly improved over this morning's messy ones, with clearing skies expected this evening.
The reason for the snow and rain is a storm system moving through New England and off the Maine coastline today. This storm has allowed warm air to move up from the south and change the snow to rain. Most areas have seen an inch to 2 inches of snow overnight with little or no more snow accumulation east of Route 495 this morning.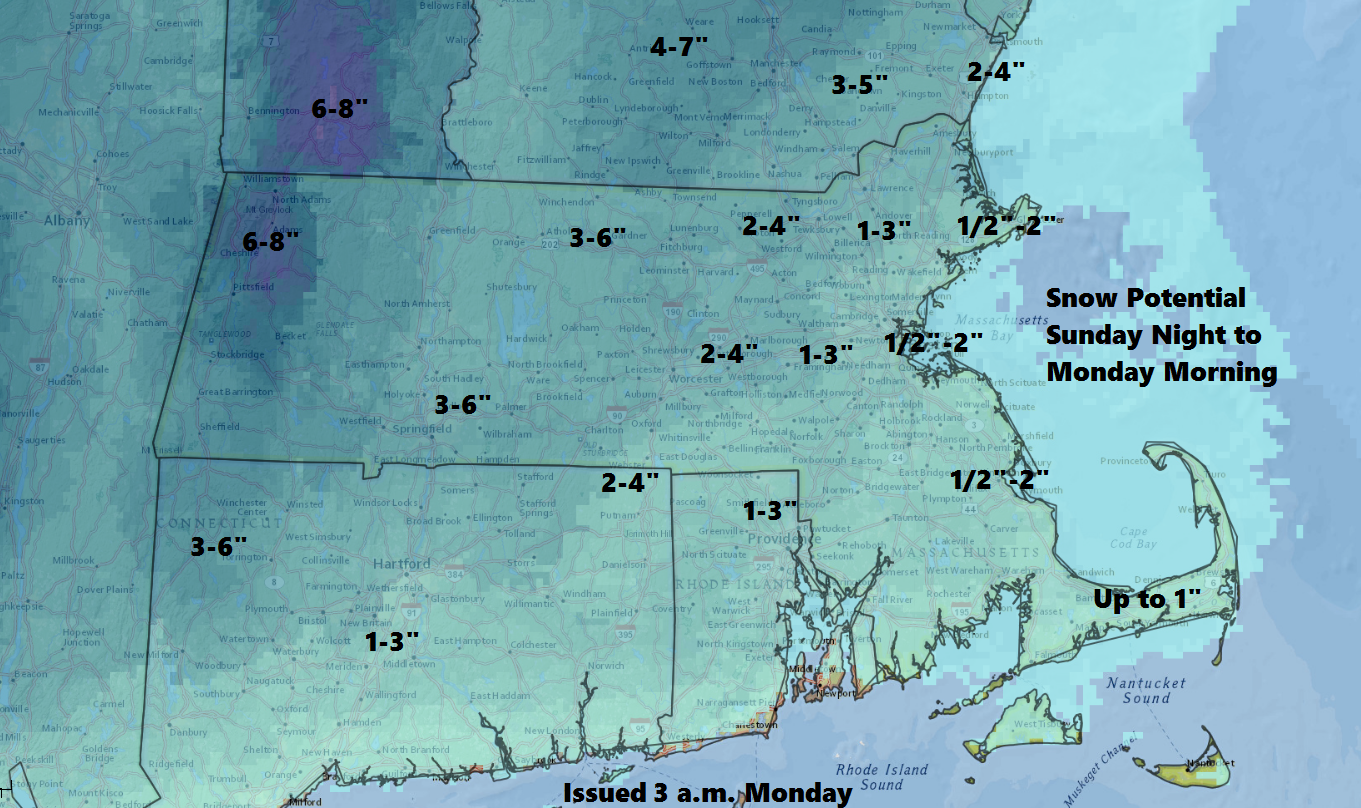 It will turn colder tonight, but not bitter cold. Temperatures will fall below freezing, allowing any remaining slush to refreeze. The good news is tomorrow will bring back sunshine and above-freezing temperatures. This will result in some more melting of the snow, especially on the pavement. The sun is very weak this time of year, so shady areas will keep the snow cover.
Dry air takes over for much of this week. There will be a storm system moving south of New England Wednesday. The forecast may need to be updated if the system's expected track — which shows it staying offshore — changes.
A mass of arctic air moves into the area late this week with highs on Friday expected to remain in the teens. I also am forecasting strong winds for Friday, making for a truly mid-winter cold type of morning. Plan on the really warm hat, gloves and sweater to end the workweek.
You can follow my weather updates on Twitter at @growingwisdom.
---
Monday: Snow, as well as mixed snow and rain, changing to rain from the coast to inland before ending early this afternoon. Highs in the upper 30s to mid-40s from north to south.
Monday Night: Clear and chilly. Lows 27-32.
Tuesday: Partly sunny. Highs in the upper 30s to around 40.
Wednesday: Partly sunny, thicker clouds over Cape Cod. Highs in the mid-30s.
Thursday: Lots of sunshine and colder. Highs in the mid- to upper 20s.
Friday: Arctic air arrives, and it will be very cold and windy. Wind chills under 15 below. Highs in the teens with sunshine.
This article was originally published on December 12, 2016.