The Photos That Helped Us Tell 2016's Stories
As the year comes to an end, we're taking a look back with the photos that helped us tell 2016's stories — stories as big as the presidential election and as small as the last day of business for a 15-by-40-foot toy and card shop. (The photos are ordered by publish date.)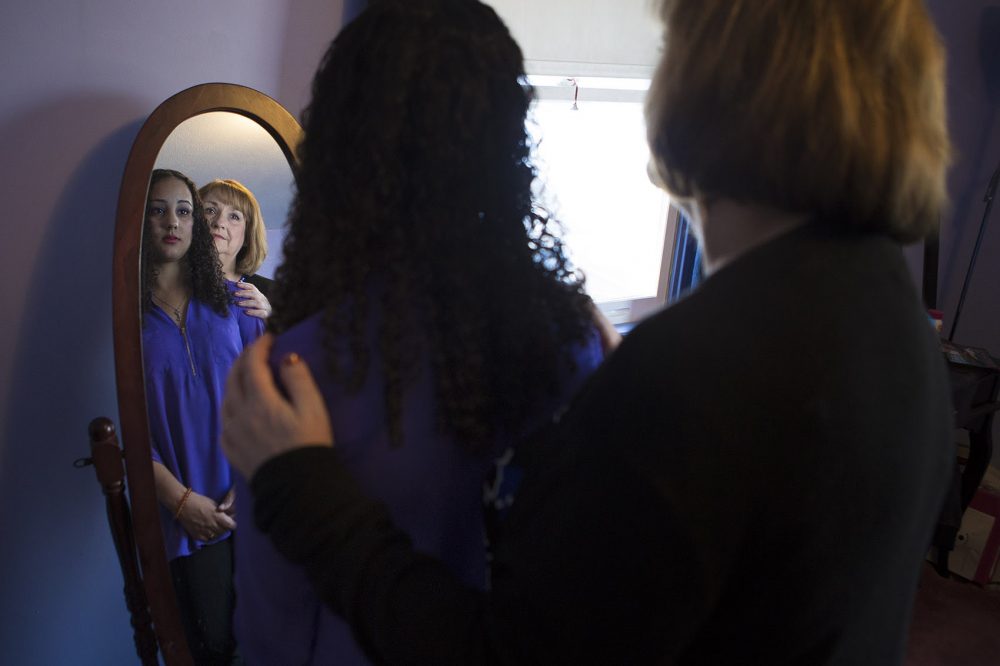 Sydney and her mother Lori looked into the mirror where Sydney experienced her first symptoms of schizophrenia. Sydney and Lori spoke with WBUR's Carey Goldberg for a story about how researchers at the Broad Institute in Cambridge had pinpointed the gene that is the biggest risk factor for schizophrenia discovered so far.
---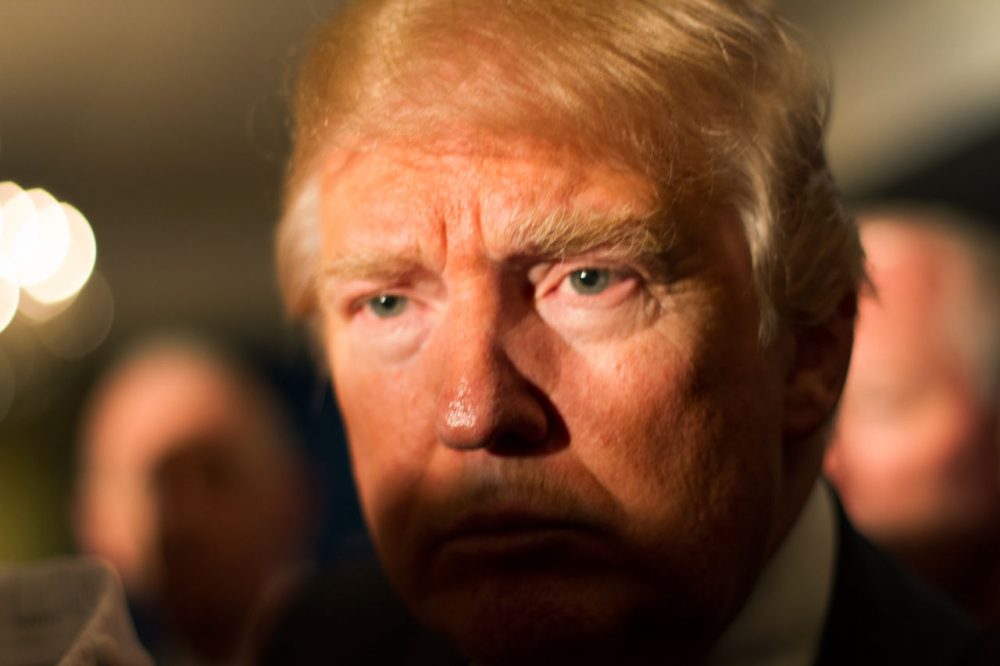 This photo of then-presidential candidate Donald Trump was captured by photographer Hadley Green at a rally in Nashua, New Hampshire, on Jan. 29. Trump won the GOP primary there, but lost the state in the general election, on his way to winning the White House.
---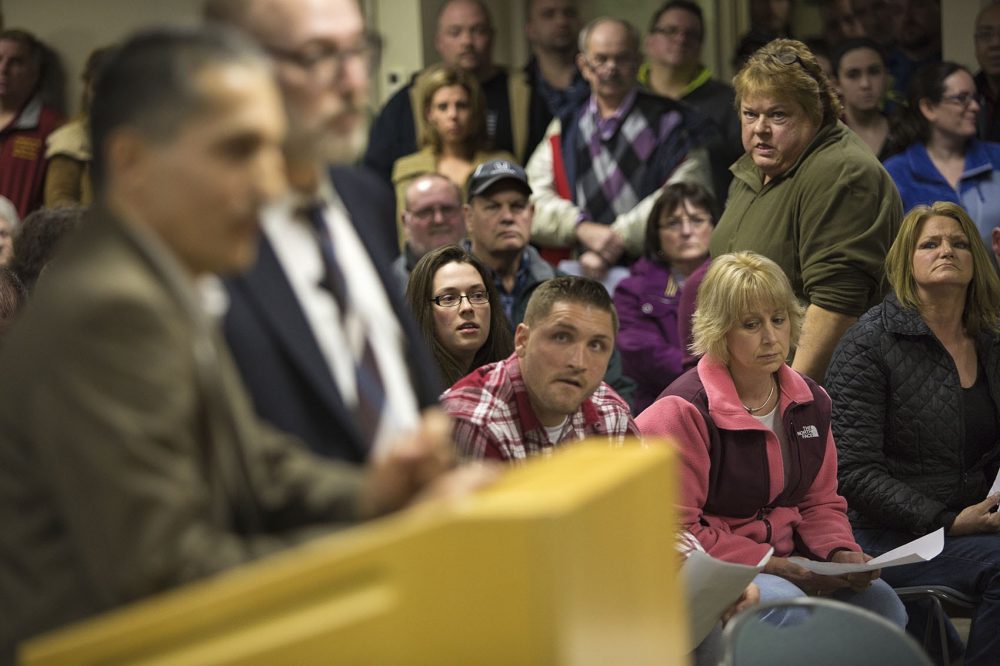 Dudley residents looked on as a lawyer and an engineer representing the Islamic Society of Greater Worcester spoke at a public hearing in Dudley in February. The center proposed building a Muslim cemetery in the town but was met with stiff opposition. The issue has still not been settled.
---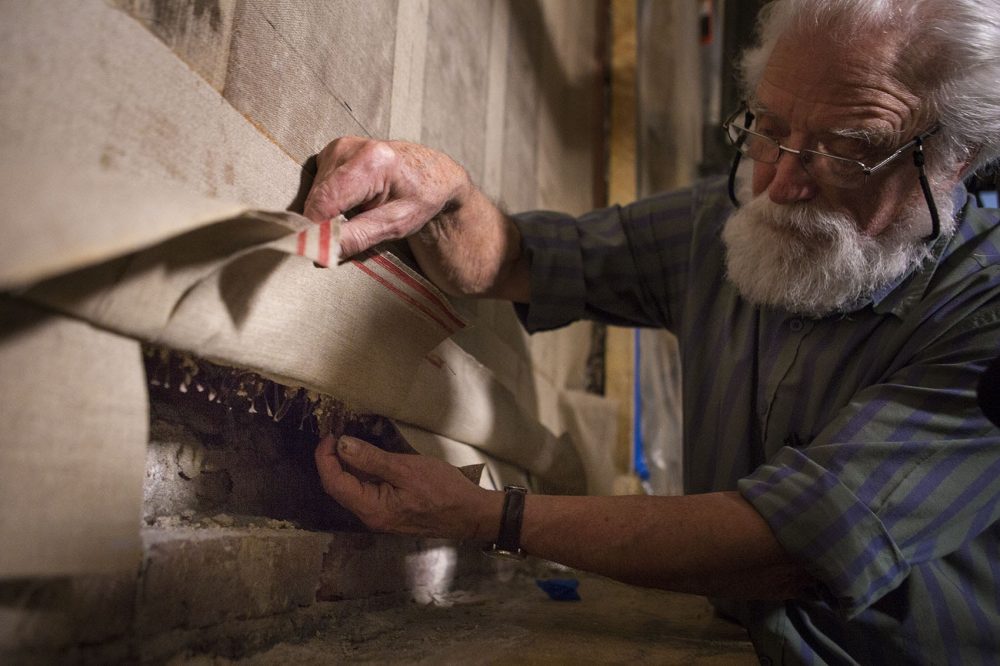 Ian Hodkinson, professor emeritus of art conservation at Queens University, revealed the original metal support system that helps hold the Pierre Puvis de Chavannes "Philosophy" mural at the Boston Public Library in place. The mural, one of a seven-panel mural on display in the Grand Staircase at the library's main branch, had to be removed for restoration. It was reinstalled in September.
---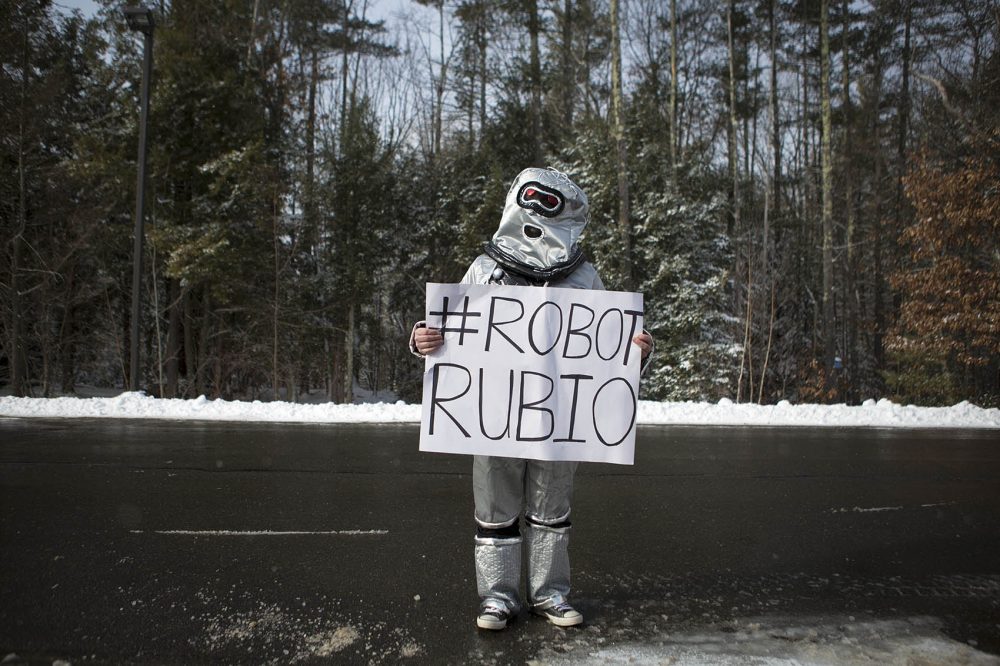 Aaron Black, of Washington, D.C., was up visiting friends in New Hampshire on the day of the state's primary. He had some fun with Republican presidential candidate Marco Rubio, dressing up at "Robot Rubio." You can see all of our photos from the New Hampshire primary here.
---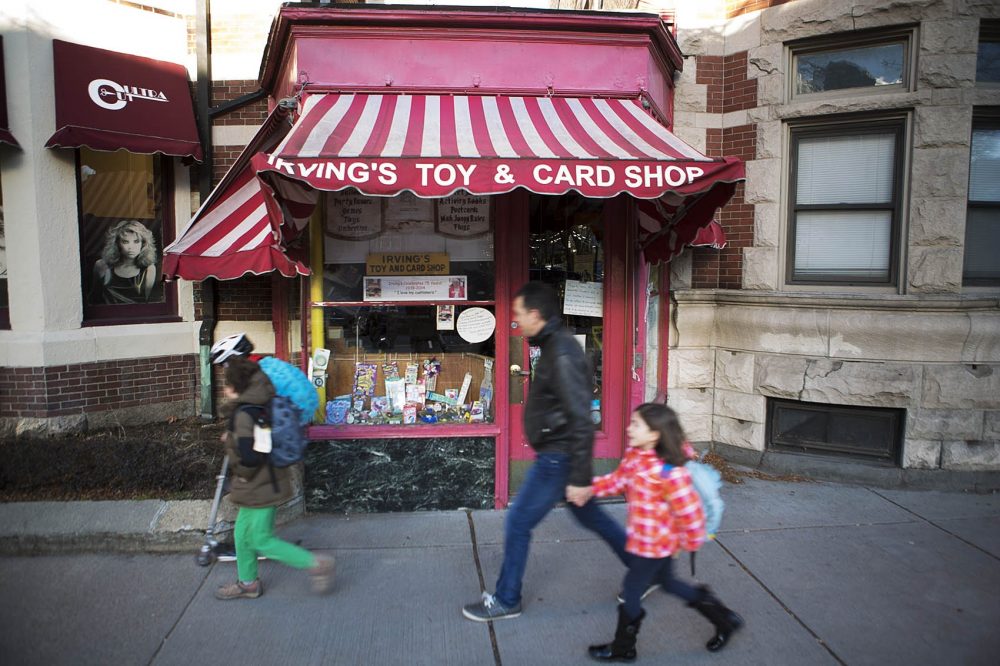 Open since 1939, Irving's Toy and Card Shop in Brookline closed this year. The store's owner, Ethel Weiss, died last December at age 101. Until days before her death, she'd continued to run the iconic shop on her own. In September, Weiss' daughter held one last sale at the store.
---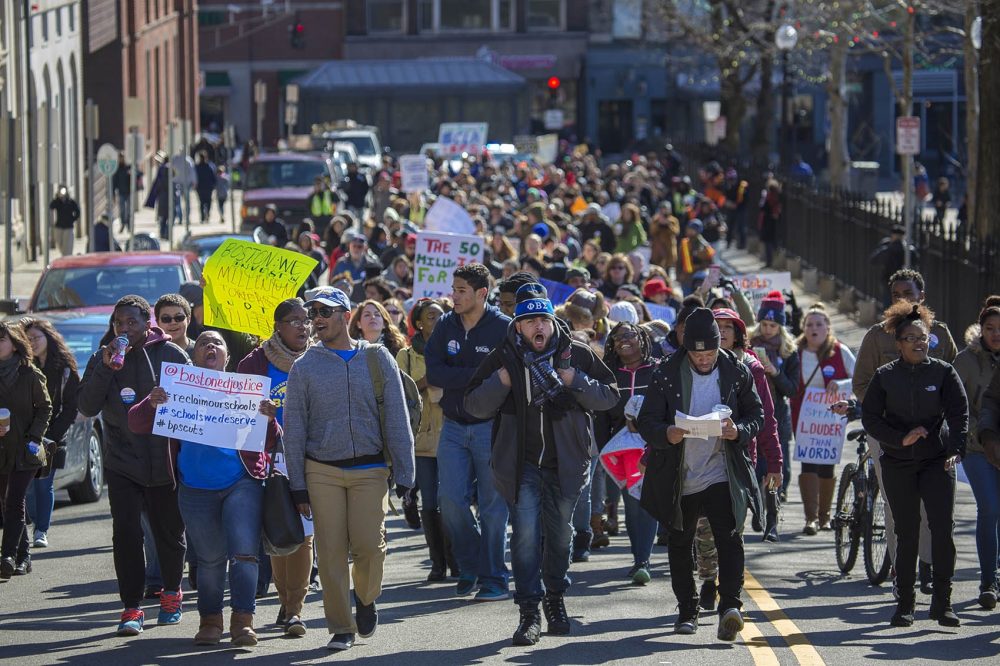 Students, teachers, parents and community members marched up Park Street from City Hall toward the State House in February to protest proposed Boston Public Schools budget cuts.
---
Before purchasing marijuana at the New England Treatment Access medical marijuana dispensary in Brookline, Gene Wackrow checked out the product. NETA opened in February — the first medical marijuana dispensary within easy reach of the city of Boston.
---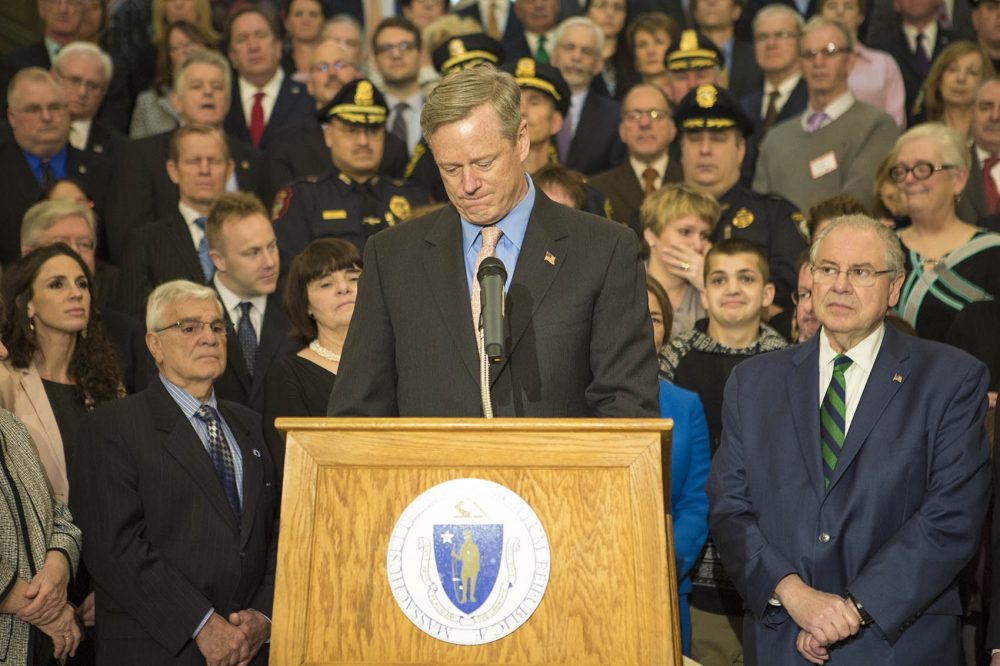 Surrounded by lawmakers and health and public safety officials, an emotional Gov. Charlie Baker in March signed into law a compromise bill aimed at alleviating the state's opioid crisis. The latest report from the state shows five people a day are still dying as a result of opioid overdoses.
---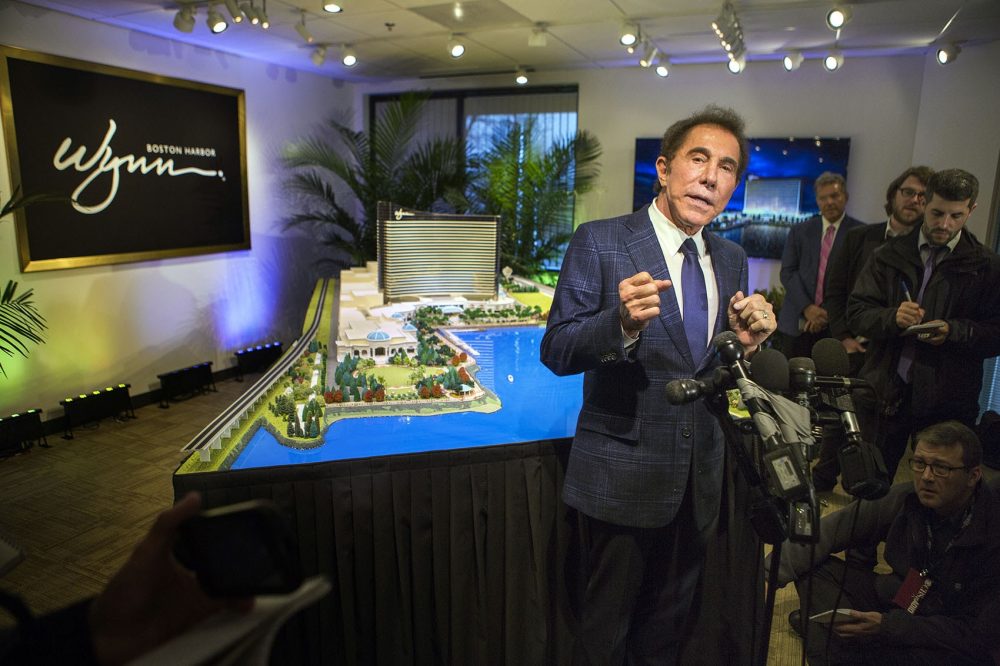 Steve Wynn spoke with the press about Wynn Boston Harbor, his Everett casino project, in March. Construction of the $1.7 billion casino along the Mystic River began this year, with a scheduled opening date of June 2019.
---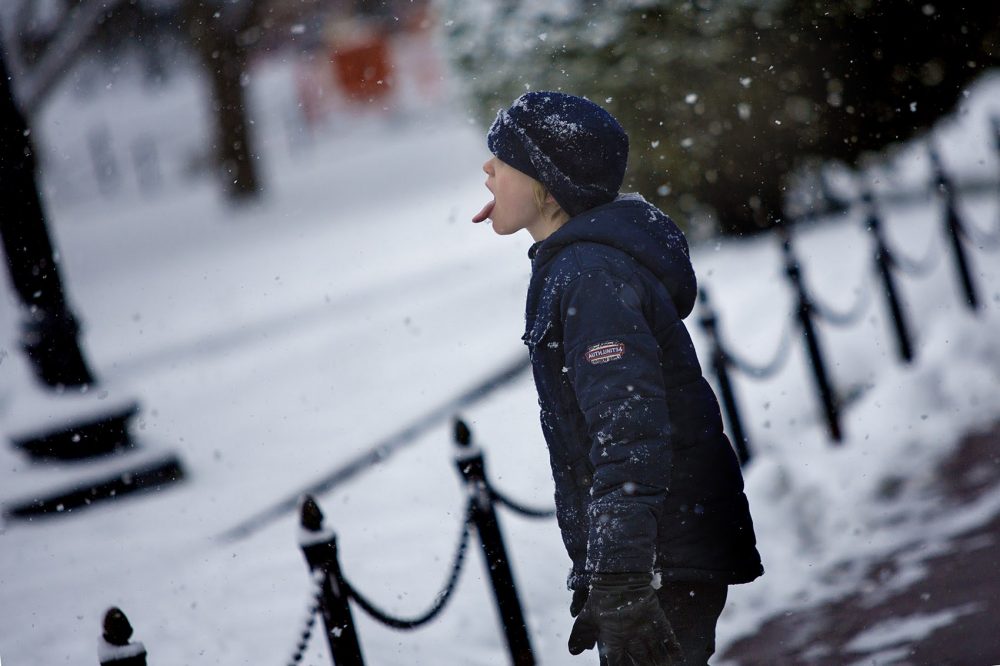 The second day of a spring brought a snowstorm to most of Massachusetts. Here, Leo Zavracky, 9, visiting from Dublin, Ireland, tried to catch snowflakes in mid-flight in the Boston Public Garden during the March 21 storm.
---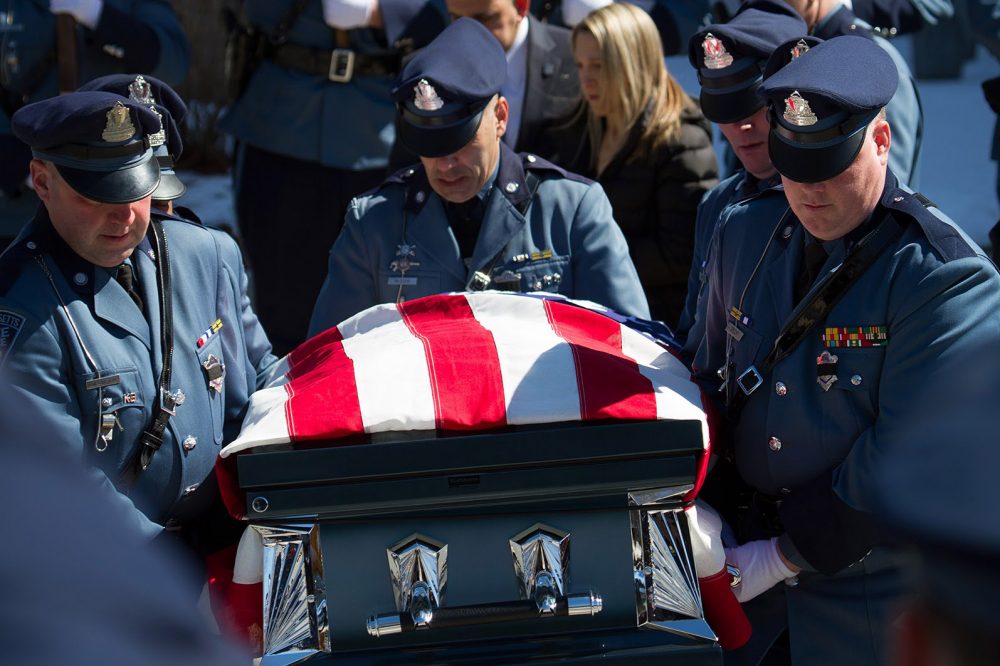 State Trooper Thomas Clardy was laid to rest in his hometown of Hudson on March 22. Clardy died on March 16, when a car struck his cruiser while he had pulled over another vehicle on the Mass. Pike in Charlton.
---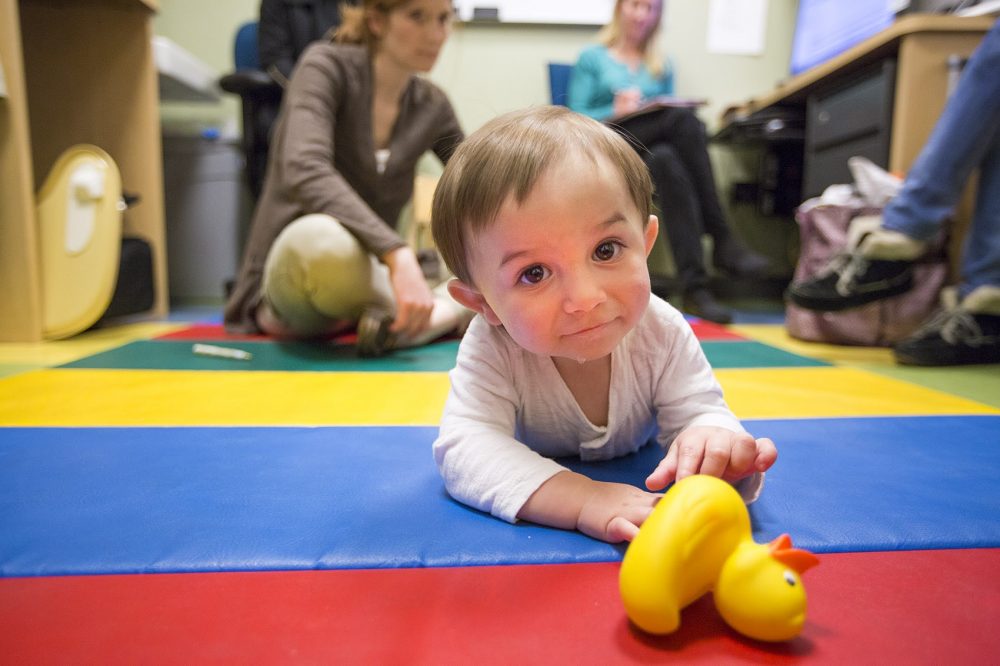 One-year-old James crawled after a rubber duck during a checkup at the Newborn Developmental Follow-Up Clinic at MGH in March. Shortly after birth, James was diagnosed with what's called neonatal abstinence syndrome and given small doses of morphine and another drug to get him through the withdrawal. We spoke with James' adoptive parents as part of a story about Massachusetts hospitals seeing evidence that the opioid epidemic is affecting the next generation.
---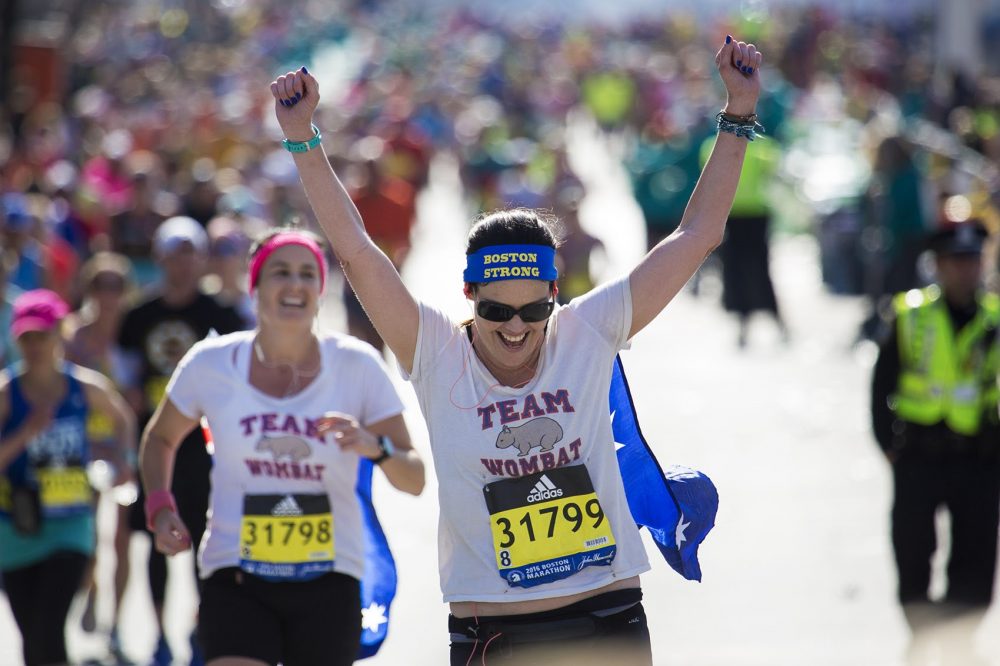 Allison Hamilton, of Australia, cheered as she entered Kenmore Square during the 120th running of the Boston Marathon on April 18.
---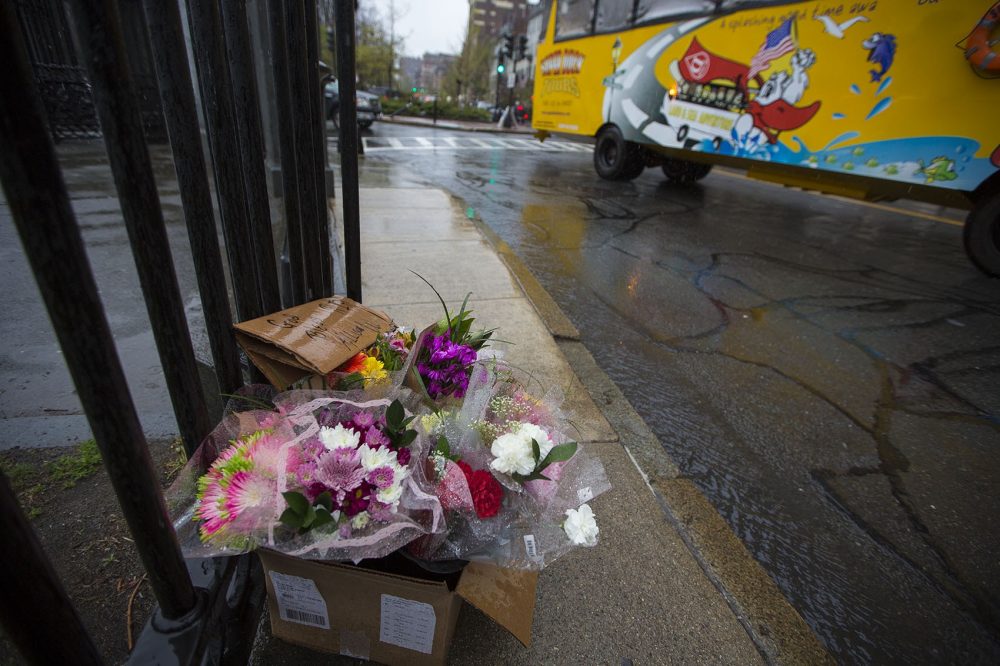 A tour bus passed by a memorial for Allison Warmuth on the corner of Charles and Beacon streets. Warmuth was on her scooter downtown when she was stuck and killed by a duck boat in April. After her death, the state Legislature imposed new safety requirements on the tour vehicles.
---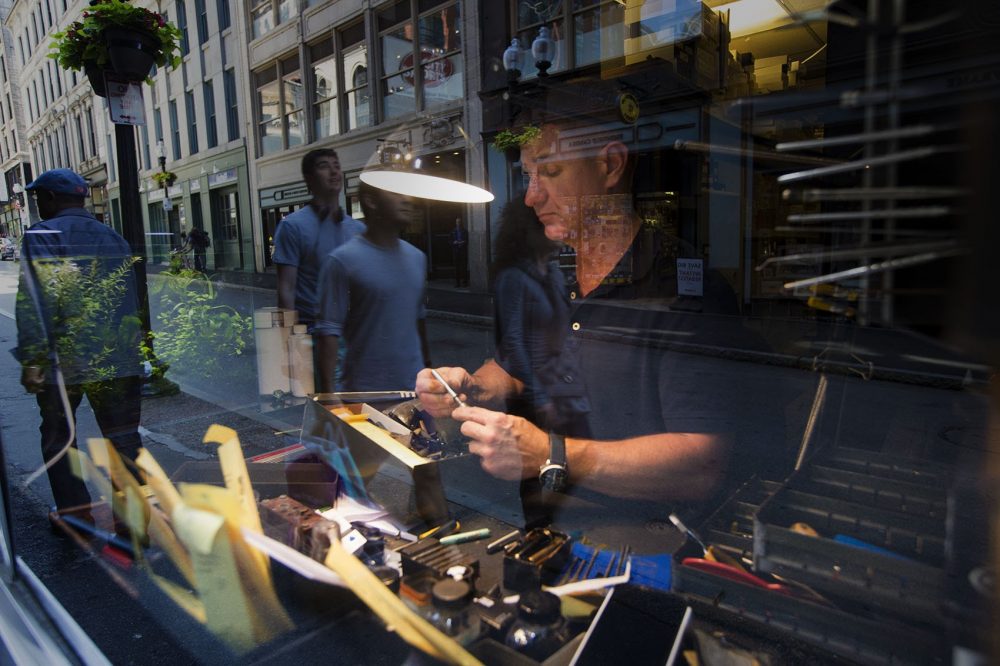 Bromfield Pen Shop's pen repair specialist Greg Byrne worked in the on-street window as people passed by. We photographed Byrne as part of a May story about how Bromfield Street is changing as its surrounding neighborhood — Downtown Crossing — enjoys a renaissance.
---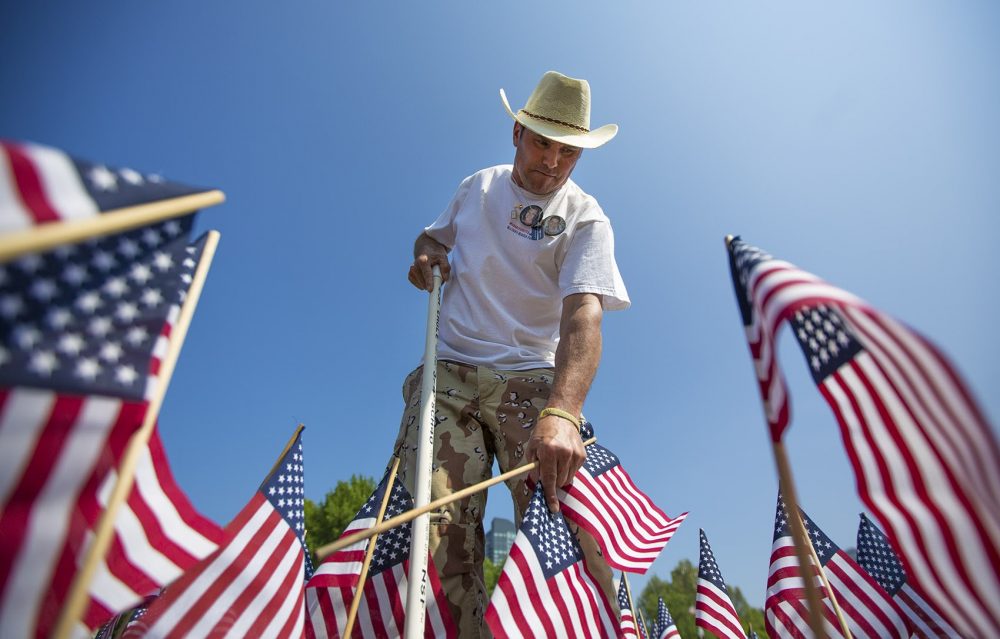 Carlos Arredondo helped plant some 37,000 American flags on the Boston Common ahead of Memorial Day — one flag for each Massachusetts citizen killed in battle since the Revolutionary War.
---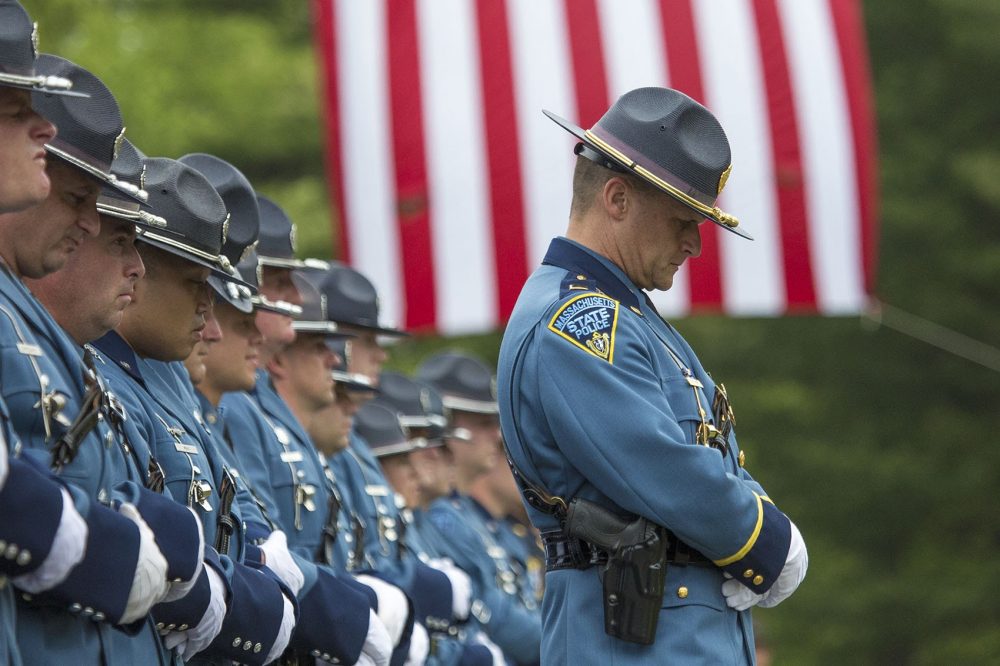 A state trooper bowed his head during Ronald Tarentino's funeral in Charlton. Tarentino, an Auburn police officer, was shot and killed in May during a traffic stop. Hundreds of police officers stood outside the church during his service to honor him.
---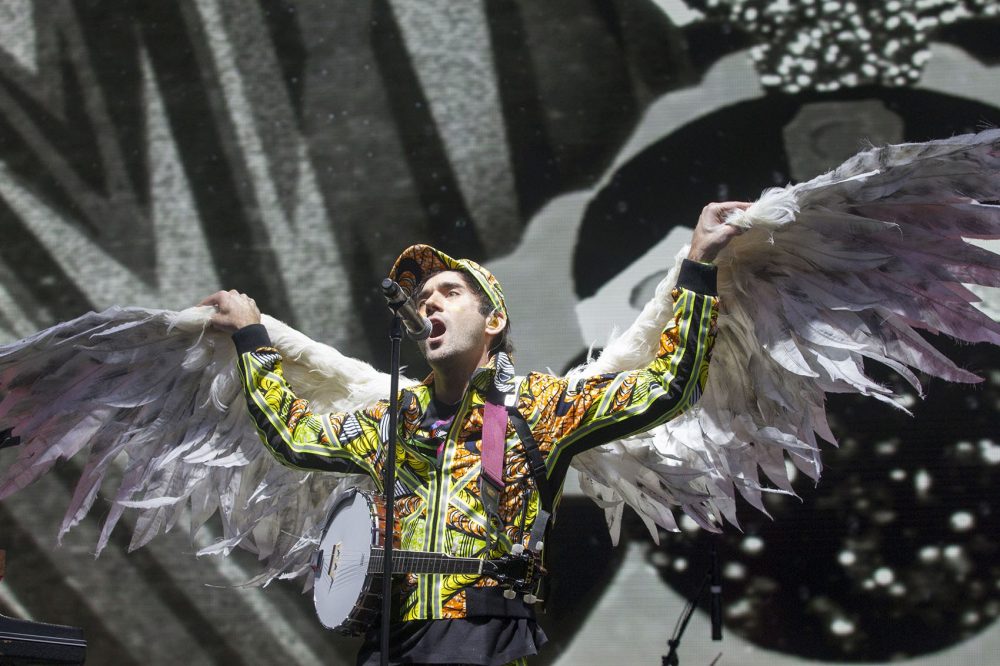 Singer-songwriter Sufjan Stevens performed during the first night of Boston Calling in May — the final Boston Calling to be held on City Hall Plaza. In 2017, the festival will move to Harvard University's athletics complex in Allston.
---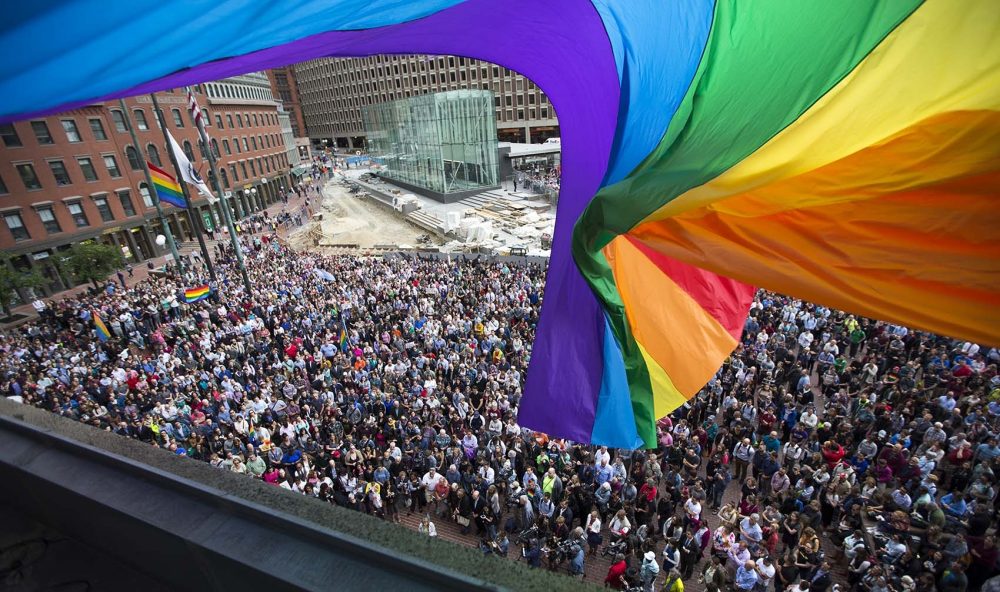 People from all over Boston came out for a vigil at City Hall Plaza following the mass shooting at the Pulse Dance Club in Orlando in June — an attack that left 49 people dead.
---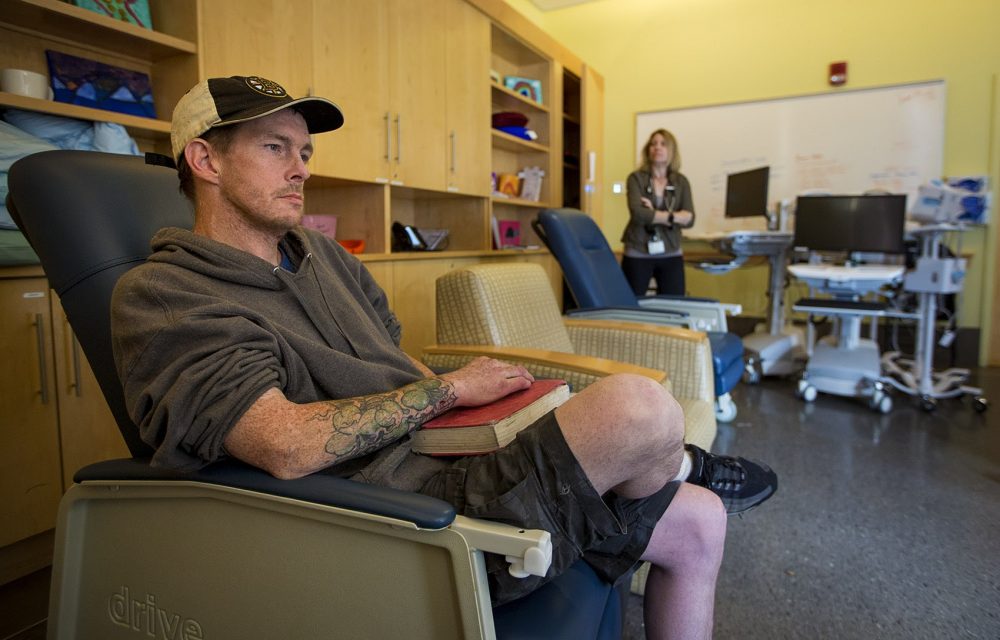 At the Supportive Place for Observation and Treatment (SPOT), at the Boston Health Care for the Homeless Program (BHCHP), drug users can ride out their high under medical supervision. Tommy, the SPOT patient pictured here, said the room has — and will continue to — save lives. Dr. Jessie Gaeta, chief medical officer at BHCHP, watched from the rear of the room.
---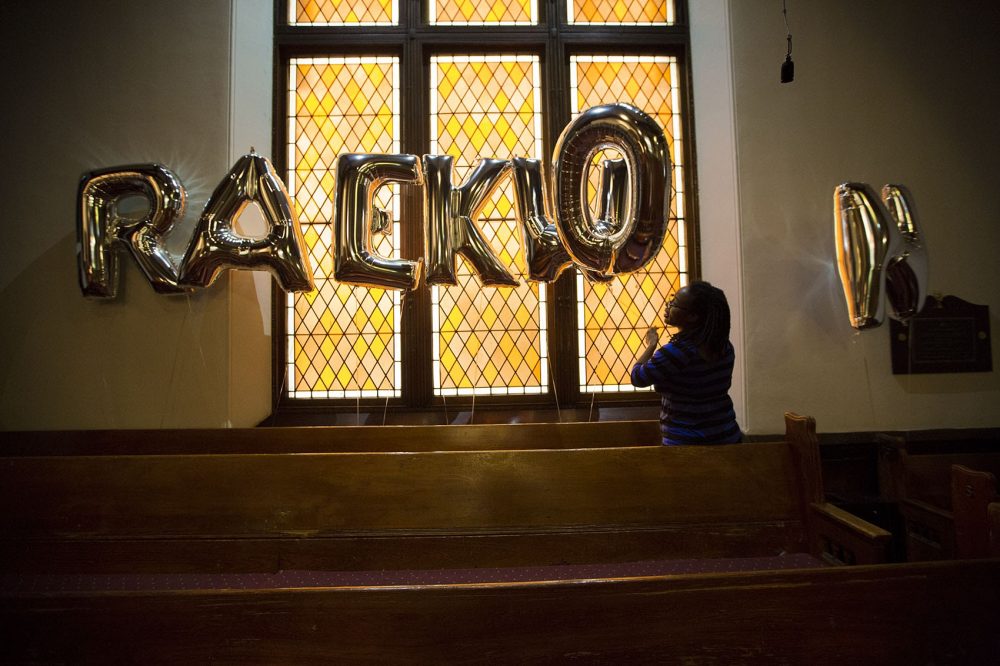 To honor her cousin Raekwon Brown, Yolanda Williams set up balloons spelling out his name before his funeral ceremony at Charles Street AME Church in June. Brown was shot and killed less than half a block from the Jeremiah E. Burke High School while he was out of the building during a fire alarm. Three others were injured in the shooting.
---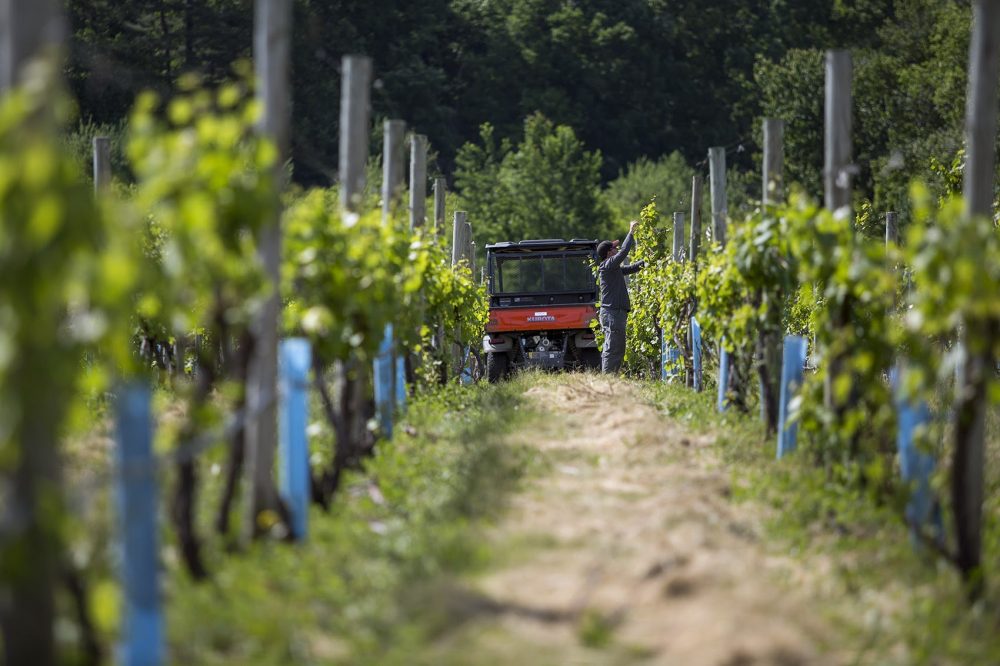 Dan Ramsey, an intern from UMass Amherst, tied up grapvines in the vineyard at Nashoba Winery in Bolton last summer. Earlier this year regulators informed the central Massachusetts winery it would not be getting all of its licenses for next year, pointing to a law prohibiting owning a pouring license for a restaurant while owning a farmer's manufacturing license. The story caught the attention of state lawmakers, who later approved a bill that included a provision to aid the winery.
---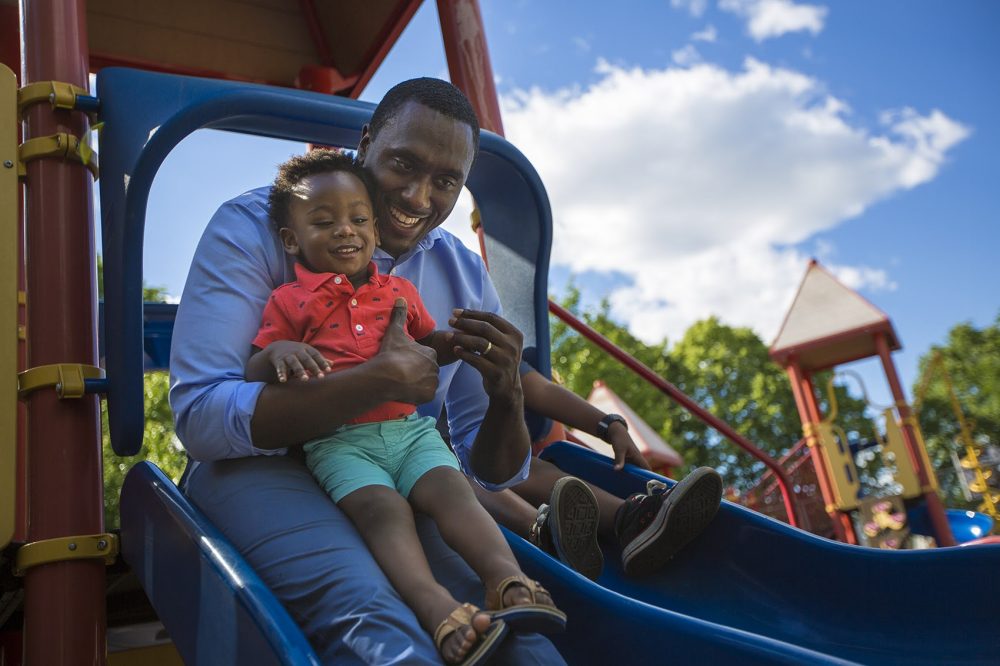 Charles Daniels, founder and CEO of the Boston-based nonprofit Fathers' Uplift, rode down a slide with his 1-year-old son Clayton in the Thetford Evans Playground in Dorchester. Daniels' nonprofit coaches men — many with histories of prison time or substance abuse — on how to get involved and stay involved in their children's lives.
---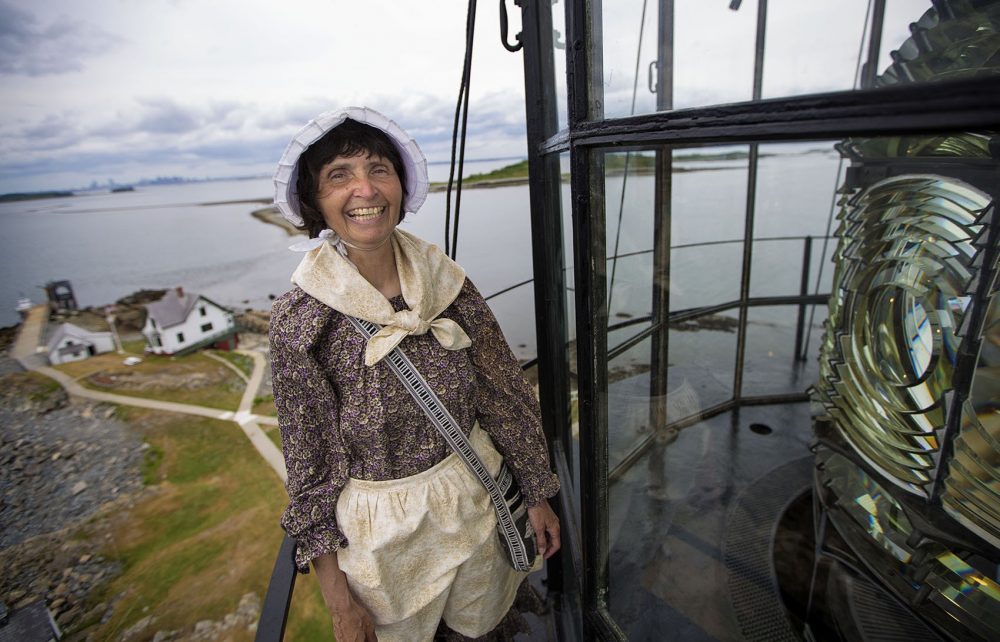 Sally Snowman, seen here atop Boston Light, the country's first lighthouse, is the sole resident lighthouse keeper in the United States. Snowman spends most of her days organizing volunteers and overseeing the property. We spoke with Snowman earlier this year as Boston Light was getting ready to mark 300 years in service.
---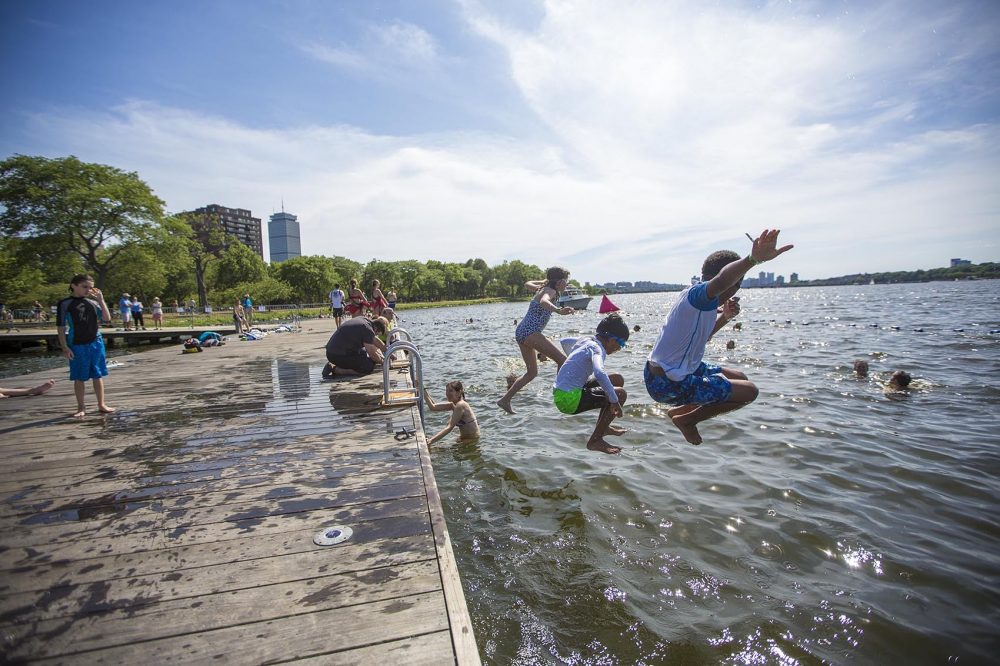 A group of kids from Cambridge jumped into the Charles River during a sanctioned swimming day hosted by the Charles River Conservancy. The group wants to create a permanent swimming location along the river.
---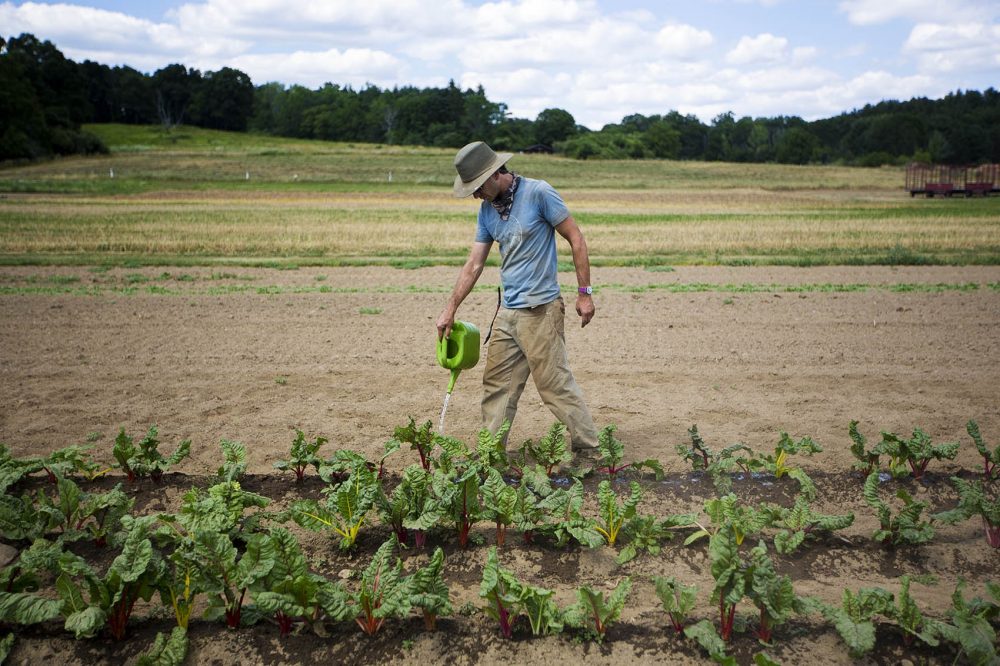 Drumlin Farm crop manager Matt Celona hand watered a row of Swiss chard in July. We visited Drumlin as part of a story about how this year's unprecedented drought was impacting the state's farmers and their crops. As of last week, 41 percent of the state was still in extreme drought.
---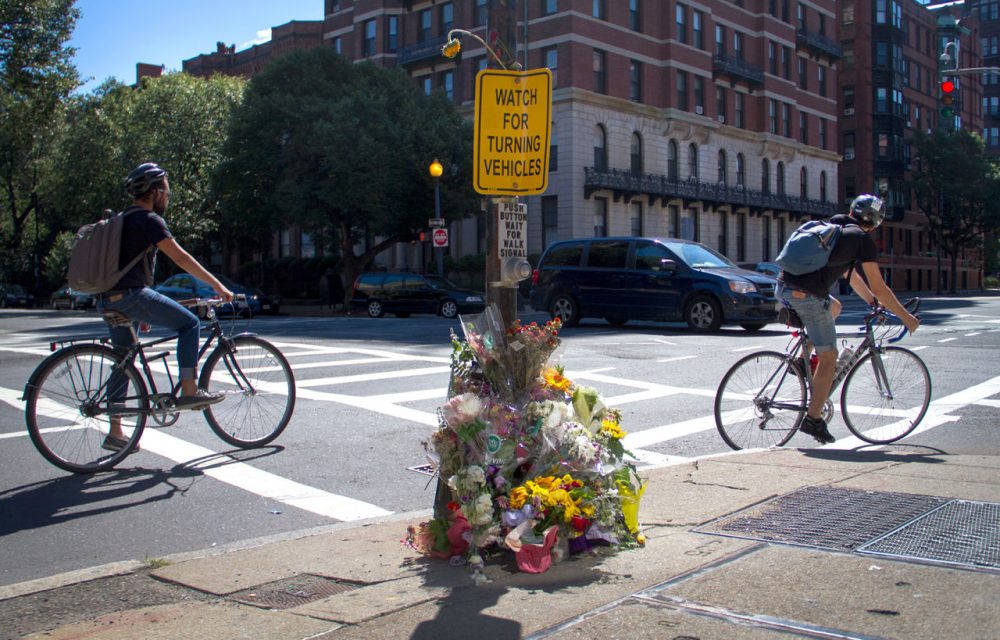 This photos shows the Boston intersection where cyclist Anita Kurmann, 38, was hit and killed by a tractor-trailer while riding her bike in August. Kurmann's death renewed discussions of bike safety in the city.
---
The city's iconic Citgo sign, seen here last January, got some extra attention this year, when Boston University announced it was selling the building on which the sign sits. That news renewed calls for the city to officially designate the sign a landmark. The city took the first step in that process in July — granting the sign preliminary landmark status. (The sign was also No. 10 on our list of Boston's best public art.)
---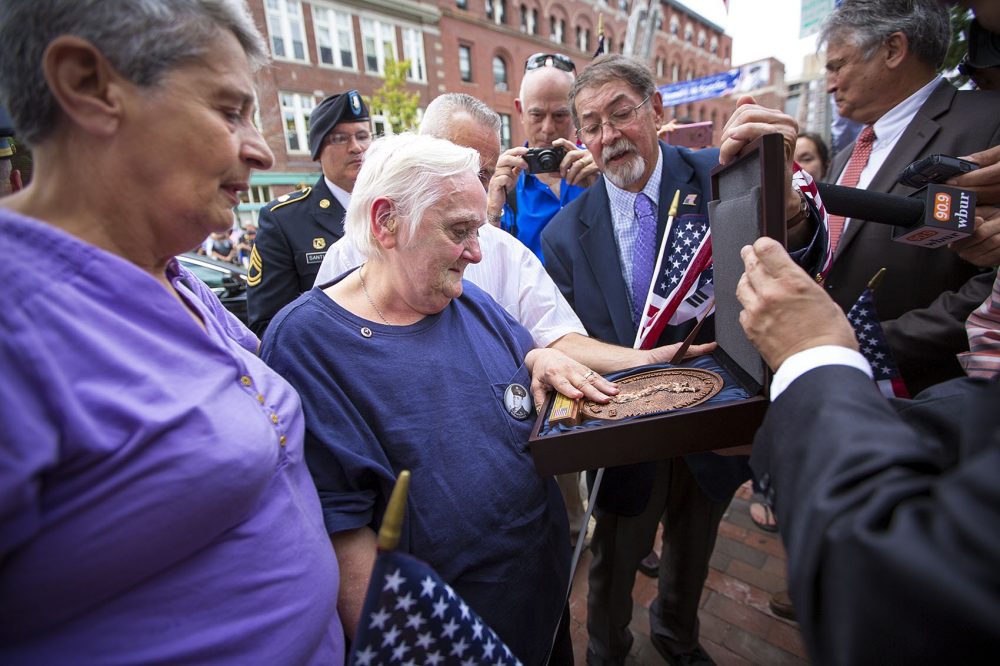 A Cambridge soldier who died 65 years ago in a prisoner of war camp in North Korea received a somber welcome home in August. For years, the body of Army Cpl. Ronald Sparks lay unidentified at the National Memorial Cemetery in Hawaii. That was until the Army was able to positively identify his remains through a DNA match with his nephew. Here, Sparks' sister Irene was presented with a plaque honoring the memory and service of her older brother.
---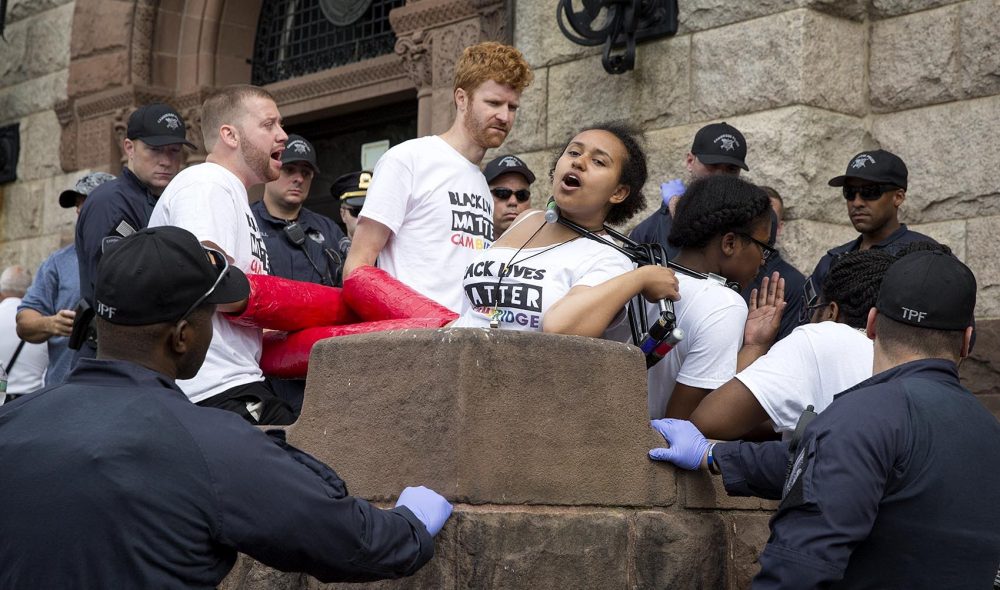 Black Lives Matters protesters chained themselves to Cambridge City Hall in August, calling for more affordable housing in the city. The protests ended in four arrests.
---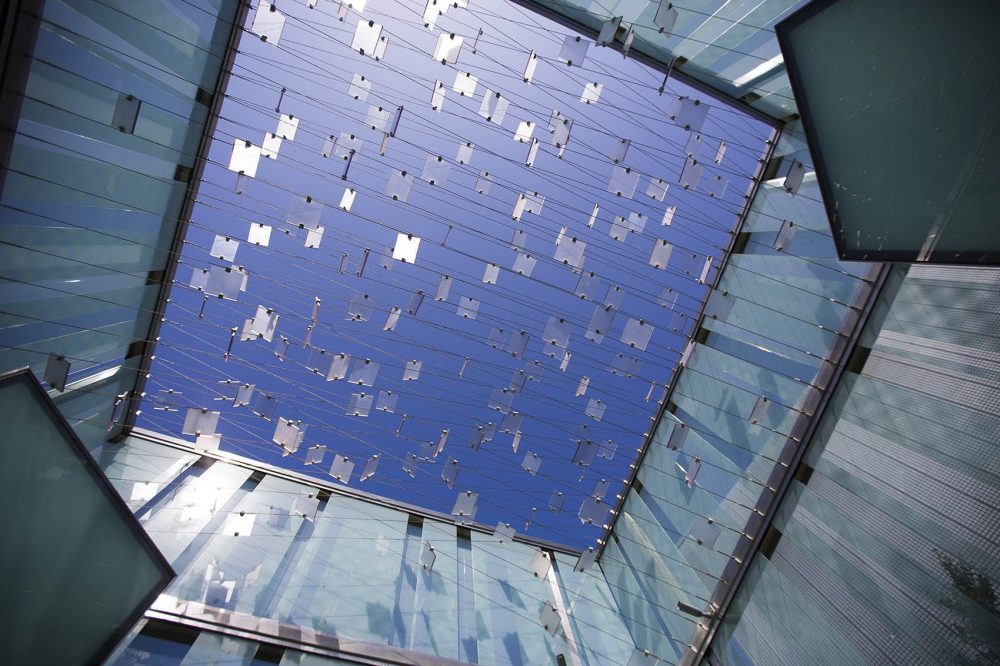 The view looking up through the top of the 9/11 Memorial at Logan Airport. The memorial features two walkways leading to a 20-by-20 glass cube which includes the names of those who died on the two flights involved in the attack that left from Logan Airport. The walkways are similar to the paths taken by the two flights on Sept. 11.
---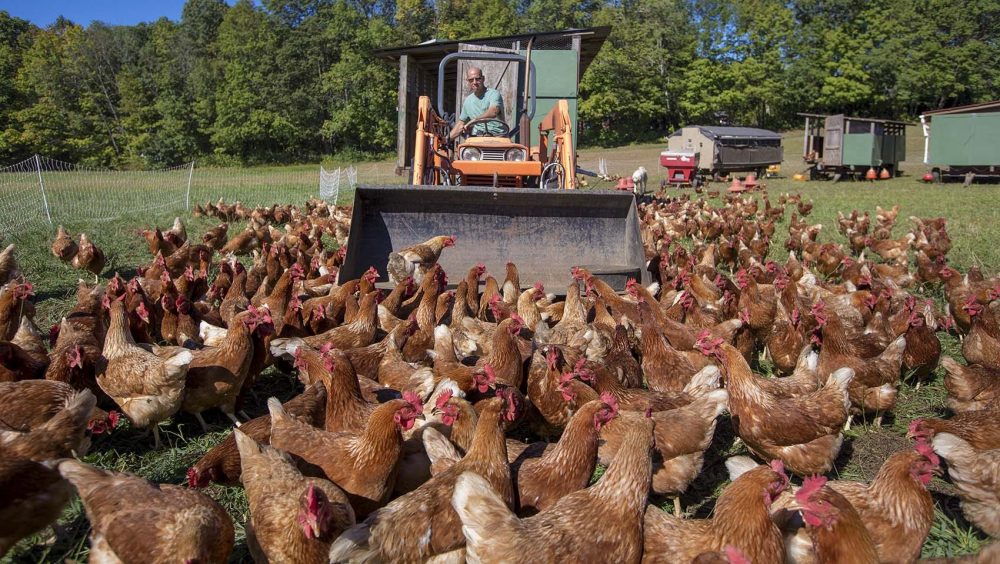 Chickens swarmed Pete Lowy, of Codman Community Farms in Lincoln, as he used a tractor to move a chicken house. We spoke with Lowy about ballot Question 3 before the elections. The question, which was approved, limits the confinement of some farm animals.
---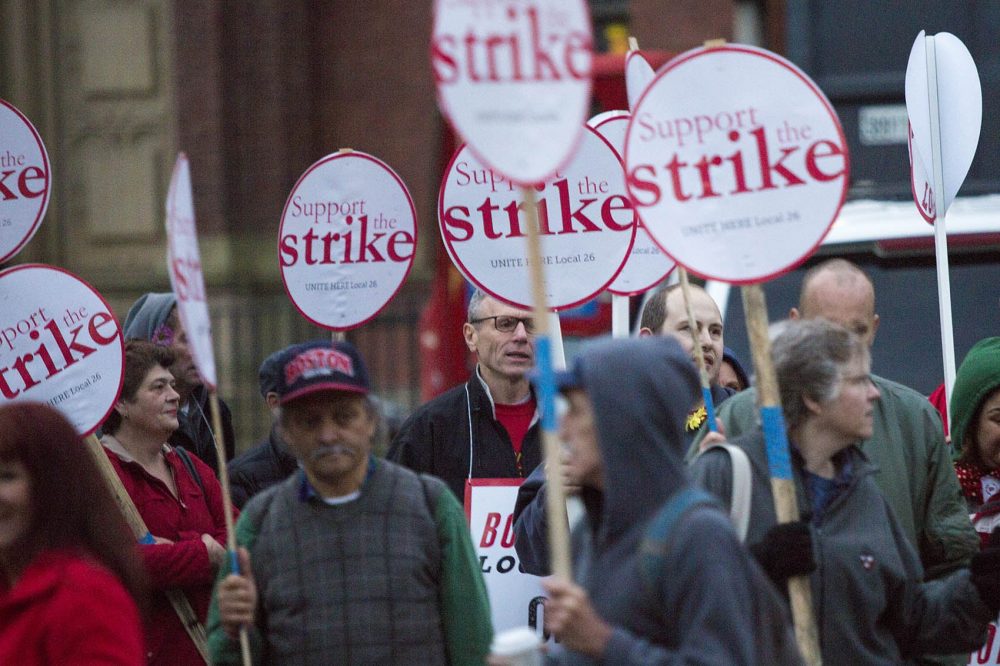 Harvard University dining hall workers, members of the UNITE HERE Local 26 union, picketed outside of Harvard's Memorial Hall in October. The strike, which lasted about three weeks, ended when workers approved a new contract which they said "achieved every goal."
---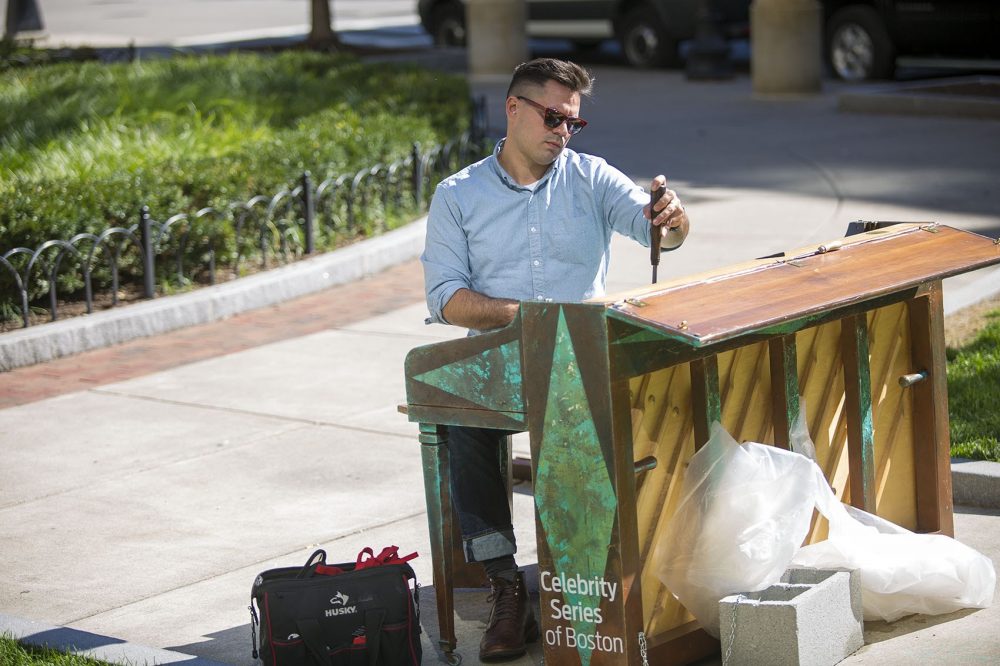 Piano technician Michael Wilson tuned one of the "Play Me I'm Yours" pianos in October, this one in Statler Park down by the Park Plaza Hotel in Boston. We spoke with Wilson as part of a story about what it takes to keep all those street pianos in tune.
---
Iranian artist Mehdi Ghadyanloo climbed into a cherry picker as he worked on his mural in Dewey Square in October. Ghadyanloo, 35, is known for creating more than 100 surreal public works of art in Tehran. The Greenway mural was his first in the U.S.
---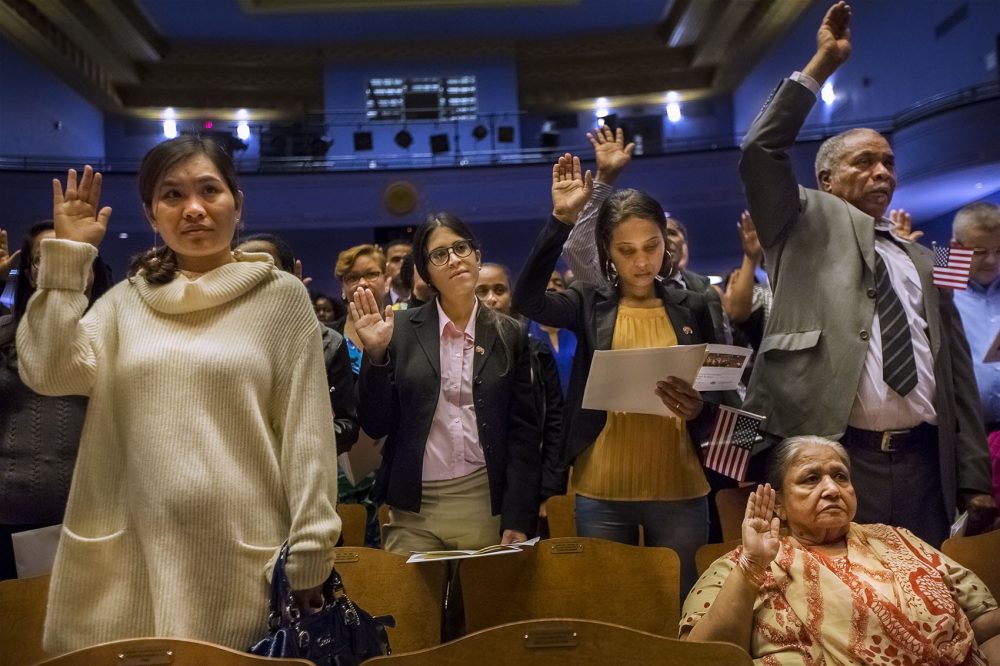 Close to 150 naturalization applicants took the Oath of Allegiance during a ceremony at Jenkins Auditorium at Malden High School on Oct. 18 — one of the final naturalization ceremonies before Election Day.
---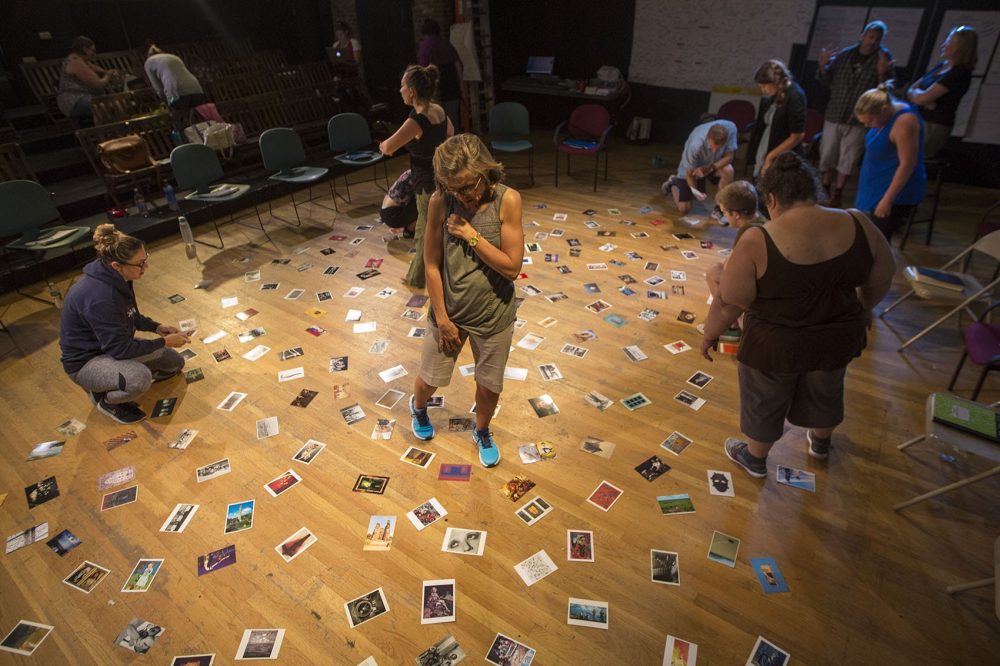 During a teaching workshop hosted by the Actors' Shakespeare Project, teachers perused an assortment of postcards on the floor, which are used to suggest ideas for them to use in developing their interpretations of "Hamlet."
---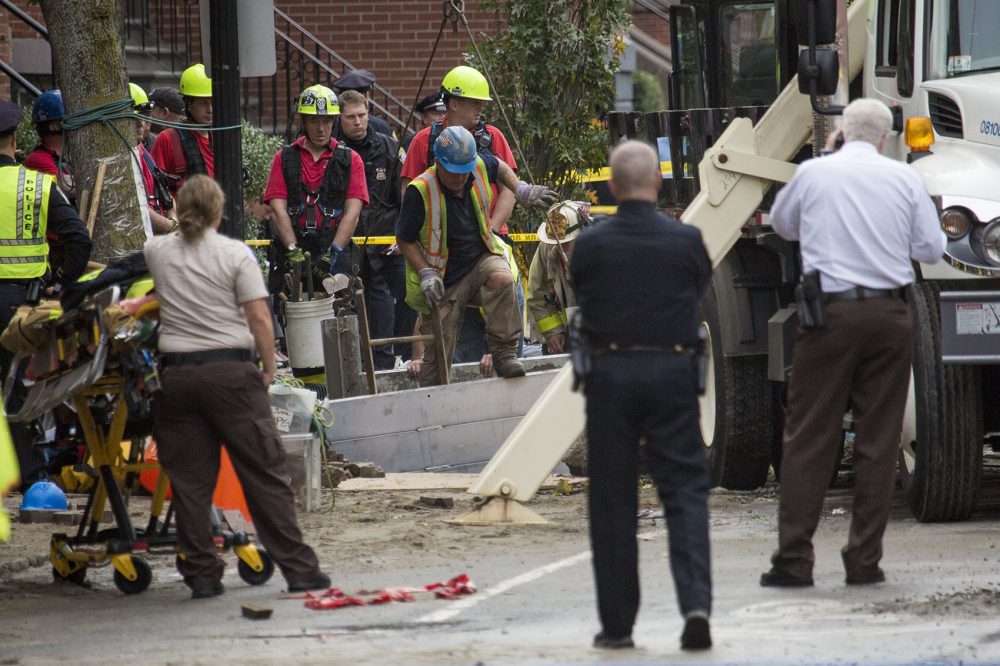 A response team worked to recover the bodies of two men who were killed in October when a water main break flooded a trench in which they working in the South End. The work site was found to have lacked certain protections that may have saved the men's lives. The incident led the mayor to seek more authority over work permits in the city of Boston.
---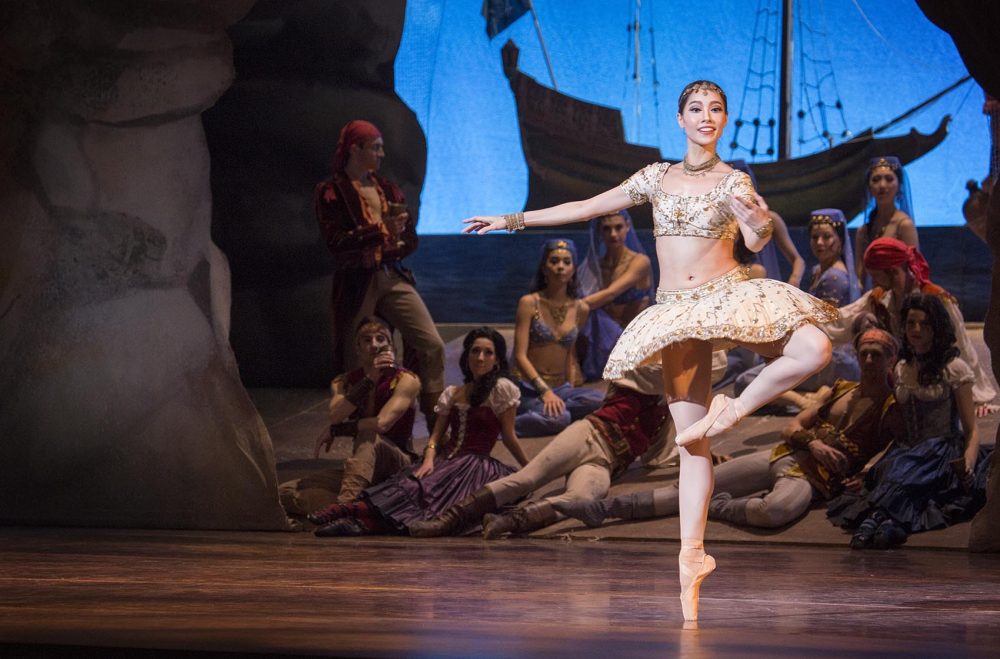 The Boston Ballet opened its season with "Le Corsaire," a maze of wacky episodes featuring villains, heroes, maidens in distress and pirates who rescue them. Here, Seo Hye Han, as Medora, dances at the pirates' hideout.
---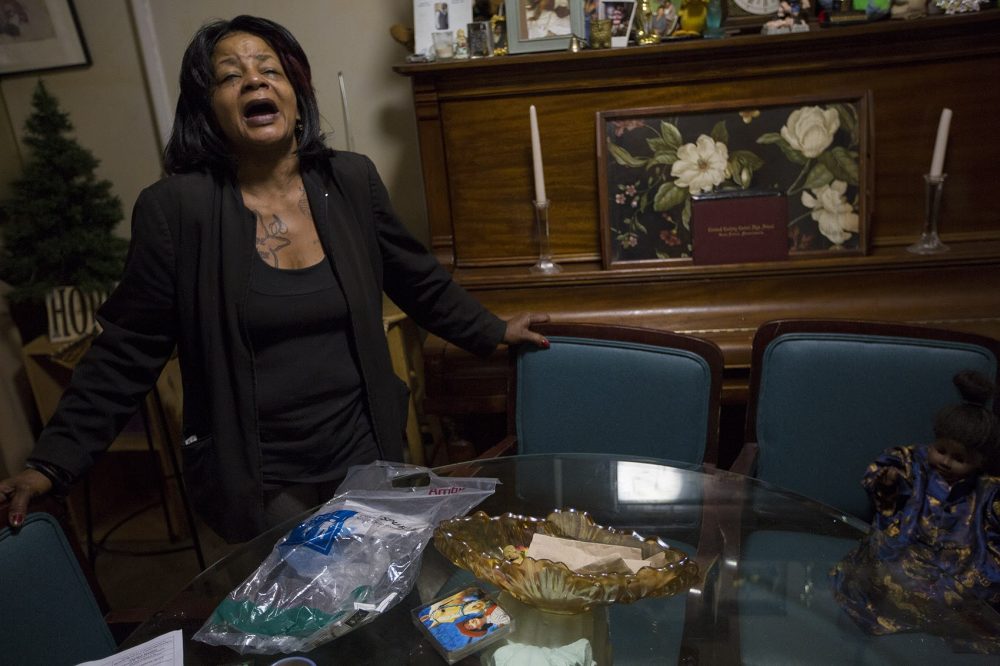 Hope Coleman spoke with us following the death of her son, Terrence Coleman, who was fatally shot by Boston police officers in October.
---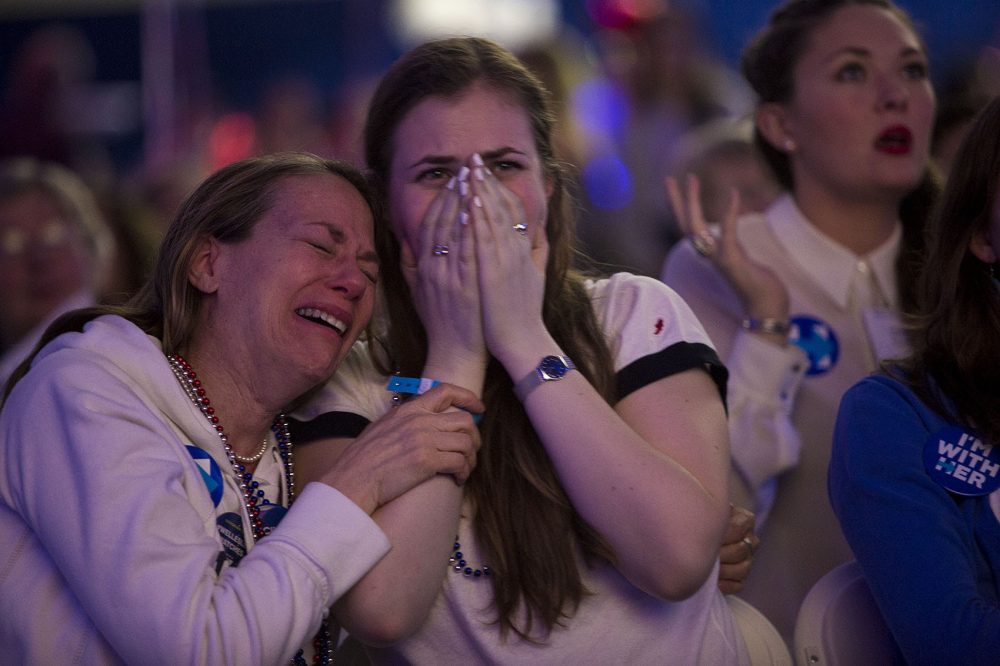 During an election night watch party at Wellesley College, Wendy Salz, a 1983 alum, and daughter Moira Johnston, who will graduate in 2017, reacted after seeing Trump take the lead in Pennsylvania. (How Massachusetts voted.)
---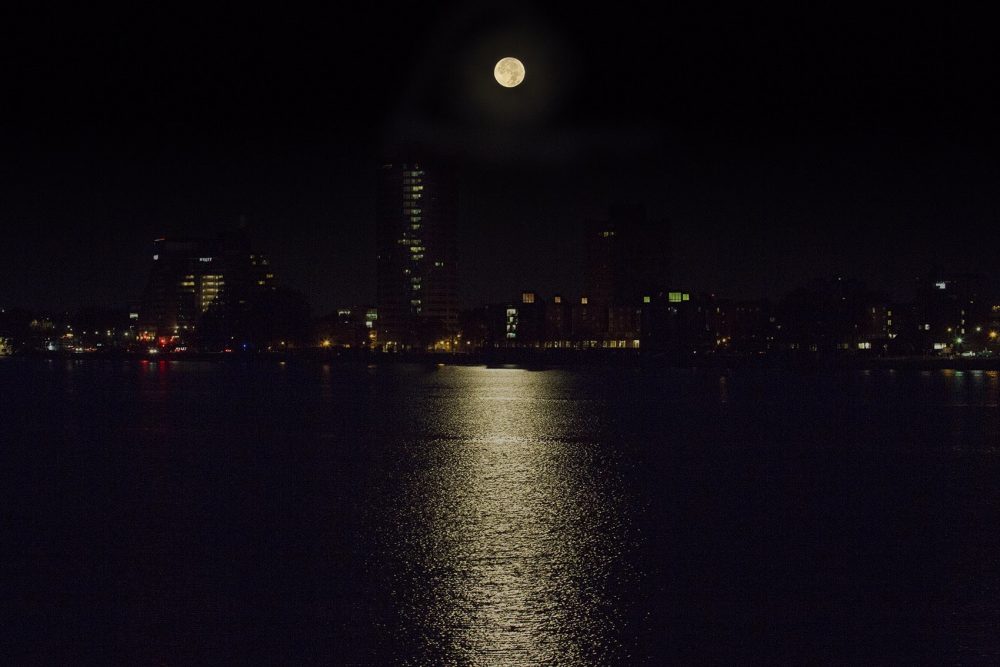 Photographer Jesse Costa photographed the Nov. 14 supermoon over Boston. Here, the moon is seen reflecting off the Charles River in the early morning.
---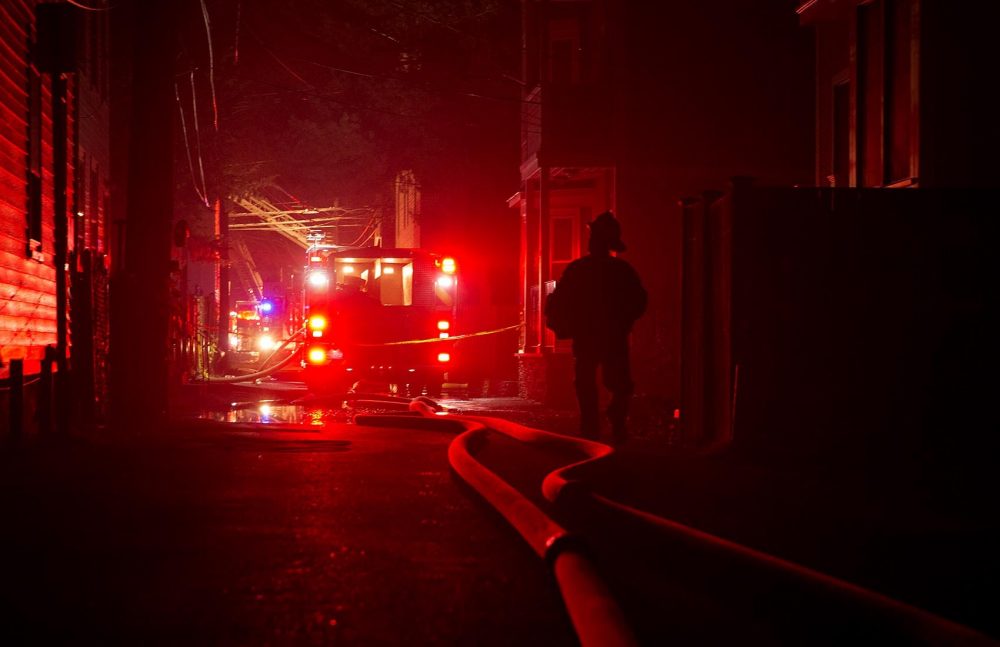 Fire trucks were seen on York Place in Cambridge, as firefighters battled a 10-alarm fire on Dec. 5 that displaced more than 100 people. Officials believe the fire was an accident.
---
Framingham Police Sgt. Sean Riley drove to an informant drug buy involving heroin. We spoke with Riley as part of a story about how heroin and fentanyl end up in the hands of users, and how police battle the problem.
---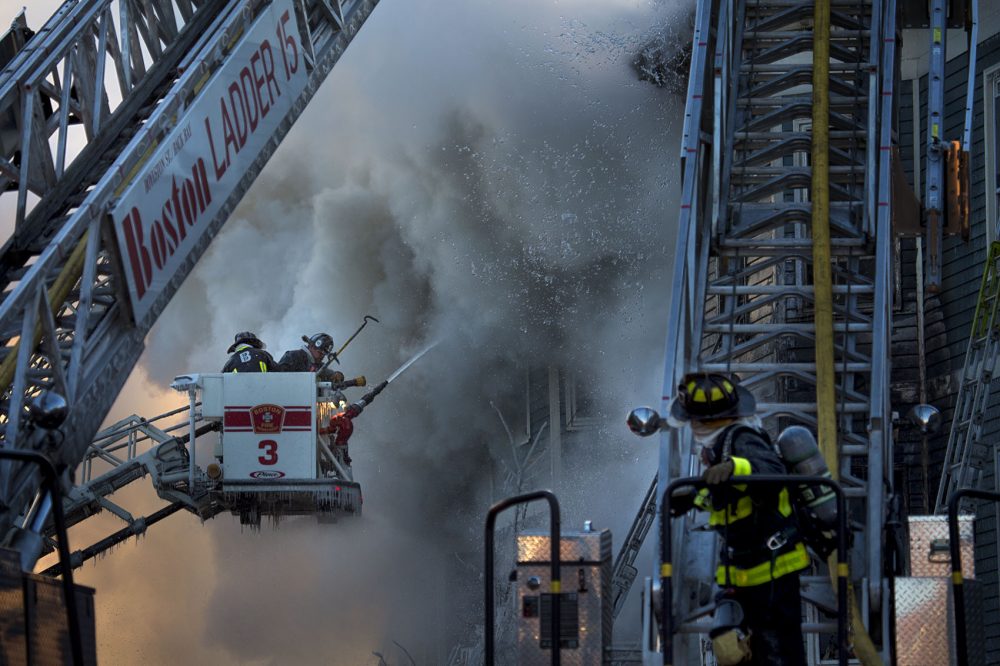 Boston Firefighters battled a 6-alarm fire on Bunker Hill Street in Charlestown on Dec. 16. The fire displaced 20 people.
Photos gathered by WBUR's Jesse Costa and Robin Lubbock, with descriptions gathered by WBUR's Abby Elizabeth Conway.