What Struck A Chord On The Classical Scene In Boston This Year
1. Concert of the Year
The most thrilling concert I heard this year, thanks to the Celebrity Series of Boston, was the visit to Symphony Hall by Sir Simon Rattle and the Berlin Philharmonic. The program consisted of Mahler's black-sheep Seventh Symphony, preceded by the late Pierre Boulez's scintillating "Éclat." This would be the last international tour on which Rattle would be leading the Berlin Phil as its music director (he's stepping down to take over the London Symphony Orchestra). He made every note count, and the quality and character of the playing, the uncanny depth and dimension of the orchestral sound, was astounding. There aren't many concerts after which members of the audience, standing to cheer, were also hugging each other in the aisles.
2. The BSO's New "Artistic Partner"
The BSO's current music director, 38-year-old Latvian conductor Andris Nelsons, has now been joined by an "artistic partner" — the orchestra's first artist-in-residence. The British composer/conductor/pianist Thomas Adès, only seven years Nelsons' senior, has already provided a big boost to the orchestra and its public — although the concert he led of works by Britten, Sibelius and his own powerful cantata "Totentanz" ("Dance of Death") drew a much smaller audience than the crowd that packed house when assistant conductor Moritz Gnann led popular works by Mendelssohn, Mozart (his last piano concerto with the 93-year-old Menahem Pressler almost literally tickling the ivories), and Dvořák (the hardly obscure "New World" Symphony). That may change as word gets out that these Adès concerts are among the BSO's most exciting events. A chamber concert he participated in with the BSO Chamber Players tapped all three of his stellar capacities. My favorite moment was when he conducted mezzo-soprano Kelley O'Connor and only three other musicians in Stravinsky's acerbic and rhythmically tricky "Three Shakespeare Songs." He made a big difference.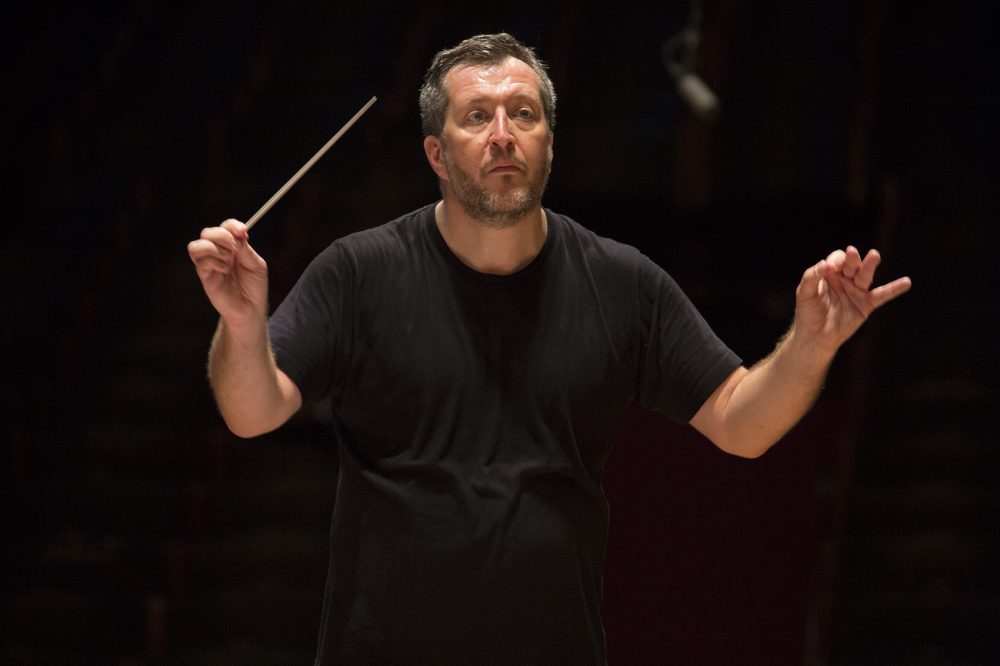 3. Opera Year Part I — Opera in Concert
Still without an adequate home for opera, Boston manages to squeeze out some good productions and operas in concert. This was one of our richer years for opera, especially since many of the best performances were of lesser known works. One of the exceptions was the BSO's semi-staged concert version of Richard Strauss' "Der Rosenkavalier," starring diva soprano Renée Fleming in one of her signature roles, the Marschallin — the role in which she has chosen to bid her farewell to opera this year (she'll appear in the Metropolitan Opera's Live in HD telecast next March). She rose to the occasion, especially in the ravishing final trio, in which she was joined by mezzo-soprano Susan Graham as Octavian, the Marschallin's young lover, who was returning to this role after a decade-long hiatus in order to sing it opposite Fleming one last time, and young Met soprano Erin Morley as the spunky ingénue Sophie. Another audience favorite was German bass Franz Hawlata as the goatish Baron Ochs. This was the third and best of Andris Nelsons' admired Strauss operas with the BSO, although the work was (and sounded) relatively new to most of the players (with the exception of the BSO's eloquent principal oboist John Ferrillo, who came to the BSO by way of the Met).
Also guest conductor Charles Dutoit led a delicious, lubricious performance of Ravel's sexy one-act "L'heure espagnole" ("The Spanish Hour") and a mysterious and darkly unsettling Bartók "Bluebeard's Castle" (inexplicably programed to follow Mozart's late and unclouded Symphony No. 39).
Odyssey Opera's big concert opera this year was Dvořák's little-known but large-scale "Dimitrij," the plot of which is a kind of sequel to Mussorgsky's "Boris Godunov." Gil Rose led a compelling performance of this long and often gripping work, in its Boston premiere. Czech tenor Aleš Briscein was heroic and tireless in the leading role. This was a cast of full-throated voices, the likes of which we haven't heard in Boston in many years, and the impressive chorus was another major asset.
4. Opera Year Part II — Staged Performances
I was most moved and riveted by Commonwealth Lyric Theater's production (at Newton City Hall) of Mussorgsky's epic "Boris Godunov." As the tragic Tsar Boris, Ukrainian bass Dmytro Pavlyuk gave one of the great vocal and dramatic performances of the year — no, of the decade! And the other featured singers in the mostly Russian cast were no slouches either.
Odyssey Opera sadly discovered that only a small audience seemed interested in the stilted form of opera seria, even fully staged, though there was some beautiful music in Gluck's "Ezio" and young Mozart's "Lucio Silla." The singing was excellent and the economical productions more than adequate, but perhaps not brilliant enough to overcome the shortcomings of a style that both Gluck and Mozart soon outgrew. Odyssey has now begun its "Wilde Opera Nights," with a semi-staged performance of Lowell Liebermann's deliciously old fashioned "Picture of Dorian Gray." More works related to Oscar Wilde are coming in the spring.
We got an even earlier Mozart opera (probably his earliest) from Emmanuel Music, in a lively bare-bones staging by Susan Larson at the Longy School, with Larson's own witty narration replacing the extended recitatives, and conducted with flair by Ryan Turner. "Apollo et Hyacinthus" was composed when Mozart was only 11, but there are already foreshadowings of later masterpieces. Tenor William Hite stole the show as the villainous king. Emmanuel also, in collaboration with Urbanity Dance, used every inch of Emmanuel Church for an inventive double bill of a fully staged Bach secular cantata ("The Contest Between Phoebus and Pan") and Kurt Weill's "Seven Deadly Sins," with a moving performance by Lynn Torgove as Anna I, whose major sin is not having enough money. Some people complained that the orchestra in the Weill wasn't gritty enough — I thought it was a rare treat to hear this wonderful score played with such refinement.
Surely the most ambitious operatic undertaking of the year was the "Ouroboros" trilogy, with the rare distinction of having at its center not the music but the librettos — all three written by Cerise Lim Jacobs. The productions were colorful and the singing impressive, especially by celebrated countertenor Anthony Roth Costanzo (who as the Green Snake unfortunately had to drag a long lizard-like — rather than snake-like — tail behind him). "Madame White Snake," with music by Zhou Long, won the Pulitzer Prize in music when it was first performed by Opera Boston in 2010, but I'm afraid that I still found much of the score's chinoiserie a musical cliché. Paola Prestini's score for "Gilgamesh" passed me by in a blur. Only Boston composer Scott Wheeler's "Naga" held my musical interest, with its endlessly surprising orchestral inventiveness and soulful central folk song (the most memorable music in the entire trilogy). I found the librettos abstract, impersonal and heavy-handed. Jacobs, born in Singapore, was an English major at the University of Pittsburgh with a specialty in creative writing and is a retired criminal defense lawyer and federal prosecutor. I wish her writing was more characterful.
On a more modest scale, Boston Midsummer Opera's double bill of Donizetti's farce "Il Campanello" ("The Doorbell") and Mascagni's second opera, the tender and charming "L'amico Fritz" — an irresistibly tuneful romantic comedy whose lovers happen to be Jewish — was a complete delight. Susan Davenny Wyner conducted on-stage behind a winning cast and, as always, from deep inside the score. It was not only funny but deeply touching. And the venue, the little theater at Watertown's Arsenal Center for the Arts, seemed ideal.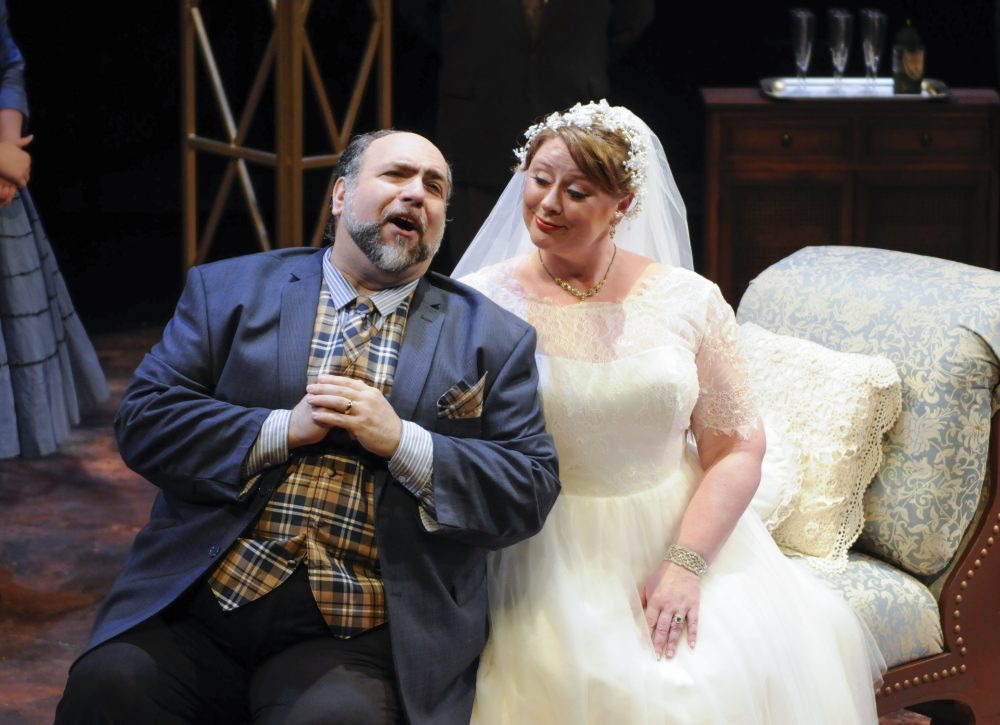 The estimable Guerilla Opera, at Boston Conservatory's little Zack Box Theater, added to its impressively lengthening list of world premieres another strong production, Hannah Lash's "Beowulf." My one regret was that it turned out not to be about Beowulf.
Our biggest opera company, the Boston Lyric Opera, had a mixed season. Catalan stage director Calixto Bieito's notorious 1999 production of "Carmen," in its East Coast premiere, was a box-office success (it was the first actual opera production at Boston's Opera House since the days of Sarah Caldwell). But even with some tasteful nudity, I found most of it dull and the casting uninspired (with all those Mercedes convertibles on stage and a giant silhouette of a bull looming behind them, for a moment I thought this was taking place in the parking lot of the old Hilltop Steak House in Saugus). On the other hand, BLO welcomed back stage director Sam Helfrich for a (mostly) smashing production at the Paramount Center of Mark-Anthony Turnage's "Greek," his nasty 1988 anti-Thatcher modernization of "Oedipus Rex." At the center of a strong cast, conducted by Andrew Bisantz (with the orchestra above the small stage), British baritone Marcus Farnsworth stood out as a tough and thoroughly convincing "Eddy."
5. Opera Year Part III — The Met Live in HD
Lots of Bostonians continue to join audiences in movie theaters around the world on the occasional Saturday afternoon to watch live matinees from the Met's great stage. This year, the highlights were Bizet's "The Pearl Fishers," in a century-overdue revival, with soprano Diana Damrau, tenor Matthew Polenzani and baritone Mariusz Kwiecień singing some of the most gorgeous melodies ever created for an opera.
What should have been the greatest event of the season was the Met's latest incarnation of Wagner's "Tristan und Isolde," but Mariusz Treliński's production was an updated and literalistic dud, most of it taking place in the bowels of a modern warship. What kept it alive was the intense singing of Swedish soprano Nina Stemme, Australian heldentenor Stuart Skelton and the profound German bass René Pape — and the electrifying Simon Rattle leading the Met's great orchestra.
And just this December, the HD telecasts included an important Met premiere — the Finnish composer Kaija Saariaho's "L'Amour de Loin" ("Love from Afar"), the first opera by a woman to be produced at the Met in more than a century, and one of the rare operas at the Met to be led by a woman, the impressive Finnish conductor Susanna Mälkki (who won rave reviews for the three programs she did with the BSO between 2009 and 2011, and even turned up on several short lists as a replacement for James Levine).
This newsworthy production was by far the most successful of the ones that Robert Lepage has now staged for the Met (he's previously responsible for his elephantine Wagner "Ring Cycle," which he himself now seems to consider a plane crash, and Thomas Adès' "The Tempest," which he perversely set not on an island but inside an opera house). This time he had magical stage effects by designer Michael Curry, in which strings of LED lights stretched across the stage convey both the glisten and shimmer of waves (the central image for the distance between the two lovers) and the glisten and shimmer of Saariaho's post-Debussy sea-music. I have some problem with the way Lepage turned Saariaho's ambiguous ending into conventional piety and melodrama, and I'm still not sure what the chorus was doing in the Mediterranean. But when the heroine appeared to be walking on water, I believed it. Bass-baritone Eric Owens was the obsessed troubadour (who says he's afraid of dying but also afraid of living), soprano Susanna Phillips (both under- and over-acting) the object of his distant desire, and the superb mezzo-soprano Tamara Mumford was the Pilgrim who ferries the troubadour across the sea in something like a red canoe.
Best all around, though, was the late Patrice Chéreau's spartan production of Strauss' "Elektra," with Esa-Pekka Salonen conducting Strauss' intense score with the kind of elegance Strauss himself requested. Stemme was the crazed Elektra, Owens her heroic rescuer-brother, and the admirable mezzo-soprano Waltraud Meier the doomed Klytämnestra. It's not like hearing live voices, but at least we get to see what's going on at the Met.
6. The Boston Symphony Orchestra
Besides opera, there were some stirring BSO concerts this year. I was completely captivated by the Danish composer Hans Abrahamsen's haunting Grawemeyer Prize-winning song cycle "let me tell you," with the incandescent soprano Barbara Hannigan singing the words of Shakespeare's Ophelia as assembled by the British fiction writer and music critic Paul Griffiths from his novella of the same title. Andris Nelsons, who conducted the premiere in 2013 and has recorded it with Hannigan, led a bewitching performance with Abrahamsen present — for once, at the composer's insistence, dividing the first and second violin sections antiphonally (I wish he did this for more of his concerts). The same weekend, around the corner at the Fenway Center, the estimable group Sound Icon, led by Jeffrey Means, gave a stunning performance of Abrahamsen's hushed and mysterious hour-long work "Schnee" ("Snow").
Nelsons and the orchestra won their first Grammy together for their DG recording of the Shostakovich Symphony No. 10, part of a new series of live Shostakovich recordings. I found it a worthy effort, though not anywhere near my favorite recording of that highly-charged but intensely personal work.
I can't wait for the return to the BSO next March of the extraordinary François-Xavier Roth, the French conductor whose memorable concerts with the BSO last January were high points of the entire year (as they had been the year before). The major works on his two programs were Beethoven's "Eroica" symphony and Stravinsky's ballet "Petrushka," in its original 1911 orchestration (Stravinsky's most full-hearted version). I found the "Eroica" very powerful, though not everyone agreed. But everyone seemed blown away by the Stravinsky. I loved its freshness, its dazzle, its exuberance, its clarity and its deep pathos. For me, and by far, the best BSO performance of the year.
7. Vocal Recitals
I expected the year's best vocal recital was going to be the performance of Schubert's great song cycle "Winterreise" with British tenor Ian Bostridge accompanied by Thomas Adès — a concert co-sponsored by the BSO and the Celebrity Series. It sold out and was enthusiastically applauded. Adès lived up to his end of the bargain, but Bostridge was so bizarrely self-involved, he spent more time looking into the piano works than out at the audience. Stranger, but far more successful, mezzo-soprano Jane Struss, celebrated for her profound renditions of "Winterreise" (along with many performances of Mahler with Benjamin Zander and the Boston Philharmonic), staged (!) a most unusual "Winterreise in a New Light" with 14 of her voice students (singing the 24 songs of the cycle) and four different pianists at the Longy School of Music. This shouldn't have worked, except that Struss is a great artist, and instead of the story of one 19th-century German soul in anguish, this was the story of 24 contemporary American souls in anguish. The technical capacity of the students may have varied, but the cumulative effect was overwhelming.
Back in November, baritone Stephen Salters, always a welcome visitor, delivered the year's knockout solo recital sponsored by opera impresario Randolph Fuller as a benefit for the Union United Methodist Church, one of Boston's most progressive and multicultural institutions (this concert was a fundraiser for a community kitchen and community meeting center). Salters, in full partnership with pianist Linda Osborn, delivered powerful spirituals, comic American folk ballads, vibrant Gershwin and Porter classics from the American songbook, and Valentin's famous aria from Gounod's "Faust" — all with style, wit and uninhibited emotional involvement.
8. Piano Recital
Pianist and blogger Jeremy Denk always has something up his sleeve. In his recital for the Celebrity Series, the big event should have been Schubert's great opus posthumous sonata in B-flat. But more fun — and more moving — was the first half of the program, in which Bach's elegant English Suite No. 3 in G-minor was followed by a non-stop "iPod shuffle" — a "study in syncopation" Denk concocted from ragtime music by Scott Joplin, Stravinsky's cubist "Piano-Rag-Music," a William Byrd "pavian" (pavane), the "Ragtime" movement from Hindemith's Opus 26 (like a player-piano gone mad), William Bolcom, Conlon Nancarrow's "Canon" (so rhythmically intricate for each hand it was the only piece Denk had to play from a score), and Daniel Lambert's hilarious stride-piano arrangement of the solemn "Pilgrim's Chorus" from Wagner's "Tannhäuser." Concerts aren't often so inventive — or so much fun.
9. Peggy Pearson
One of Boston's best loved musicians is oboist Peggy Pearson, who beginning in the 1970s was Benjamin Zander's principal oboist in the Boston Civic Symphony and later in his Boston Philharmonic. Sunday mornings at Emmanuel Church, she played the most heart-felt Bach cantata obbligatos. She even appeared in an onstage band in the unforgettable Craig Smith/Peter Sellars production of Handel's "Giulio Cesare." She was part of the extraordinary Emmanuel Wind Quintet, which in 1981 won a prestigious Walter W. Naumburg Award for chamber music. Twenty years ago, she started her own chamber music series, Winsor Music, which was especially notable for performing new works by John Harbison and for commissioning new pieces and transcriptions that added to the oboe repertoire.
Pearson is now stepping down as artistic director, although she'll still be performing. She's handing the Winsor reins over to two outstanding instrumentalists, violinist Gabriela Diaz and clarinetist Rane Moore. The most recent Winsor concert featured Diaz in the Boston premiere of Harbison's intricate six-movement "For Violin Alone" (2014), which was surrounded — and embraced by — the world premiere of young British composer Charlotte Bray's appealing and continually surprising oboe quartet, "Bluer Than Midnight, and two major works by Bach. In the sublime C-minor Concerto for Oboe and Violin, Pearson and the phenomenal 17-year-old Njioma Grevious (who just returned from playing in a Project STEP string quartet at the White House) seemed to be having the most intimate of public conversations. And soprano Kendra Colton and baritone Paul Tipton (as a worried Mary and a determined Jesus) were the soloists in the great cantata "Liebster Jesu, mein Verlangen" ("Dearest Jesus, my desire"), with its expressive obbligatos for oboe (Pearson at her most achingly beautiful) and violin (the superlative Heather Braun). The entire audience was invited — and seemed eager — to join in singing the final chorale.
10. In Memoriam
This was a year of monumental losses: conductor-composer Pierre Boulez, for decades the central and most challenging figure of international musical life; composers Steven Stucky and Sir Peter Maxwell Davies; conductors Nikolaus Harnoncourt and Sir Neville Marriner; sopranos Maralin Niska and Patrice Munsel; game-changing countertenor Russell Oberlin; the delightful Gilbert & Sullivan tenor Thomas Round; the heroic South-African tenor Johan Botha (at the age of 51).
Many of these figures appeared in Boston. But among our most personal losses were BSO principal cellist (for 52 years!) Jules Eskin and soprano, teacher, and former dean of Boston University's School of the Arts Phyllis Curtin.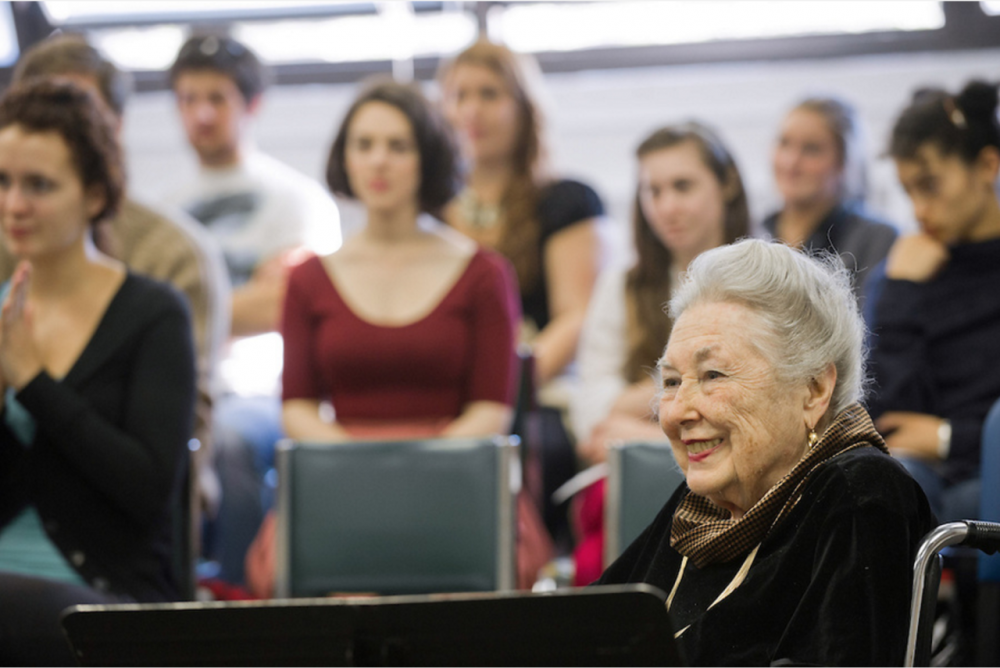 Eskin came to the BSO as principal cellist in 1964 and immediately became a founding member of the BSO Chamber Players. He remained one of the orchestra's most admired players — perhaps best loved for his infinitely touching and noble performance as Don Quixote, the title "role" in Richard Strauss' tone poem. One couldn't imagine a more fitting tribute to him than acting principal cellist Martha Babcock playing the big heart-easing cello solo in the Brahms Second Piano Concerto, a passage played by Eskin himself countless times, just after the announcement that he had died.
It's hard to think of anyone in the world of classical music more beloved than Phyllis Curtin. In opera, she was a great actress as well as a great singer, an artist for whom the words mattered as much as the music. Especially at Tanglewood, she was a teacher truly loved by her students. And she was a real mensch! Two memorial programs were assembled to celebrate her life, one at Tanglewood and one at BU.
But perhaps the best tribute to her was a concert in her honor by the Tanglewood fellows: a semi-staged "Seven Deadly Sins" (imagine, two splendid performances of this marvelously seductive work in the same year!), with a charismatic young mezzo-soprano named Fleur Barron a mesmerizing Anna, and a performance of Shostakovich's 14th Symphony, a work closely associated with Curtin, who sang in the American premiere. It's a "song symphony," a setting of lyrical and visceral poems by Lorca, Apollinaire, Kuchelbecker and Rilke (Curtin even wrote her own pungent English translation). At Tanglewood, two of Curtin's best loved students, soprano Dawn Upshaw and baritone Sanford Sylvan, each sang one of the songs, joining the current fellows. Curtin, a tough but endlessly supportive teacher, would surely have been proud of them all.
This article was originally published on December 28, 2016.